Trade between India and Pakistan at the Line of Control (LoC) was affected due to the ceasefire violation by the neighbouring country, Parliament was informed on Monday.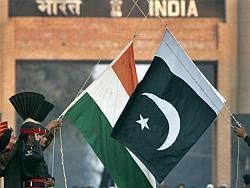 "There have been reports of loss to traders/farmers due to rotting of vegetables. The estimated loss was $300,000 (around Rs 1.64 crore)," Minister of State for Commerce and Industry D Purandeswari told Lok Sabha in a written reply.

"Due to the ceasefire violation at LoC, LoC trade between India and Pakistan was affected," she said adding that the government does not provide compensation for commercial trade risks.

Replying to a separate question, she said that India's pharmaceuticals exports are expected to touch $15.5 billion in 2012-13 from $13.2 billion in 2011-12.

She also said that there is no ban on import of generic medicines from India by any country.

"However, some of the importing countries follow rigid policies/ procedures for import/ registration of pharmaceutical products in their countries which is applicable to all overseas countries uniformly," the minister said.

To another question, she said that India has urged Bangladesh to allow smaller ships to operate between Chittgong and Vishakhapatnam to help faster movement of goods and also
reduce the transhipment cost.
She also said that India has requested Bangladesh to notify the Generalised System of Preferences which have been extended by the EU to Bangladesh and other least developed countries.
Replying to a separate question, she said that as per International Trade Statistics 2012 released by the WTO, India's share of agricultural commodities in the world market of $1,659 billion during 2011 in terms of export was 2.06 per cent with export value of $34.32 billion.
"India's share in world agricultural trade is relatively low. The small share is primarily on account of very high domestic consumption, low land holding size, low productivity, constraints of supply chain and marketing linkages as well as low level of processing," she added.
She also said that India has emerged as the largest exporter of rice and bovine meat (beef).