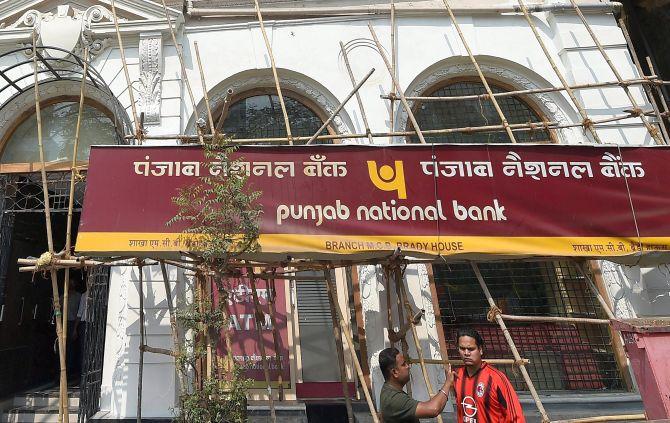 The Central Bureau of Investigation on Monday arrested three more Punjab National Bank officials after intense grilling during the day in connection with Rs 11,384 crore scam involving billionaire jewellery merchants Nirav Modi and Mehul Choksi, officials said.
The agency also started searches late Monday evening at group offices of Nirav Modi at Peninsula Business Park in lower Parel, Mumbai.
The total number of arrests by the CBI has risen to six -- four PNB officials, a retired employee of the bank, and an authorsied signatory of Nirav Modi's company -- after Monday's development.
Manoj Kharat, a single window operator at PNB, and the retired employee Gokulnath Shetty were arrested earlier.
Bechhu Tiwari, the then chief manager in the forex department; Yashwant Joshi, Scale II Manager in the forex department; and Praful Sawant, Scale-I officer handling the exports section were arrested by the agency this evening, officials said
The agency has started searches at their residences located in Navi Mumbai, Andheri and Dombivali, they said.
Tiwari was responsible for supervising Shetty, believed to be main accused along with Modi and Choksi.
He had to ensure the entry of authorised SWIFT messages. The agency has alleged that he had "full knowledge" of the activities of Shetty, officials said.
Joshi is also a senior officer in the vertical in which Shetty was working. He had to ensure daily reports of SWIFT and the Core Banking Solution System of the bank, but despite knowing Shetty's activities, he took no action, officials said.
Sawant is a scale-I officer in the export section and is responsible for checking daily SWIFT messages and report. They were being questioned by the agency since morning, officials said.
Over Rs 11,384 crore worth of Letter of Understanding and Letters of Credit were issued by the bank in favour of billionaire jewellers Nirav Modi and Mehul Choksi through SWIFT messages with only limited number worth smaller sums being entered in the core banking solutions system.
Shetty and Kharat allegedly sent messages of these LoUs and LCs using an international messaging system for banking systems called SWIFT (Society for Worldwide Interbank Financial Telecommunication) which is used to pass instructions among banks globally to transfer funds.
But these messages were not routinely updated in the Core Banking Solutions system of the bank which takes care of daily business.
It is estimated that millions of messages are sent daily using the SWIFT technology globally wherein every member bank can send or receive messages of financial transactions to another bank worldwide.
The CBI is also questioning four senior executives of Nirav Modi's company Fire Star Diamond, including its President (Finance) Vipul Ambani and Chief Financial Officer Ravi Gupta, officials said on Monday.
Saurabh Sharma, a senior executive in the finance department of the company, and manager Subhash Parab are also being quizzed.
The CBI confronted them with documents related to Letter of Understandings from the PNB, they said.
The agency had intensified its searches on Sunday evening at the branch where the alleged fraudulent transactions took place.
Image: The Punjab National Bank branch where fraudulent transcations worth $1.77 bn were detected, in Mumbai. Photograph: Shirish Shete/PTI Photo