Sheela Bhatt spoke to various members of Parliament to elicit their opinion about Finance Minister P Chidambaram's last Budget before the general elections, and found them lukewarm in their reaction. 'Political nuksaan nahi, lekin faida bhi nahin. Bach nikle,' about sums it up

As soon as the Union Budget was presented on Thursday afternoon, most members of Parliament rushed out of Parliament to catch the television cameras as fast as they could to give their sound bytes on P Chidambaram's final Budget before the general elections next year (if the elections are held as scheduled in 2014, then next year will see a vote on account; if they are held before time, then this will be the last Budget before the elections)..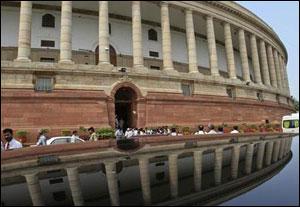 Satish Mishra, Bahujan Samaj Party's Rajya Sabha member, had definite views on the Budget but could not rush out for the cameras as his boss Mayawati took time to come out.
The Bharatiya Janata Party has to keep a fine balance between Sushma Swaraj and Arun Jaitley, leaders of Opposition in the Lok Sabha and Rajya Sabha respectively, but most times both try to accommodate each other by presenting themselves together before the cameras.

They spoke together before the camera at 2 pm after watching the prime minister's post-Budget interview which was dominating television screens.

Jaitley was most eloquent, as expected, when he made mincemeat of the laughable allocation of Rs 10,000 crores (peanuts compared to what will be actually required) for food security.
This amount is higher than the current allocation, but if at all the Food Security Bill is passed (which is unlikely), the government will go bankrupt despite the increased allocation which, as Jaitley said, "will give Rs 8 per person per month towards food security in the country".
Most United Progressive Alliance MPs called it a "safe budget". "Political nuksaan nahi, lekin faida bhi nahin. Bach nikle," is how they sum it up.
Some younger MPs pointed out, "There is no special attempt to attract the BJP's middle class urban voters through the Budget," while a couple of wiser and elderly MPs said, "Back to square one. Neither going up, nor going down."
There is a huge hike of 46 per cent for rural development but a Congress MP asked, "So why was Rural Development Minister Jairam Ramesh not smiling when the FM announced it?"
The government has announced the setting up of an all-women bank in the public sector. Coming in the 21st century, it is a little funny if not downright unnecessary. SEWA, founded by Ila Bhatt in Ahmedabad, started an all-women co-operative bank many decades ago, which is functioning very well.
Chidambaram's son Karthi described the move as "gender sensitive," but the critics find it a symbolic gesture.

A Nationalist Congress Party MP from Maharashtra asked off-the-record, "Will the colour of money in the all-women bank be any different from the regular banks?"

The Budget of 2013-14 will be forgotten soon except by the super-rich and moneyed people who will cry, crib and curse the UPA regime.
The Bahujan Samaj Party's Satish Mishra said, "The question is, will it help increase the growth rate? No!"

The Trinamool Congress's Sudip Bandyopadhyay said, "The distance between promises made in the Budget and the allocation of funds is too much. It won't help accelerate growth."

In short, most MPs found Chidambaram's eighth offering to be "a Budget woven without dreams!"