The Ambattur Industrial Estate Manufacturers' Association (AIEMA), which houses hundreds of MSMEs, is expecting the poor market sentiment experienced in 2012 to continue in 2013. The companies in the estate, which cater to the automobile, printing and other industries, are facing issues relating to raw material and power shortages.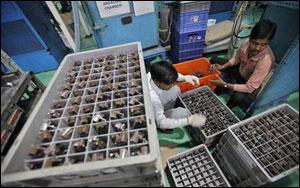 The estate has about 2,000 units, of which 600-800 are tiny (of which nearly 500 have an annual turnover of less than Rs 25 lakh), 10-15 are large companies, and the rest are in the small and medium category.
In 2012, some sectors posted marginal growth while others had almost no work for months. Companies catering to the passenger car segment, such as component suppliers to Hyundai Motors, kept their shops running through the year, while vendors of heavy vehicle manufacturers had fewer orders, said P S Ramesh, president of AIEMA.
"The market was hit badly last year, especially in segments like heavy vehicles and capital equipment," said Ramesh.
"No one wants to take a decision at this point. We don't forecast an increase in business in 2013," he said. The annual turnover of the estate is Rs 6,000-7,000 crore and is expected to remain the same in 2013, he added. AIEMA has around 1,200 members in the estate.
The units have two problems - reduced demand from original equipment manufacturers (OEMs), and reduced supplies of raw materials from suppliers hit by power shortages.
Heavy vehicle manufacturers have reduced production, which affected component suppliers. In other industries where castings are required, raw material supplies have been affected by severe power shortages. While Chennai has a daily power cut of two hours, power cuts in other parts of the state last 10-16 hours, industry sources said.
"In sectors where we can supply products, there is no demand and in sectors where there is demand, we are not able to supply," said M Balachandran, CEO of Delta Control Systems.
Payment cycles have also been affected, since some OEMs have started delaying payments to suppliers from the usual 60 days to almost 120 days. This has hurt the finances of suppliers.
Sectors like capital equipment manufacturing were hit in the second half of 2012 and are almost at a standstill, the sources added. Manpower is also a problem. Units complain that if market sentiment turned positive, they would be unable to add even one more shift, due to the lack of skilled labour. Nor is it easy to get a replacement for a skilled employee who leaves.
At least 13-14 factories in the textiles sector have moved from the region to Bangladesh, since labour costs in Bangladesh are cheaper than in India.
There is one more challenge relating to manpower. AIEMA runs a skill development centre where students and workers can be trained. But there is no affordable accommodation for them. The association was trying to set up a dormitory for students in collaboration with the State Industrial Development Corporation and the State Industries Promotion Council, said Ramesh.
There is also competition from Chinese companies in auto components, moulds and dies, garments, foundries and forgings. This, however, is comparatively less threatening for units in the estate, he added.