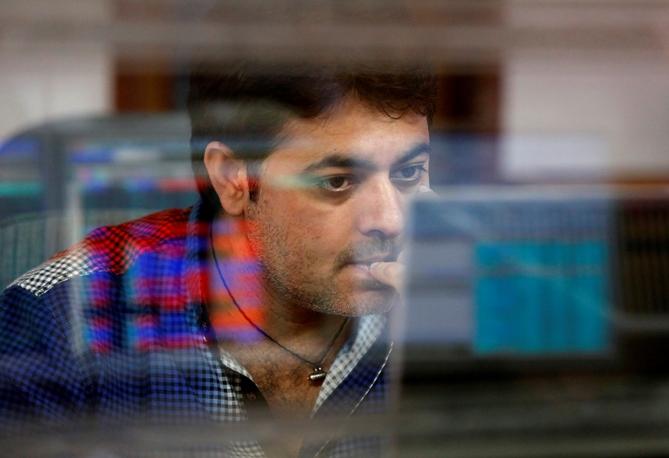 The Union Budget 2016 fell short of the crease for markets as the benchmark Sensex ran up heavy losses following a series of tax proposals but covered up much of the lost ground and closed lower by over 152 points on a flurry of buying activity by domestic institutions.
Sharp swings marked trading, with markets swinging some 850 points.
Intra-day, it tanked nearly 660 points.
A series of tax proposals announced by Finance Minister Arun Jaitley in his Budget 2016-17 queered the pitch.
Soon after, buzz of a rate cut by RBI helped improve sentiment, which was hit mainly by a proposal for a higher dividend distribution tax on those earning more and a one on raising securities transaction tax in some categories.
The finance minister chose to go for fiscal prudence by proposing to keep the deficit at 3.5 per cent of GDP in 2016-17.
Jaitley proposed 10 per cent tax on dividends above Rs 10 lakh and raising STT to 0.05 per cent from 0.017 per cent, brokers said.
The 50-share Nifty cracked below the 7,000-level.
A senior Finance Ministry functionary said the Budget can not be dictated by the markets.
"It is high time the North Block stopped looking at markets to see whether the Budget is good or bad," he added.
Shares of auto companies saw selling pressure and fell up to 4.88 per cent after Jaitley proposed to levy an infrastructure cess of up to 4 per cent on various categories of vehicles.
Major losers were Maruti Suzuki, Tata Motors and M&M.
Cigarette stocks, led by ITC, too reeled, plunging by up to 8 per cent as excise duty on various tobacco products other than beedi was raised by about 10-15 per cent in the Budget.
While participants today said they were initially disappointed in the absence of any market-boosting proposal, sentiment took a shine after the Budget announcement of an allocation of nearly Rs 36,000 crore for the farm sector and a higher credit target aimed at doubling farmer incomes in five years.
In the agriculture segment, Kaveri Seed Company and Rallies gained big, but Jain Irrigation and Monsanto India succumbed to profit-booking and ended lower.
Besides, the government's plan to defer implementation of the General Anti-Avoidance Rule from April 1, 2017 had a positive impact, they said.
The BSE Sensex started on a higher note and ended at 23,002, a fall of 152.30 points, or 0.66 per cent.
On the Budget day in 2015, the Sensex had gained 141.38 points.
The NSE Nifty too saw volatility, which ended at 6,987.05, down 42.70 points, or 0.61 per cent. it hovered between 7,094.60 and 6,825.80.
Meanwhile, the Sensex and Nifty have fallen by 6,359.50 points, or 21.65 per cent and 1,914.80 points, or 21.51 per cent, respectively since last Budget 2015-16.
Among Sensex losers, ONGC, BHEL, Infosys, L&T, Axis Bank, Hindustan Unilever, Wipro, Adani Ports, Sun Pharma, Cipla, TCS, Asian Paints, NTPC and Coal India fell by up to 9.72 per cent.
As many as 19 out of the 30-share Sensex pack ended lower while 11 led by ICICI Bank, HDFC Bank, RIL, Lupin, HDFC Ltd, Dr Reddy's and Bharti Airtel rose.
Among BSE sectoral indices, infrastructure fell by 2.12 per cent, followed by IT 2.11 per cent and technology 2 per cent, while capital goods tripped 1.99 per cent, consumer durables 1.75 per cent and oil and gas 1.50 per cent.
Other Asian markets also ended in the negative zone while Europe was trading lower in early trade.
Image: A broker reacts while trading at his computer terminal at a stock brokerage firm in Mumbai, India, February 26, 2016. Photograph: Shailesh Andrade/Reuters