Power sector plays crucial role in the economic progress of the country given the importance of electricity in the economic activity.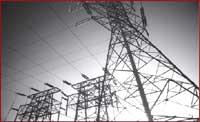 On one hand with rising demand for electricity as double digit peak demand, the sector is faced with numerous challenges such fuel availability, poor financial conditions of state electricity boards as well as various project risks ranging from funding to environmental etc.

Currently as end of Jan 2011 the power generation capacity stood at 170.229 GW including the renewable energy sources such as wind, solar etc. of about 16.787GW. However the peak power deficit in Jan 2011 is 11.1% and the normal power deficit is 7.6%.

With the country's peak power demand (as on Jan 2011) being 122.470 GW well below the country's current generation capacity, the double digit peak power deficit is largely on lower plant load factors on account of paucity of fuel/feedstock or less efficient aged power plants as well as high T&D losses and seasonal nature of renewable power capacity.

So far in the 11th five year plan period (2007-08 to 20011-12) the country has added about 37.900 GW of which about 9.026 GW was renewable energy. Though new generation capacity addition so far in the current five year plan period is greater than what it was achieved in each of earlier plans the country is all expected to fall short of its revised 11th five year plan target to about 63GW.

The originally envisaged target for current five year Plan at the start of the plan period was 78 GW. This is largely on account of environmental issues as well as delay in coal linkages etc apart from equipment supply delays.

The target new generation capacity addition for 12th five-year plan period (2012-13 to 2016-17) is yet to be finalized. It will be finalized soon after the ongoing 18th Electric Power Survey of India.

However the tentative generation capacity addition target for 12th five year plan period was 100 GW and of which the share of thermal power being 76.6 GW, hydel power being 20 GW and Nuclear at 3.4 GW.

In the 12th five year plan period the country is envisaging a technology transition with embrace of super critical technology in a bigger way. Though super critical technology projects was introduced in the 11th five year plan period in a smaller way,  the share of super critical technology is all set to increase to 59% (or 43640 MW) of the coal generation capacity in the 12th five year plan.

The share of super critical sets is to be 100% of thermal power plants in 13th five year plan target of about 100 GW. Similarly the share of nuclear is all set to rise to 8 GW in 13th five year plan period compared to 3 GW in the 11th five year plan target.

Currently the Nuclear power sector in the country is a highly regulated business that is operated through a single government-owned entity Nuclear Power Corporation of India (NPCIL). No company can enter into nuclear power generation without NPCIL.

As per the Atomic Energy Act, private companies can team up with NPCIL as junior partners to set up atomic plants. So to encourage private investments suitable regulatory changes are essential.

The investment in power sector for long has been largely from public sector (both Central & State) with little private sector participation. But the Electricity Act 2003 has set the ball rolling for greater private participation in power sector.

The policy reforms were equally backed by incentives such as exemption from income tax for a limited period for investments in generation, distribution and transmission of power. The incentives was originally restricted to business commencing upto March 31, 2010 and was extended upto March 31, 2011 in the Union Budget on June 2009.

The private participation though increased in relative terms in the last decade, it has been largely restricted to generation with very little participation in transmission. But the distribution which is the interface with customers has not seen much of private investment.

Moreover while there is no sun-set date has even been suggested for other infrastructures such as roads, rail systems, highways, water supply projects, ports, airports, etc there was sunset clause for power sector. Given very ambitious targets expected in the 12th and 13th Five Year Plans for power sector, this differential treatment will not be helpful.

Power projects are capital intensive (a normative cost of Rs 4.5 crore /MW) the aggregate project cost for the tentative 12th plan generation capacity addition of 100 GW will cost Rs 45000000 crore and at a debt to equity ratio of 75:25 the term loan requirement would be to the tune of Rs 33750000 crore.

Given the long gestation period as well as life cycle of over 25 years, the power project requires debts of long tenure most often on non recourse project finance basis. Since banks normally lend for 7-10 years and sectoral caps, which was already saturated especially for power sector for most of the banks makes availability of funds a tight one.

Though takeout financing is mooted in the last budget, the real take off of that has not happened yet and more over give the initial target of Rs 25000 crore over next 3 year for IIFCL is a meagre amount given the huge funding requirement of the sector.

In this scenario while External Commercial Borrowing (ECB) offers a light of hope on the back of revival in global financial markets the withholding tax on interest payment increases the cost of borrowings.

Withholding tax levied on interest payments varies between10% and 20% depending on the country from where the financing is taken. Otherwise the GoI can moot sector specific fund as well as permitting the sector to issue tax free bonds for a limited period would facilitate the sector to tide over the problem of limited funding that is presently available.

So as to hasten the process of execution of infrastructure projects including power sector projects, the country should develop a robust inventory of infrastructure projects that can be offered through competitive bidding route. This will minimize the project risks especially environmental etc  and facilitate speedier execution as well as encourage more private participation.

Industry wish-list

The sunset clause of Section 80 IA should be extended for capacities coming up until March 31, 2017 given the need to attract large investment requirement in power sector. In any case to maintain parity with other priority industries it may at least be extended upto March 31, 2014.

Withholding tax on interest payable by Indian power and infrastructure companies on ECB facilities should be exempted from withholding tax, which would significantly lower the overseas borrowings costs for Indian companies and go a long way in reducing tariffs for consumers and industries.

Dividend Distribution Tax should be levied only at the ultimate parent company level and SPVs is exempted from the DDT.  This should be considered in view of the re-investment needs by the holding company in the power sector.

Power sector should be made part of the GST regime, so that input tax credits can be availed which would to a certain extent balance the withdrawal of exemptions and concessions. As the objective of including Electricity under the GST regime would be to enable availing of input tax credits, it would be ideal to include sale of electricity as part of the zero rated list.

Provide outright exemption to the power project developers eligible for deemed export benefits under Chapter 8 of Foreign Trade Policy 2009-14 from payment of additional customs duty. This will be a great help to the power sector and will provide a big impetus to power generation capacity addition that the country so badly needs.

Exemption from service tax to be extended to all the power projects. Exemption from service tax is available on the construction of all infrastructure projects except for the power sector. The scope of benefit should also be extended to include power projects.

Central Government should link central assistance to States with reduction in T&D losses achieved by them.  This will increase investment in T&D segment.  Central schemes such as APDRP have to be strengthened with milestones being formulated with State Electricity Boards.

The deemed export benefits of  (i) import of duty free inputs, (ii) duty drawback and (iii) exemption / refund of Terminal Excise Duty (TED) which are allowed to mega power projects in terms of Para 8.2(d) of the Foreign Trade Policy (FTP) should also be extended to the non mega power projects (with a capacity less than what is prescribed for mega power projects).

This should be achieved by amending the Foreign Trade Policy and by inserting an entry in the Notification no. 06/2006 of Central Excise.

Remove customs duty on imported coal.

Analyst expectations

The sunset clause of 80IA which expires on March 31, 2011 may get extended further to make the sector attractive. But the power equipment players are seeking imposition of import duty on core power plant equipments.  If accepted, this will drive up the capital cost of power projects, and affect the players supplying under non regulated environment.

These include Case II bidding, whereby the power is supplied to SEBs under competitive bidding leading to long term PPA.  Also, higher capital costs will depress the pay back period for players with greater share of revenues from merchant power.

Stocks to watch

PowerGrid, Adani Power, JSW Energy, Reliance Power, Lanco Infratech

Outlook

Power sector continues to get the much needed or preferential treatment given its importance in the economic growth of the country. Extension of sunset clause of 80IA further beyond March 31, 2011 will do a lot of good for the industry. Similarly measures to address logistic bottlenecks in railway budget may also do a good for the sector which is plagued by coal shortage.

However the most likely imposition of import duty on power generation equipment will escalate the cost of setting up a power projects especially to players who placed orders or intend of placing orders with Chinese and other overseas players. So the budget is expected to be a mixed bag for the power sector.
Click NEXT to read on . . .