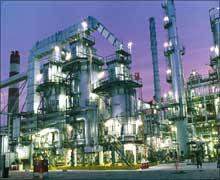 The hike in custom and excise duty on crude oil and petroleum products will be passed on by the refineries as well as oil marketing companies.
Budget provisions
The following changes in the duties have been proposed in the Union budget 2010-11:
Customs duty on crude petroleum is being increased from Nil to 5%.
Customs duty on Motor Spirit (petrol) and HSD (diesel) is increased from 2.5% to 7.5%.
Customs duty on some other specified petroleum products is increased from 5% to 10%.
Excise duty on Motor Spirit (petrol) and HSD (diesel) are being increased by Re.1 per litre i.e. excise duty on unbranded petrol and diesel stands at Rs 14.35 per litre and Rs 4.60 per litre respectively while on branded petrol and diesel stands at Rs 15.50 per litre and Rs 5.75 per litre respectively.
The government has agreed to provide petroleum subsidy in cash instead of securities in the year 2009-10.
Government would like to continue to pay compensation for under recoveries, if any, to oil marketing companies in cash only
Decision on Kirti Parikh recommendations will be taken in due course
Weighted deduction on expenditure incurred on in-house R&D enhanced from 150% to 200%. Also weighted deduction on payments made to National Laboratories, research associations, colleges, universities and other institutions, for scientific research increased from 125% to 175%
Minimum Alternate Tax (MAT) to be increased to 18% of book profits from 15%.
The rate of service tax of 10% applicable since 24.02.2009 has been continued
Budget impact
The global gross refinery margins are very thin, on sluggish demand.  Meanwhile, the simultaneous hike in customs duty on crude oil and refinery products by 5% will be marginally beneficial for refineries as the benefit is on crude oil + refinery margin, while the cost increase is on the crude oil prices only.
Apparently, the petrol and diesel prices are set to be increased by Rs 2.67 per litre and Rs 2.58 litre per litre respectively factoring in the increase in custom duty and excise duties. So, there wont be any adverse impact on either refineries or the oil marketing companies, at least for the time being.
Future changes depend critically on the crude oil price movements, and how sooner and to what extent Kirti Parikh recommendation for deregulation of petroleum product prices will be implemented.
Stocks to watch
Indian oil, BPCL, HPCL, RIL, Essar oil
Outlook
Union Budget 2010-11 proves to marginally positive for the refinery sector with increase in custom duty and excise duty on crude oil and petroleum products. Even marginal improvement is welcome at the current juncture when global gross Refining margins are at very low levels.
Operating rates remained suppressed during Q3FY'10– Europe averaged at 75%, US remained in the sub-80s and Asia remained at around 82%. Product cracks too have remained low.  Overall, the budget is neutral with marginal positive bias for refineries.