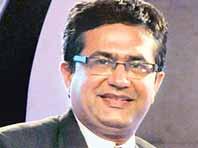 Ashish Kumar Chauhan, who was appointed BSE's full-time chief executive officer and managing director early this month, has his job cut out - to steer the country's oldest stock exchange through challenging times and get it listed.
And Chauhan is ready for the top job. An alumnus of IIT Bombay and IIM Calcutta, he was part of the founding team that set up the National Stock Exchange (NSE), which is now the country's largest equity-trading exchange.


As a member of the core team at NSE, he played a key role in choosing the site for the exchange building, setting up the framework for screen-based trading and putting together the benchmark share index, Nifty - which has become the largest traded index globally.
Recognition came to Chauhan after he left NSE to join the Reliance group in 2000.
When he joined, Reliance Infocomm - now Reliance Communication - was losing Rs 10 crore a day. In an aggressive marketing push, the company was selling mobile phones for as low as Rs 500 to paanwallas and autorikshaw drivers, most of whom were defaulting on bill payment.
Mukesh Ambani, the then head of Reliance Infocomm, appointed Chauhan as the company's chief information officer (CIO), and within months, Reliance Infocomm was EBITDA positive. Chauhan had fixed the problem by tweaking the billing technology, and that made him Ambani's blue-eyed boy, say Reliance insiders.
Chauhan stuck with Mukesh after the division of the Reliance group. Several magazines ranked him among the top 50 CIO's globally during 2005-09, when he was the president and group CIO of Reliance Industries.
Before joining BSE in 2009, he was the CEO of the group's IPL team, Mumbai Indians. Chauhan was picked up by Madhu Kannan, former head of business strategy at New York Stock Exchange, who took charge of BSE in 2009 and was working to set up a new-look institution.
He appointed Chauhan as his deputy. The new management attempted to put a strong governance structure in place. It took several steps to make trading hassle free and enable faster processing. The exchange also gained greater control over its clearing and settlement, depository, technology and web-based distribution network, a key to competition in the current scenario.
But, despite these measures, NSE continues to corner a lion's share of equity cash and derivatives trading. BSE also faces a direct threat from MCX SX, which will soon enter equity trading and has an aggressive track record of taking on rivals. For Chauhan, the challenge will be to make BSE a prospering exchange once again.