Exchange Square at Andheri here is lit up on the occasion of Muhurut trading on Diwali.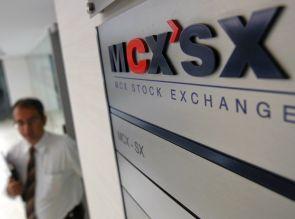 On Sunday, however, the usual cheer was missing on the faces of the motley gathering in the building, housing the offices of the Multi Commodity Exchange (MCX) and the MCX Stock Exchange (MCX-SX).

The reason was obvious. The two exchanges are facing their worst crisis, following the Rs 5,574-crore (Rs 55.74 billion) fiasco at the National Spot Exchange, a sister concern.

Jignesh Shah, who founded and nurtured both, is now only a shareholder; other founder-stalwarts from his flagship company, Financial Technologies (FTIL), were also missing on Sunday.

The MCX-SX equity volume has averaged around Rs 11,000 crore (Rs 110 billion) in the past year, a 5.3 per cent market share.

For various reasons, including government/regulators' policies and some impact of the NSEL crisis, volumes on the currency segment have fallen significantly, though market share has fallen only marginally.

At the MCX, however, volumes are down 60 per cent, while market share is down from 89 per cent to 79 per cent at the previous Samvat.

More than the business, what has changed the most is the exit of almost the entire brass.

While Shah, who resigned during
the week as director, continues to be an investor in his capacity as FTIL promoter, Joseph Massey and Shreekant Javalgekar are not on the board.
They were heading the management of the stock and commodity exchanges, respectively.
Shah's absence will be felt by employees. A staffer who has seen the journey from inception says most are only doing "mechanical duties" and morale has taken a hard knock.
"The soul of the exchange is missing. We have seen Shah leading from the front - be it an exchange-specific issue or an industry-specific one such as imposition of the commodities transaction tax."
There are detractors, too. Shah, they say, acted irresponsibly and gave the erstwhile management of NSEL an unusually long rope.
"We had also dreamt of making good money by investing in stocks of the group companies, including MCX. Our dreams have shattered," said one of the investors.
The fact is that the share prices of MCX and FT have crashed after the NSEL fiasco, trading 80 per cent lower than a year before.
FT's current share price was earlier seen a decade ago. Almost everyone agrees that the crisis has not only brought down Shah's empire but put everything he aspired for in jeopardy.
Shah has blamed former managing director Anjani Sinha and his team, saying they were responsible for fraud. In any case, the impact will last long.