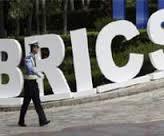 The global financial crisis, had hit the BRICS (Brazil, Russia, India, China and South Africa) economies, but these countries are likely to rebound, with India likely to clock 'steady' gross domestic product growth in next three years.

According to leaders of these economies who were speaking at a session at the 44th World Economic Forum Annual Meeting in Davos, the BRICS economies would rebound over the next few years, despite having been hit to varying degrees by fallout from the global financial crisis.

"India's growth declined because of the adverse external environment and due to some decisions we took," Indian Finance Minister P Chidambaram said.

He, however, expressed confidence that the country will grow at 6 per cent this year, 7 per cent in 2015 and 8 per cent in 2016.

Questioned about the role of the state in the Indian economy, he said: "New space in the economy is reserved substantially for the private sector but state enterprises cannot be dismantled overnight or simply wished away.

"As long as the public sector is competitive and run on commercial terms there is no reason to take state enterprises apart," he added.

As per Liu Mingkang, Distinguished Fellow, Fung Global Institute, Hong Kong, "Concerns that China's economy will run out of steam are unfounded and the country is expected to maintain its economic momentum on a more sustainable course at a rate of 6 per cent to 7 per cent through to 2020.

According to South Africa's Minister of Finance Pravin Gordhan, after registering significant growth in the past two decades, the country is now headed towards 'the
new normal.'
"The global financial crisis, which was not of our making, did huge damage.
"We now need to enhance the skills of our citizens and improve our infrastructure to take advantage of the opportunities ahead," Gordhan said.
Echoing similar sentiments, Guido Mantega, Minister of Finance of Brazil, said the country will not return to its pre-crisis growth levels soon, but it is already consolidating the reforms introduced over the past decade that have raised the incomes of the poorest people in society.
As per Arkady Dvorkovich, Deputy Prime Minister of the Russian Federation, the country's slow rate of growth is partly due to the economic conditions of its main trading partners, Europe and the China.
He added that internal constraints are the main impediments to progress.