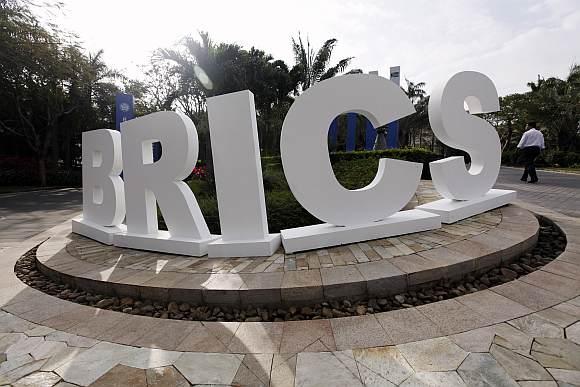 Shortly before the commencement of the Sixth G20 Summit in Cannes, France, leaders of the emerging, but powerful, economies -- Brazil, Russia, India and China -- met with the intention of designing a joint strategy on how to tackle the Eurozone debt tsunami that could overrun the developing nations causing havoc.
Planning Commission Deputy Chairman Montek Singh Ahluwalia, while speaking to the media, said that the BRIC nations' leaders held informal discussions as a sub-group before the summit.
The leaders -- Indian Prime Minister Manmohan Singh, Chinese President Hu Jintao, Russian President Dmitry Medvedev, and Brazilian President Dilma Rousseff-- agreed that the Eurozone sovereign debt crisis was a matter of serious concern for the global economy and had caused fresh instability and volatility in markets after the 2007 economic crisis.
They also agreed, said Ahluwalia, that the only way to emerge from this crisis was to ensure rapid economic growth in a sustained and balanced manner on a global basis.
The BRIC nations also expressed their full support to Europe's efforts to find an early solution to the crisis, underlining that the solution to the crisis had to be found by the European Union and the Eurozone themselves.
However, the leaders were categorical in expressing their support for a greater role of the IMF in the efforts to help resolve the Eurozone sovereign debt crisis.
To potential crisis and to be ready to respond to them, the leaders agreed to intensify consultations between their financial and fiscal officials on a continuing basis to enhance coordination and exchange of views among themselves, including on the margins of the G20 meetings.
The prime minister extended a personal invitation to the leaders for the next BRICS Summit in New Delhi on March 29, 2012, which was accepted by all the leaders.