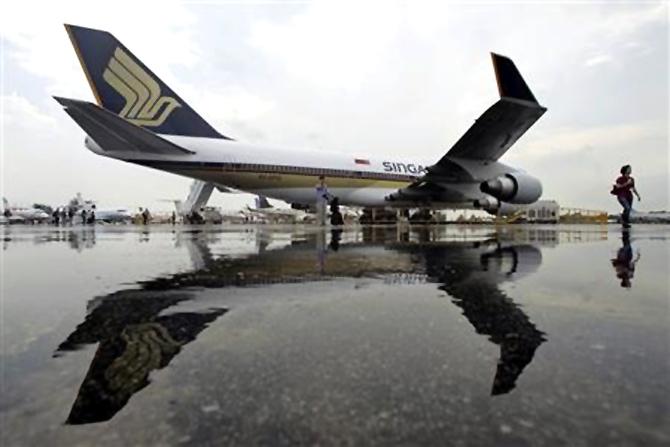 Eyeing potential business opportunity, Boeing Corporation is planning to approach the proposed Tata-Singapore Airlines.
"Singapore Airlines has for long been our customer. We will definitely be approaching the proposed Tata-SIA Airlines for deepening our relationship. But it is too early to say anything further as they just have got the FIPB approval," Boeing Asia-Pacific and India Senior Vice-President (Sales) Dinesh Keskar told reporters here.
When asked whether he is expecting any orders from the forthcoming AirAsia India venture, he said the airline is the best to answer that question. Air Asia Group has been an Airbus customer traditionally.
On the fuselage panel coming off from a Dreamliner of Air India earlier this month in Bangalore, he said the company is concerned over such incidents.
"We are concerned about the problems with Dreamliners. It's a machine, we did our best to design it... but something happens. But it is a safe airplane, it has never caused issues with the safety of passengers," he said, adding that the incident never put the lives of passengers or the aircraft at risk as it was just an access panel and not the pressurised one.
An 8x4ft panel in the belly of a Dreamliner carrying around 150 passengers fell off as the plane from Delhi was landing at the Bangalore airport on October 12. DGCA is probing the incident.
Keskar said the company's service centre in Delhi is also probing the incident. He also expressed hope that limiting the production of Dreamliners to 10 a month would ensure better safety checks.
The Tata Group and Singapore Airlines have formed a 51:49 joint venture recently and last week it got the FIPB nod to seek an air operator's permit apart from other mandatory regulatory approvals. According to group's emeritus chairman Ratan Tata, the airline hopes to fly by next May-June.
Air India has ordered 27 Boeing 787 aircraft, of which it has received nine. The 10th aircraft is likely to arrive in India in the first week of the November.
The Dreamliner has been facing many problems, starting with cases of its battery catching fire in January, which forced airlines across the world, including Air India, to ground their entire fleet of the aircraft for about 4 months.
Keskar also said he is expecting orders from Jet, SpiceJet and Air India Express for the new 737 Max range, which the company claims to save 16 per cent fuel consumption from its predecessor range.
"SpiceJet, Jet Airways and Air India Express are the three target customers for the new Boeing 737 MAX planes, which already have 737 engines. We think this airplane can further enhance these airlines' profitability."
The 737 MAX, Boeing's answer to Airbus's A-320 New Engine Option or NEO, is scheduled to make its first flight in 2016 and deliveries to the first customers are expected to start in the fourth quarter of 2017.