'Boeing has returned some cash to the airline which will help it improve the current liquidity crisis.'
Arindam Majumder and Aneesh Phadnis report.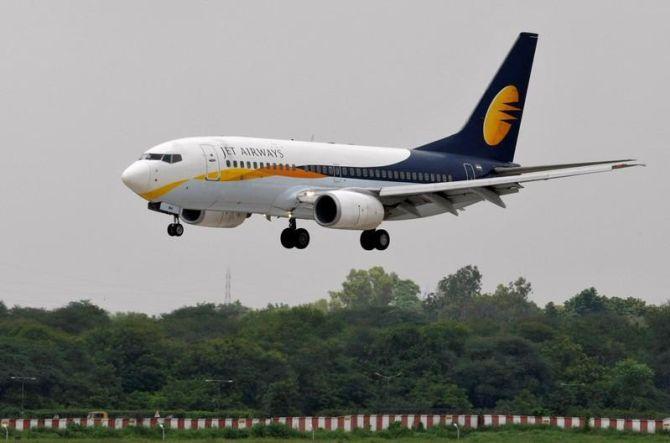 Several long-term business partners of Jet Airways have stepped in to ease the pain for the cash-starved company, it is learnt.
Help is coming from aircraft manufacturers, lessors and even the State-owned Airports Authority of India, a source said.
For instance, Seattle-based Boeing has returned a portion of the pre-delivery payment that the airline had made for the first tranche to procure 75 Boeing 737 Max.
Currently, the airline has two Boeing 737 Max in its fleet and plans to induct another three by the end of September.
Pre-delivery payment is the amount that an airline pays as commitment for fulfilling an order.
In the case of a sale-and-leaseback transaction, an airline orders the aircraft and typically pays 20 to 30 per cent of the aircraft cost.
At the time of delivery, the lessor makes the final payment on behalf of the airline and leases the plane.
"Boeing has returned some cash to the airline which will help it improve the current liquidity crisis. The money will be paid back later," a source said.
We could not confirm the amount that has been paid to Jet Airways. Boeing did not reply to the queries sent.
A Jet Airways spokesperson refused to comment, saying these were business matters internal to the company.
Mumbai-based Jet Airways is losing Rs 50 million to Rs 100 million daily in operations leading to fears that the airline could default in its payment obligations.
The airline had reported a loss of Rs 10.4 billion in the fourth quarter of FY18, capturing the financial problems in the company.
The airline management came under criticism after pilots, who were asked to take a pay cut, questioned how the company was acquiring planes despite a financial stress.
For Boeing, Jet Airways has been a loyal customer for years.
In 2015, Jet Airways placed an order for 75 Boeing 737 Max aircraft, and followed it up with two more tranches of order for the same type of aircraft, taking the total order for Boeing 737 Max to 225.
Boeing had offered similar financial assistance to low-cost airline SpiceJet when the airline faced a near shutdown in 2014.
Since then SpiceJet showed a significant improvement in operations and increased business with Boeing, placing an order for 205 planes.
Jet Airways is also renegotiating leasing terms with aircraft lessors, it is learnt.
"As part of its cost-saving exercise, the airline has approached lessors, seeking discounts," one of the sources quoted above said.
Jet Airways, which had earlier struck sale and leaseback deals with Dublin-based SMBC Capital and GE Capital Aviation Services for 737 Max planes, has approached both for discounts.
GECAS and SMBC Capital refused to comment on specific queries on discounts, but they said they had not sent any default notice to the airline.
As for the Airports Authority of India, it is favourably considering Jet Airways' request for extending the window of credit facility from 15 to 30 days, a senior AAI official confirmed.
According to reports, the airline has also sought help from overseas lenders' consortium, seeking a waiver of a loan covenant on its existing debt facility of about $185 million.
Rising jet fuel prices and a weakening rupee have added to the operating costs of Indian airlines as a majority of the payments are dollar-denominated, resulting in carriers reporting losses or lower profits in the past couple of quarters.