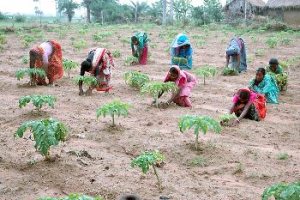 The Left Front government in West Bengal is among the worst performing states in providing work to rural people under the National Rural Employment Guarantee Scheme, Union finance minister Pranab Mukherjee said on Thursday.
"West Bengal is among the states which are lagging behind in implementing the scheme," he told a convention of Pradesh Mahila Congress in Kolkata and pointed out that the state had failed to provide 100 days work to the rural poor as mandated under the Act.
He pointed out that wages under the NREGA have been increased from Rs 61 to Rs 100 which would lead to earnings of Rs 10,000 annually 'irrespective of qualification'. Mukherjee, who is the West Bengal Pradesh Congress Committee chief urged party workers to pinpoint failures in implementation of the scheme at the block and panchayat levels.
Regretting that funds and budgetary allocations were not being used and returned at the end of the financial year, he said "It is necessary that the funds being sent from the Centre to the states for various schemes should be utilised."
Mukherjee said banks should give priority in giving advances and credit to women self-help groups for business as part of its women empowerment goals.
"I have given instructions to the chairmen of banks and they are reporting to me on the progress," he said.
All India Mahila Congress chief Prabha Thakur alleged that crimes against women were increasing under the Left rule in the state.
"There have been rising cases of crime against women in Bengal under the Left Front rule for the past 33 years. The women in Bengal are subjected to torture in various forms," she alleged.
Thakur also claimed that the benefits of the Left Front government's development work was reaching only those supporting the ruling party.