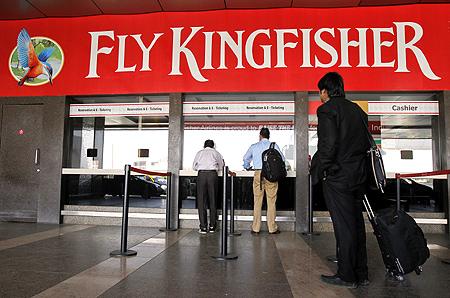 State Bank of India said on Monday the consortium of lenders has recovered Rs 800-1,000 crore (Rs 10 billion) and is making all efforts to recover the remaining dues from beleaguered Kingfisher Airlines.

"KFA recoveries are going on. We have substantial amount of recoveries. Total recoveries for banks more than Rs 800-1000 crore (Rs 8-10 billion)," SBI Chairman Pratip Chaudhuri said in New Delhi.

The consortium of 17 banks, led by SBI, has an outstanding of over Rs 7,000 crore (Rs 70 billion) from the carrier.

It has shares of listed entities like United Spirits as collaterals which should realise Rs 500 crore (Rs 5 billion).

That apart, lenders have the brand Kingfisher as a security.

Additionally, the consortium has a residual right over the securities held by Srei Infrastructure Finance, which comes to Rs 500 crore (Rs 5 billion).

Srei
bought this from ICICI Bank in April last year.
SBI has the maximum exposure, over Rs 1,600 crore (Rs 16-billion) in the Vijay Mallya-led airline. It is followed by PNB (with Rs 800 crore or Rs 8 billion, IDBI at Rs 800 crore or Rs 8 billion, Bank of India at Rs 650 crore or Rs 6.5 billion and Bank of Baroda has Rs 550 crore (Rs 5.5 billion).
Chaudhuri said the consortium is making all efforts to recover remaining debt given to the airlines.
"We are making all efforts. We have treated this loan 100 per cent provided for. It does not mean that we are not going after assets," he said.
"We are going after all assets. The companies shareholding, the companies real estate, the personal assets, all are targeted," he added.