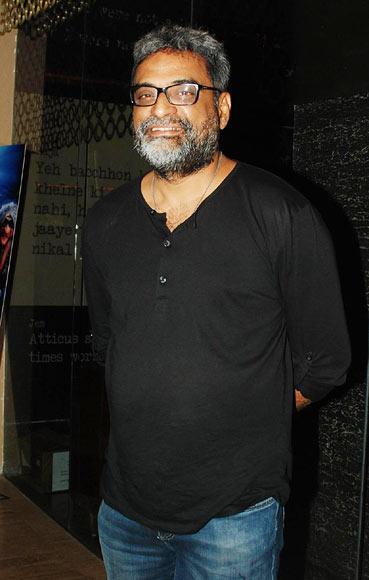 After 22 years at MullenLowe Lintas and a total of 30 years in the ad world, R Balakrishnan bids adieu; will continue working on film projects.
R Balakrishnan, popularly known as Balki, has bid farewell to advertising, exiting MullenLowe Lintas. After 22 years at the advertising agency where he was group chairman and creative chief, the ad-man and filmmaker informed his colleagues of his decision in an internal mail on Tuesday.
Balki has spent a total of 30 years in the ad world and is the force behind many memorable campaigns for brands, such as Idea Cellular, Surf Excel and Maruti.
On his decision, Balki said: "We've been planning this for some time. It's been a long process of succession planning that concludes with my move. The agency is at its strongest today and I leave feeling satisfied, proud and excited.
"We have a fine leader in Joe (Joseph George) and two world-class creative champions in Amer (Jaleel) and Arun (Iyer). The agency has given me more than 22 years' worth in opportunities, growth, values and, most of all, some friends-for-life."
Balki started his career in advertising at the age of 23 with Mudra. A brief stint later, he joined the Bengaluru office of what is now MullenLowe Lintas (then called Lintas). His work includes the 'Walk and Talk' campaign for Idea Cellular, the recent 'Jaago Re' campaign for Tata Tea and Surf Excel's 'Daag Acche Hain' campaign.
Alex Leikikh, global chief executive, MullenLowe Group, said: "Balki has been the architect of the stellar agency we have in India today. He leaves behind an operation that's successful and future-ready, a leadership team that's perhaps the strongest of any agency in India, and a culture that he shaped along the way while himself leading by example.
"While we will miss his infectiously passionate presence, we wish him even greater success as a filmmaker."
Joseph George, group chief executive, MullenLowe Lintas, who has worked closely with Balki through all the 22 years, says: "It is impossible and even foolish to try and replace someone like Balki. So, we planned the transition differently. As early as July 2015, we put in place, a management structure that would help us move forward as an organisation, while also maximising the potential and aspirations of great individuals we have.
"Balki and I have tried to think this through every step of the way, and it's reached a place where we feel the agency is ready for today, and tomorrow."
The ad-man turned director/producer will continue his work in films. Since 2007, Balki has been directing and producing films in Bollywood. His debut project was Cheeni Kum, the Amitabh Bachchan and Tabu starrer, which got both critical appreciation and commercial success. He has since directed three more films, including the national award winning Paa in 2009.
His recent ventures -- Shamitabh in 2015 and Ki and Ka this year -- have met with mixed reviews and seen lukewarm response at the box office. He also produced the critically acclaimed and immensely successful 2012 film English Vinglish.
Through his film making career, Balki has had a special bond with Amitabh Bachchan, the Bollywood legend featuring in some way or the other in all his ventures, whether as the main character (Cheeni Kum, Paa, Shamitabh) or as a cameo (English Vinglish and Ki and Ka).
Before joining advertising, Balki had in fact applied to be enrolled in direction at the Madras Film Institute but eventually chose to pursue a master's degree in computer applications. So, in a way, when he started directing films, the ad-man was pursuing something he always intended to in the first place and now will continue to.
As the man himself put it, "There is no bigger happiness than to see a thought actually work the way you had fantasised. Lowe was a thought I am proud of. Ok...next!"
Image: R Balki. Photograph: Pradeep Bandekar.