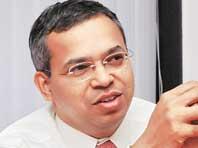 Donald D'Souza, the new head of HDFC Bank's equity capital markets business, prefers to keep himself fit by playing badminton.
For him the early morning jogs or walks are quite monotonous, hence his love for the racquet sport blossoming over the years.
"Badminton requires lot of stamina. So, I prefer to play the doubles game these days," he says with a grin.
Banking was not on his mind when he started his career with TISCO (now Tata Steel) in Jamshedpur as an engineering graduate.
But the economic liberalisation in India in the early 90's persuaded him to explore a career in finance.
He graduated from the Indian Institute of Management, Ahmedabad (IIM-A) and joined JM Financial.
"Frankly, I wanted to come back to my hometown in Mumbai. Hence, the urge for a career in banking was very strong," he says with a laugh.
From JM Financial he moved to CLSA, worked with Kotak and then joined IIFL.
Prior to his appointment in HDFC Bank, D'Souza was the president of IIFL's investment banking business.
He has worked with some of the largest corporates and private equity groups in India and has expertise in most equity products in investment banking including initial public offer, qualified institutional placement, rights issue, Global and American Depository Receipts and mergers and acquisitions.
At HDFC Bank, D'Souza will be responsible for building the equity capital markets business that includes origination and execution of capital raising mandates.
He will report to Rakesh Singh, who heads the investment banking operations of the private lender.
"Donald has built a strong set of relationships with some of India's leading corporates and private equity groups and enjoys respect in the eyes of his colleagues and peers.
"His long stint and rich experience in the industry will help us scale new heights," Singh said.
D'Souza is also an ardent reader and prefers books on finance and psychology.
He is currently reading a book that explains why people make silly mistakes.
Image: Donald D'Souza | Photograph courtesy: HDFC