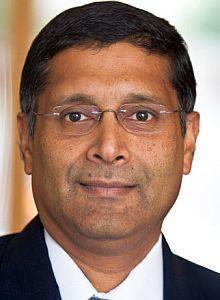 US-based economist Arvind Subramanian became chief economic advisor to the Indian government on Thursday, an appointment that puts a long-time ally of Reserve Bank of India Governor Raghuram Rajan at the heart of economic policy making.
Subramanian announced his appointment at an impromptu news conference, confirming speculation that has swirled for two months over whether he would get the job advising Prime Minister Narendra Modi's new government.
"I have just taken charge as chief economic advisor," he told reporters outside the Finance Ministry. "It is a great honour ... to serve in a government that has a mandate for reform and change."
The presence of Subramanian, a senior fellow at the Peterson Institute for International Economics in Washington, will add intellectual heft to Modi's nationalist cabinet, which is widely seen as lacking bench strength.
Setting out his priorities, Subramanian said: "For any economy like India, two big things are macro-economic stability and, of course, creating the conditions for rapid investments and growth."
He took a handful of questions before driving off in a white government sedan.
Subramanian's appointment creates a crucial back channel for Rajan, the governor of the Reserve Bank of India, to hash out a new monetary policy framework that Finance Minister Arun Jaitley wants to roll out in his annual budget next February.
He worked alongside Rajan in the International Monetary Fund research department that Rajan headed as chief economist for the global lender. He has been described by one associate as the "de facto closest adviser" to the RBI governor.
His appointment followed news earlier that Arvind Mayaram, the most senior civil servant in the Finance Ministry, had been transferred to another job.

(Reporting by Manoj Kumar, Rajesh Kumar Singh and Frank Jack Daniel; Writing by Douglas Busvine)