Initiated move to privatise Air India, but reports on poverty and cast census remained unfinished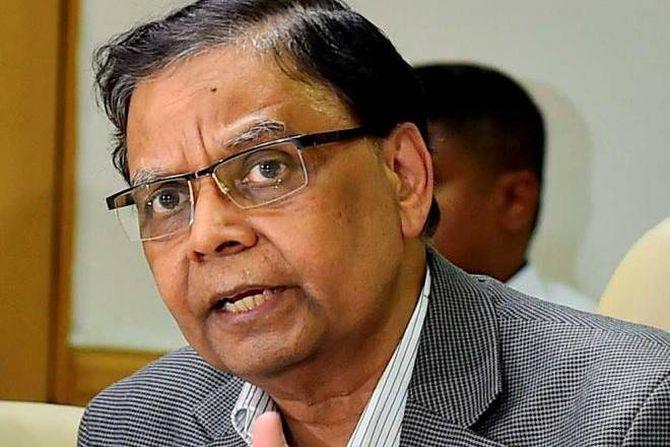 NITI Aayog's first vice-chairman and noted economist Arvind Panagariya on Tuesday decided to relinquish his post to pursue academic interests less than three-years after he was appointed.
The sudden announcement sparked off speculation that all was not well with his relationship with the Prime Minister's Office ( PMO).
However, Panagariya denied the rumours of feeling 'suffocated' and said that he enjoyed the most cordial relationship with the PMO.
In the last two years and eight months, Panagariya attempted pushing through many reforms, some of which were well accepted while others couldn't get the government nod.
Here is a laundry list of reforms that the vice-chairman accomplished during his tenure and those that he could not push through.
Panagariya's achievements
Initiated the move for privatisation of Air India: India's national carrier had been a white elephant for successive governments for long. Although numerous attempts were made to privatise the national carrier, it was after NITI Aayog's recommendation, the NDA government got a cabinet approval for the same. The last time, a formal cabinet note was moved and approved on Air India was when Atal Bihari Vajpayee was the prime minister.
Prepared the three-year action agenda for the Modi government, a document which replaced the five-year plan with more concrete and short-term suggestions: The action agenda is one of most comprehensive documents prepared by the Aayog in the last three years with actionable points by all including states. It covers a wide range of issues on economic subjects and also for the first time talks of police reforms, governance etc.
Started the process of reforming the higher education sector in the country, first through the Medical Council of India, then was working on UGC and AICTE: Institutes of national importance like Medical Council of India (MCI) had come under a lot of criticism due to their functioning. The NITI Aayog recommended a complete overhaul of them with a more professional approach to ensure maximum fair play for all.
Prepared a list on closure and disinvestment of sick PSUs: The Aayog along with some ministries had prepared a list of 44 sick and loss-making public sector units which needs either to be shut down or go for strategic disinvestment. The Centre has already started working on many of those.
Worked with states to modify their land lease laws and revamped the Centrally Sponsored Schemes (CSS): A high powered panel of chief ministers chopped and churned the Centrally Sponsored Schemes (CSS) and reduced their number to around 27 from a hefty over 100. NITI Aayog was the main driver and nodal agency for that panel.
It was among the first to flag mounting non-performing assets (NPAs) in banks.
Panagariya's failures
Couldn't get the government nod on his pet idea of Coastal Economic Zones (CEZ) on the lines of China, though he did initial work on the same but couldn't find much support from the finance ministry on tax breaks and concessions: One of Panagariya's pet idea was Coastal Economic Zones (CEZs) something which would look like the Shenzen Special Economic Zone of China. These zones as per Panagariya should be over a large area (Shenzhen covers 2,050 square kilometres) and must have some existing infrastructure and economic activity.
He even spoke to a couple of ministries and managed to get a nod from few. The two coastal states of Gujarat and Andhra Pradesh seemed amiable to his idea. But, the issue of concessions and tax breaks remained a sore point without any budgetary allocations or support.
Wanted the government to focus more on mega job creating sectors by reforming the rigid labour laws particularly in areas like leather, gems and jewelry, among others: Panagariya during his tenure as NITI Aayog vice chairman was a great votary of focusing on those sectors and industries which has the potential of generating big jobs for the country. These included leather, textiles, gems and jeweler. He always wanted big manufacturing units to come up, something which would employ many people. He often quoted a ADB report which showed that in India manufacturing firms with less than 20 workers each employed 73 per cent of manufacturing workforce but produced only 12 per cent of manufacturing output in 2010-11.
Couldn't complete the 15-year vision document, which could have been a long-term policy statement: The 15-year vision statement which was to be long-term policy document of the NITI Aayog remained incomplete during his tenure.
The reports on poverty and cast census remained unfinished: Panagariya's report on poverty measurement and urban census also remained incomplete. On poverty measurement he favoured using a multi-dimensional apparoach and left upon other experts to draw a line.
He could not negotiate through the highly complex bureaucratic maze that rules India's administrative setup: The biggest failure of Panagariya tenure was his difficulty in negotiating the bureaucratic maze that engulfed NITI Aayog and for that manner all government departments. The noted academician was always at difference with bureaucrats though not publicly which sometimes lead to creation of two two power centres within the same organisation.
Photograph: PTI Photo