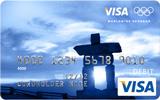 As the chief enterprise risk officer at Visa, the world's largest retail electronic payment network, Ellen Richey's primary responsibility is to protect the company's 1.8-billion customers from fraud.

She spends a large part of her time decoding patterns of card-related fraud in various parts of the world and devises ways to combat these.

What brings you to India?

It's such an enormous market and the penetration of electronic payment is just three per cent. I am also interested in understanding how the government is moving on security.

I believe the central bank has been very pro-active about introducing dynamic authentication systems like the two-factor authentication for online transactions. I believe this has really given a boost to e-commerce in India.

Destination fraud is becoming a big concern, as using credit cards in some countries results in the issuer cancelling that card and reissuing a new one.

The more such cases of fraud are reported, customers lose faith in the system and that is not good.

However, the rate of fraud is coming down globally and stands at 6.1 basis points, mush lower than in the '90s.

We take concerted action to curtail destination frauds and work closely with enforcement agencies to educate them about fraud-detection techniques.

For instance, Malaysia was a hot spot for card-related frauds and ever since the government took pro-active steps to curtail these, thieves moved to Thailand.

Thieves are becoming increasingly smart because if larger markets are secured, they move to the smaller market and attack the weakest links. However, I can say it's pretty safe to use credit cards almost anywhere.

What kinds of credit card frauds are more prevalent?

Counterfeit and CNP (card not present) continue to be the two main types. Physical theft of cards is not such an issue.

Since online transactions typically don't require the card to be presented, the information sitting on the card and other customer authentication details are sometimes compromised and used for transactions. This is becoming a big problem.

However, India has been pro-active in this regard and has introduced the two-factor identification system, wherein a customer transacting online must also have a T-Pin for transactions where the card is not present.

What is being done to prevent such fraud?

Visa is doing a number of things in partnership with issuers to introduce measures which can easily prevent such frauds.

Since the prevention of theft is of utmost important, banks are offering customers the option of opting for alerts whenever there is a transaction.

This measure is immediate in nature and can help the customer know about his or her transactions in real time.

Also, we are increasingly encouraging issuers to opt for chip cards, which can go a long way in controlling fraud. We would like all banks to issue chip cards to increase security.

Why is a chip card safer?

It is very difficult to copy, as a unique cryptogram or code is generated for each transaction. So, even if a card is counterfeited, it will be declined.

In India, banks are selectively issuing chip cards to consumers, depending on their usage pattern.

What are some of the most effective fraud detection tools that Visa has?

Some very sophisticated ones are in place. Some are rule-based tools, wherein a customer can define a set of rules for transactions like a spending limit, places of transactions, etc.

If there is a deviation from these, the transaction won't be complete. In the USA, neural networks (artificial intelligence) are being deployed to ensure the authentication sits on the back-end.

These networks basically study the pattern of usage by a customer and any deviation comes up for further verification. So, a customer gets a call if there is a deviation from his or her set pattern.

What can a customer do to avert card-related frauds?

They should first opt for customer alerts each time there is a transaction. Second would be dynamic authentication by using chip cards.

Also, they should be careful of hidden cameras in ATMs and should watch for fake ATM fronts, where your card can be skimmed.