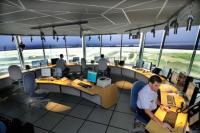 Air traffic control operations will start functioning as a new entity from April next year.
As of now, the air navigation service comes under the Airports Authority of India, the state-owned airport operator. In the US and Europe, ATCs operate as separate company.
"The new company will be called Air Navigation Services Corporation of India. But a decision is yet to be taken on whether it will function as a separate company or AAI's subsidiary," said a senior AAI official, who did not want to be identified.
AAI would like the company to operate as a subsidiary in order to make sure that the revenue does not go out of its kitty. ATC operations account for over 60 per cent of AAI revenues. The rest of the revenue comes from operating 87 airports across the country.
AAI earned Rs. 4,186 crore (Rs. 41.86 billion) and made a profit of Rs. 687 crore (Rs. 6.87 billion) in 2008-09.
Revenues coming from ATC operations include charges for route navigation facilities, terminal navigation and instrument landing, among others.
Also, every time an international
flight uses India's airspace, it pays a fee for ATC services.
The process for hiving off the company started over a year back with the creation of a post called member (air navigation service provider) on AAI's board to monitor the functioning of ATC.
Prior to this, the job was looked after by member (operations).
"The assets will be transferred to the new entity. The assets will include the equipment being used for guidance. The buildings which will have the ATC offices will remain ours and we will get rent from them," said the AAI official.
With the aviation industry currently growing at a rate of around 20 per cent and airlines planning to add huge capacity, revamping of ATC was required.
Another key requirement was in the area of staff hiring, where there is a big shortage.
There are 1,800 ATC officers across the country, far below the requirement. It is one reason for increasing incidents of near-collisions in the air.
The current strength needs to be augmented by an additional 400 officers.
The government has been hiring retired ATC officers, from civil and military sides, to bridge the gap.