Cash-strapped Air India, whose management has been considering slashing salaries and allowances of its employees, has signed an MoU with its officers' association to pay interim relief which would put an annual burden of Rs 36 crore.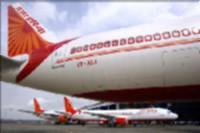 The company signed an MoU with the Air India Officers Association (AIOA) on Friday for the release of the ad-hoc interim relief for general cadre of officers of NACIL-A effective from April 1, airline sources said.

The MoU, which has been approved by CMD Arvind Jadhav, entails an interim relief of Rs 10,000-15,000 per month in the productivity-link incentives (PLI) of general category of over 2,200 erstwhile Air India officers.

The agreement has been signed ahead of a case filed by the AIOA in the Mumbai High Court. According to it, PLI payment for the month of October would be made in November, the sources said, adding the company plans to pay arrears, which would be around Rs 20 crore, along with the December salary.

They said the airline management has already instructed the finance department to implement the MoU immediately, they said. "The Association had long been demanding parity in PLI with their fellow officers within Air India as well as officers in the same category in erstwhile Indian Airlines," they said.

Ironically, the company, in a case filed by the association of retired cabin crew executive seeking payment of their arrears, had told the Mumbai High Court that it did not have funds to clear these outstanding amounts, the sources said.