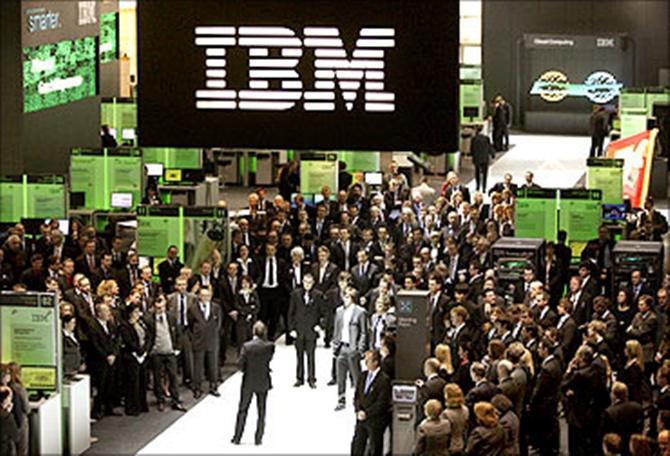 Close on the heels of Boeing's defence of India to the US International Trade Commission's investigation into India's trade, investment and industrial policies, IBM has also sprung to New Delhi's defence in an otherwise sea of criticism of India's violations of intellectual property rights, local content requirements, among other issues of concern to US business and industry.
IBM in its submission to the USITC, at the outset acknowledged, "Last year, IBM and other US technology companies faced a major challenge when the Indian government published the Preferential Market Access Policy, which imposed certain local content requirements to government and private sector procurements of Information and Communications Technology products and services."
Christopher A Padilla, Vice President, Government Programs at IBM, noted, "The PMA policy threatened to put at risk significant business opportunities for IBM in a number of critical industry sectors, including telecommunications, banking and financial services and infrastructure."
He said, "Working with ICT companies, IBM directly engaged the Government of India to raise concerns with the Policy and seek revisions that would excise those discriminatory provisions that were inconsistent with World Trade Organization rules."
"These included detailed and sustained discussions with the Indian embassy in Washington, DC, the Ministry of Communications and Information Technology, the Planning Commission, the Ministry of External Affairs, and the Prime Minister's Office."
Padilla informed the USITC, "In response, the Prime Minister's Office entered into a constructive dialogue with US technology companies to consider our concerns. As a result, last year, the government announced a revised version of the Policy that rescinds the application to private sector procurements."
He said, "This important change, reached by the government of India after careful consideration of all views and balancing of important interests, will help ensure that US firms can continue to compete in India on a level playing field."
Thus, Padilla argued that "this process serves as a positive example of the government of India's willingness to constructively engage foreign companies on important matters."
"In this case, the government recognised the concerns of foreign ICT companies with the PMA Policy and agreed to important revisions," he said.
Padilla exhorted the USITC to "take this positive example into consideration as it conducts its investigation," even as he thanked the Commission for its "continued championing of the US tech industry."
Last month, in perhaps the most significant testimony in India's defence, Boeing said that India's strong legal framework is a buffer against violations of intellectual property rights.
In its testimony submitted to the USITC, the America's heavyweight aircraft manufacturer, said, "In Boeing's experience, India has a legal framework that is adequate to protect IP with no known cases of IP violations involving Boeing's activities in the defense and aerospace sector."
Boeing, which has major investment and research and development centers in India and has received orders worth billions of dollars in the aviation and defense sector, noted, "A detailed review of Boeing's enterprise-wide activities in India, including the export of Boeing products, as well as sourcing activities, indicates an adequate IPR legal framework is in place for Boeing's aerospace and defense products in India."
Boeing said that consequently, it "has had a positive experience with Indian customers, partners, and suppliers on IPR protection."
The company said, "Since late 2005, Boeing has secured contracts from Indian buyers worth tens of billions of US dollars, which is creating and will sustain at least an estimated 180,000 US jobs in a high skill, high value industry over the delivery period of these contracts."