Only when the RBI inspection started on September 19 did they realise that their game was up and one of them had sent a letter to the central bank, leading to the RBI crackdown, report Anup Roy and Subrata Panda.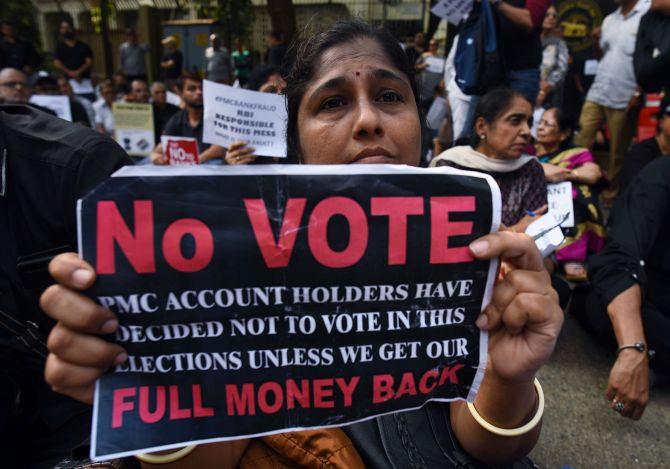 Relations between Punjab and Maharashtra Co-operative Bank and Housing Development & Infrastructure, which is facing bankruptcy proceedings, were highly symbiotic.
The bank's sacked managing director (MD) and chief executive officer (CEO) Joy Thomas wrote a five-page confession letter to the Reserve Bank of India (RBI) on September 21, reviewed by Business Standard, where he described the relation of the HDIL's promoter family Wadhawan with PMC Bank in detail, and how both sides helped each other out.
He admitted to concealing information from the board, auditors, and regulators, and replacing stressed accounts with dummy accounts.
He also stated that "all the decisions for granting of overdrawals to these accounts was as per my instructions", and absolved other executives who, he said, had no role except for acting in good faith in executing his instructions.
While the bank almost relied solely on the company for growth, the real estate firm used the bank for its funding needs and to keep its accounts with other banks healthy.
The bank misled auditors of the RBI by replacing legacy accounts of the company with dummy accounts, dating back to 2008, to show a healthy balance sheet, highly-placed sources said.
RBI inspectors and auditors, short of time, did not feel the need to dig out old accounts until offsite inspections around 2017 raised their suspicion and they demanded old records.
Then again, the bank manipulated even those records and managed to slip past the central bank auditors. This continued till Bank of India (BoI) dragged HDIL to bankruptcy court, which prompted PMC Bank to provide HDIL additional money to honour BoI's and other banks' part claims.
Business Standard reached out to Thomas. But his cellphone was switched off. A detailed questionnaire was sent to his lawyer. However, he did not respond to the questions.
The interim resolution professional of HDIL, who is in charge of running the company after the insolvency process was initiated against the company, did not wish to comment on the subject.
Sarang Wadhawan, vice-chairman and MD of HDIL, could not be reached for comments.
A core group of six people were engaged in manipulating accounts. Only when the RBI inspection started on September 19 did they realise that their game was up and one of them had sent a letter to the central bank, leading to the RBI crackdown.
The RBI, going by the standard protocol, had to freeze withdrawal till it discovered the mean deposit pattern. Once it was determined that about 64 per cent of the bank's depositors have up to Rs 10,000 of deposits, the central bank increased the limit to Rs 10,000 from Rs 1,000 imposed two days earlier.
Symbiotic relations
Thomas's letter says the Wadhawan family, the promoters of HDIL and Dewan Housing Finance Corporation (DHFL), stood by the bank during its most trying times and saved it from an assured bankruptcy by putting in capital.
In 1986-87, a few years after it started operations in a single branch in Sion, Mumbai, PMC Bank was on the verge of closure. Brothers Rajesh Kumar and Rakesh Kumar Wadhawan infused capital into the bank and parked big deposits to build its credibility with depositors, many of whom are now robbed off their life savings.
In 2004, when cooperative banks were collapsing and there was a run on PMC Bank too, Wadhawans "deposited more than Rs 100 crore to tide over the liquidity crunch faced by the bank," the letter said.
Adequately funded, PMC Bank never turned away any depositor till trust was regained and customers started coming back in great numbers. The bank took off and so did HDIL borrowing money from the bank.
HDIL's primary business model was to develop land parcels in the fringe areas of Mumbai and redevelop slums. It had a huge land bank for a sustainable business plan.
The real estate company developed those lands in the Virar, Palghar, and Vasai areas, doing business exclusively with PMC Bank and giving it a hefty fee and interest rate upwards of 20 per cent, which zoomed the bank's profitability.
PMC Bank grew from a single-branch entity in 1984 and a capital of just Rs 10 lakh to a multi-state cooperative bank having 140 branches, with the ambition of becoming a private bank. It also acquired three cooperative banks in the interim and was in discussion to acquire two more.
However, the dependence on a single firm was so much that the bank's management implored HDIL to come back when the real estate firm solicited business from other banks. The bank was so grateful that it made sure that the Wadhawan group companies, particularly HDIL, was never in any financial trouble, even as the company stopped repaying in 2013.
HDIL's fortunes turned sour after 2011-12, when the Maharashtra government changed its policy regarding resale of transferable development rights, which, in turn, rendered a redevelopment project near the airport incomplete and thereafter terminated.
The company struggled to pay its banks, but PMC Bank, fearing a hit on profitability and subsequent regulatory action by the RBI, as well as tarnished reputation risk, engaged in fudging the accounts.
Dummy accounts
The bank's management kept the board in the dark. "Though some of the accounts were not performing well, it was not brought into notice of the board," Thomas wrote to RBI. HDIL was running many projects and the bank happily created separate accounts for different projects.
The management till recently this year revealed to the board only some latest accounts, but all legacy accounts were hidden. The bank, meanwhile, continued showing healthy profits and grew fast, and the fudged accounts passed the auditors' review too.
Even till 2015, RBI auditors used to check mostly a top few borrower accounts branchwise, but from 2017, alerted by offsite inspections, they demanded checking the legacy accounts. This is when the bank started replacing legacy accounts of the HDIL Group with dummy accounts to match the balance sheet.
"As the loans were mentioned as loans against deposits and were of lower amounts, they were never checked by RBI," Thomas stated.
Even in 2008, the bank had not reported some of the large accounts to the RBI for fear of reputational risk. In 2011, the bank's advances were Rs 2,000 crore, of which Rs 1,026 crore was to the HDIL group.
"Had we classified them as non-performing assets, we would have had to stop charging interest on these accounts and we could have made losses," Thomas wrote.
There was a reputation risk, and the bank would have made huge losses and would have had to close down sooner or later. The bank decided to show the accounts as standard and charge interest instead.
RBI inspection was a matter of tension for the six-member PMC Bank team engaged in edging past auditors and inspectors. But it became too much for them to continue like this, and one key member wrote a detailed letter to the RBI, disclosing every detail.
As it stands now, of the more than Rs 8,000 crore of the bank's advances, more than Rs 6,000 crore is the exposure to the HDIL group, said a source. But Thomas in his letter said, "We are still very optimistic on the repayment plan of HDIL group."
The bank management met the HDIL Group on September 21. In the meeting, the company decided to create the bank's charge on assets of Rs 3,500 crore, in which other banks have claims of Rs 500 crore.
Before being superseded by the RBI administrator, Thomas and his team closed HDIL's fixed deposit accounts of Rs 150 crore and adjusted that against the loan, and also created charges on securities available with the bank.
But other banks also have claims on these securities that the PMC Bank management tried to square off by sanctioning additional loans to the HDIL group.