'Markets are factoring in a good show by India Inc in Q2.'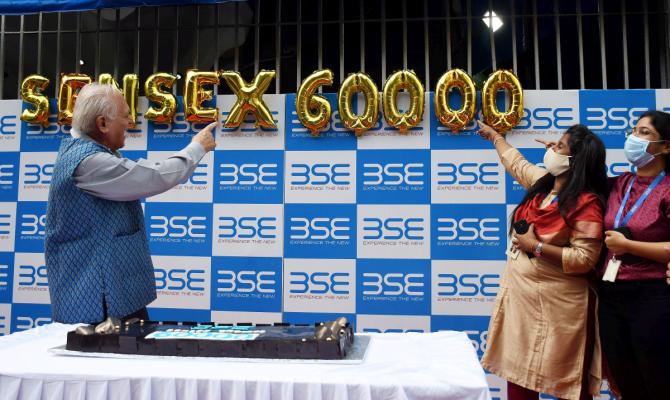 Atul Bhole, senior vice-president for investments, DSP Investment Managers, tells Nikita Vashisht that the markets should be able to sustain current levels despite high valuation.
Are the markets fully pricing in the taper and a possible rate hike in 2022?
The US Federal Reserve is actually preparing the market for an eventual taper and interest rate hike for quite some time. Eventually, when it happens, the market will not see much volatility.
It is important to note that the US Fed will taper, or hike rates, when it is confident about growth sustainability. Even with confidence about growth, the path to this taper and interest rate hike will be very gradual. To that extent, the market will not react sharply.
Where does India rank in terms of foreign institutional investors' preference list?
The US and select emerging markets may continue to do well.
Among EMs, India stands a good chance of outperforming. That said, Indian markets are trading at a significant premium to MSCI EM -- to the extent of 70 per cent.
Historically, this premium has been around 30-40 per cent. Markets should be able to sustain at the current levels despite high valuation.
How hard has Evergrande's credit risk hit investment sentiment?
The issue will be contained within China and it will not have many repercussions for the global financial system. However, it will cause some growth slowdown within China in terms of real estate and related sectors, and metal prices as well.
What is your portfolio strategy now?
Our funds have done well thus far in 2021, largely on account of allocation towards mid and small-cap stocks. And right now, we are making some incremental changes.
We are increasing our allocation to domestic cyclical sectors -- banking, financial services and insurance, auto, cement etc. These stocks look attractively valued.
Metal and telecom sectors have been in the news recently. Are they a good bet after the recent correction?
A lot of positives have already been factored into metal and telecom stocks. I don't see much upside in metal prices because of demand-supply issues.
The Evergrande development will keep demand muted for many metals, as it has implications for real estate and the related sectors that generate demand for metals.
A prudent strategy will be to take some money off the table as regards metal and telecom counters.
Your expectation from the September quarter results season?
Markets are factoring in a good show by India Inc in Q2.
Among sectors, BFSI can throw up a positive surprise for investors in terms of performance and guidance.
On the other hand, the information technology sector could face some headwinds in terms of margin pressures due to salary hikes.