Helen Brand, the CEO of UK's Association of Chartered Certified Accountants, offers a CA's view on money laundering and how India's implementation of Ind-AS will make it more attractive to investors.
Illustration: Uttam Ghosh/Rediff.com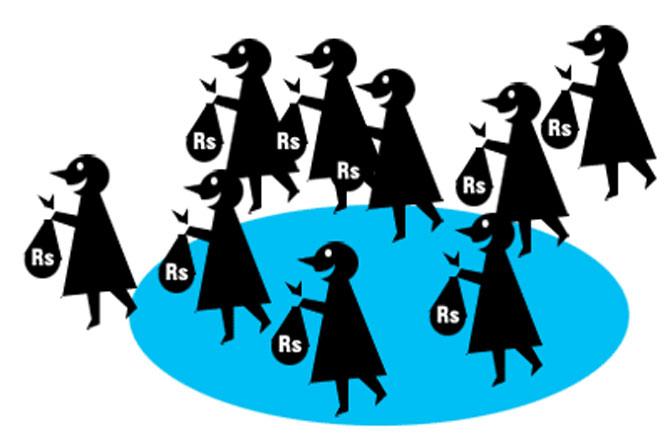 Helen Brand, chief executive of the United Kingdom-based Association of Chartered Certified Accountants (ACCA), that supports 188,000 members and 480,000 students across 178 countries, talks to N Sundaresha Subramanian on ACCA's work in the country, implementation of Ind-AS (Indian-Accounting Standard), and the role of accountants in the fight against black money.
Edited excerpts:
How relevant is ACCA to professionals here?
We qualify and then regulate professional accountants globally. We have always had an international outlook as an organisation. That was emphasised in 1996 when we adopted international accounting and international auditing standards as the core of qualification.
That is particularly relevant in the Indian context given the move to Ind-AS. The convergence makes both our professional qualification and also our diploma in IFRS very relevant.
India is ACCA's largest market for diploma in IFRS, largely driven by the convergence project that is underway here.
What is your relationship with professional accounting bodies in India?
We have had a memorandum of understanding with the cost accounting body for two years. We have also been working with the Institute of Directors for six years now. We provide something complementary to the national body. ACCA provides the broader international qualification, which is particularly helpful for individuals and businesses.
What is this MoU with cost accountants?
We look at joint research and joint CPD (continuing professional development) for our members and generally raising the standards of the profession to make it attractive for young people. It is always important to attract the brightest and best people for the profession.
How are Indian businesses coping with the implementation of Ind-AS?
It is the same with any change management process. There is a question of education and you need the capability to implement the standards and hence the popularity of ACCA diploma in IFRS. It is useful for existing professional accountants who need to understand the transition.
The long-term advantage is that Indian reporting comes on par with reporting around the world. It is more transparent and more attractive to investors.
There is talk about de-globalisation. Protectionism is on the rise. Do you think these will affect the move to global standards?
In a study that covered 2000 C-suite executives and professional accountants plus 300 participants in workshops across 18 different markets we looked at 2025. There was no sense of rising protectionism being the dominant theme in that period. What was required for the professional accountants was a global understanding and international outlook. It is very hard to turn back the connectivity in the world.
There is a lot of focus on curbing black money in India. Accountants also play a role in generation, accounting and storing ill-gotten wealth. What is ACCA's position on this?
It is about ethics and good governance. We train ACCA accountants to have ethics at heart of that qualification. Our members sign a code of conduct. Any transgression would attract disciplinary action.
What kind of disciplinary action?
Fines and ultimately, disbarring. Removing the membership removes the livelihood of the individual. Becoming a professional is a commitment to lifelong ethical practice.
Are there any systemic changes underway to address money laundering?
We have been involved with the Consultative Committee of Accountancy Bodies, an umbrella group of professional accounting bodies in United Kingdom, to help governments devise new anti-money laundering regulations. We will shortly put in place steps to enhance the way in which we monitor our own practices.
There is plenty of evidence to show that corruption costs the business more than if they stick to the rules or behaved ethically. Billions of dollars annually could be saved if anti-money laundering and other anti-corruption practices were put in place.