'I think the ingredients for sustained rapid (economic) growth are all in there. Our current account deficit, our external debt, the way the subsidies are being targeted, the government has actually done a significant amount of work in improving these numbers. The fact that they have rationalised the entire petroleum subsidy structure needs to be highlighted here.'
'The fact is the government is using the DBT (direct benefit transfer scheme) to move into more direct transfers and reduce losses. This subsidy model needs to be taken forward.'
'Instead of directing subsidies towards fertiliser companies, these need to be given directly to the farmers and the savings from this should be used to push the crop insurance scheme.'
Assessing the shape of the Indian economy just a couple of days ahead of Union Budget 2016, Saugata Bhatacharya (image, below), chief economist, Axis Bank, speaks to Prasanna D Zore/Rediff.com about his wishlist and suggests measures that can help Finance Minister Arun Jaitley achieve the targeted fiscal deficit of 3.5 per cent of India's gross domestic product.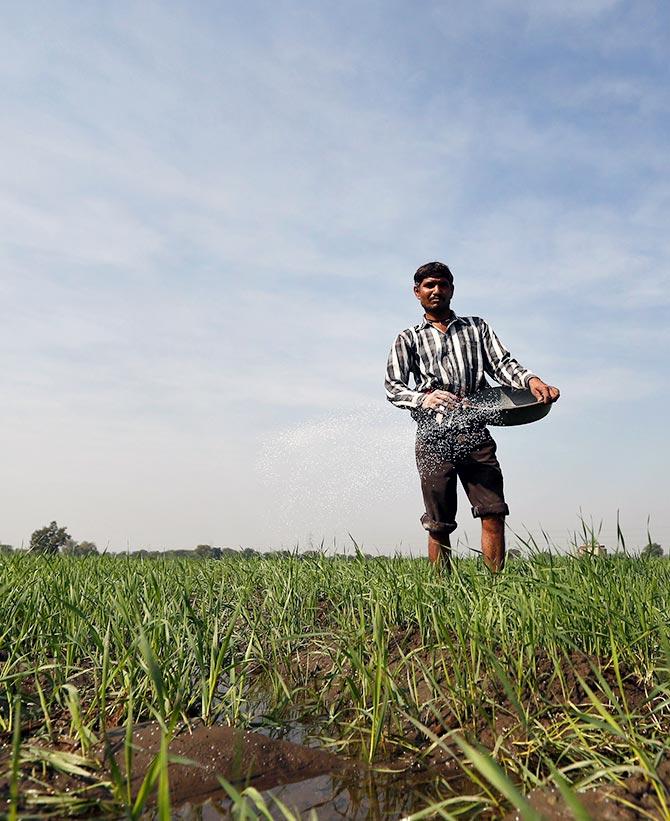 Image: A farmer works on his field in the outskirts of Ahmedabad, India. Photograph: Amit Dave/Reuters
What are your top three expectations from Union Budget 2016?
This is almost standard by now: The core purpose of the budget is the fisc and there are lots of things that they (the government) could do. At this point in time, seeing what we are seeing in global markets, I think it is best for them to adhere to their fiscal deficit consolidation path that they have announced.
I know there are hundreds of balancing, conflicting objectives and so on but they certainly need to spend some more money on capex (capital expenditure) and given the fact that they are constrained by the need to service the recommendations of the Seventh Pay Commission, that will be a very delicate, tightrope, balancing act.
But they should try to stick to the 3.5 per cent (of the GDP) fiscal deficit target. Given the conditions in the bond markets now and fears of currency depreciation, I think they should show intent to stick to that 3.5 per cent number.
And the way they can do this is by leveraging their assets.
Are you suggesting offloading of government stake in various Public Sector Undertakings?
Yes. I think there are enough bright minds in the government who will be able to figure out how to leverage their financial assets through strategic sales, one-time sale, private placements or whichever is the best way of unlocking the value.
And then there are huge land assets that the government owns. The government's assets registry puts this to the order of Rs 2.5 lakh crore (US $36.5 billion) of land assets and that too at book value. One cannot imagine what can be the current market value of that land.
The other wish is they should simplify and rationalise their tax base.
The third part, which is very critical now, of which we don't quite understand the implications of how fragile this segment is, is agriculture. They have already started with the Pradhan Mantri Fasal Beema Yojana, The National Crop Insurance Services, the National Agricultural Market, water conservation, etc, the entire focus of government allocations and planned spending in these areas has become fairly important now.
Out of the three wishes you outlined, which do you think is the most doable?
They will definitely increase allocations to agriculture. And that's a must. I don't think that this is a matter of doability but has to be done.
Will that help rural demand?
I am not at all worried about rural demand in so much as efforts to start increasing agricultural productivity. This is one of the areas that if they can unlock rural agricultural productivity, then it can be a very major source of sustained growth for India for a very long time. That will be a huge source of jobs and there is huge amount of scope to increase our agricultural productivity, which is one of the lowest in the world now.
What kind of multiplier can the agriculture sector have for the Indian economy?
This multiplier would include the entire food processing chain, the employment chains, the rural infrastructure chain… all of this can help generate rural demand. This is what can really push growth up over a period of time.

Given that India is likely to grow at about 7-7.1 per cent this fiscal, how can the Union Budget act as a stimulant to re-energise the steam lost by the Indian economy?
7.1-7.2 is something that is realistic for FY16 (financial year ending March 31, 2016) given global demand conditions and loss of agricultural output and so on. Next year (financial year 2016-17 that begins April 1, 2016 and ends March 31, 2017), if we target 7.5 to 7.8 (per cent of GDP) then I think one thing that leads to this increase is capex.
The Railway Budget has already taken steps to do that and even otherwise, this year, that is the number that we have for the period between April and December 2015, it does show an increase in capex. But the problem now is the Seventh Pay Commission, which in itself could stimulate some consumption demand. And so the government now needs to use many of the special purpose vehicles that it has like the NIIF (National Infrastructure Investment Fund), the Mudra Bank, to try and see how the recapitalisation of public sector banks can take place.
What could be those three budgetary provisions that can help India cross the 7.8 per cent mark in 2016-17?
One is funding and establishing the National Infrastructure Investment Fund. Many sovereign wealth funds have expressed interest in investing in this fund. The government corpus of Rs 40,000 crore or whatever number they are thinking about can be easily leveraged, 9x, 10x, 11x times to build a significant corpus for this fund.
Bank recapitalisation is another bigger area in which government's capital infusion can be leveraged 11x to pull in more funds.
The next thing is budget provisions for crop insurance and that needs to be rolled out rapidly. The PM has himself said that he wants to cover about 50 per cent of farmers under this scheme this year, which will be a big push. I don't think this is a question of doability or otherwise but it is a necessity and budgetary provisions should be sued to push crop insurance for farmers.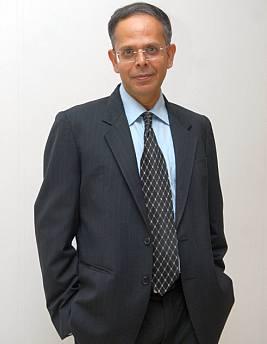 What is your independent assessment of the Indian economy?
India's macros are definitely one of the best in the world. I think the ingredients for sustained rapid growth are all in there. Our current account deficit, our external debt, the way the subsidies are being targeted, the government has actually done a significant amount of work in improving these numbers. The fact that they have rationalised the entire petroleum subsidy structure needs to be highlighted here.
The fact is the government is using the DBT (direct benefit transfer scheme) to move into more direct transfers and reduce losses. This subsidy model needs to be taken forward.
A country like India definitely needs subsidies; there is absolutely no doubt about it. But the huge amount of subsidy wastage needs to be stopped. The entire fertiliser subsidy structure needs to be relooked completely.
Instead of directing subsidies towards fertiliser companies, these need to be given directly to the farmers and the savings from this should be used to push the crop insurance scheme.
There is a growing clamour that the finance minister should not stick to the fiscal deficit target. Do you think he will be able to achieve the target of 3.5 per cent?
It will certainly be difficult. If he allocates the full amount, as the Railway Budget does indicate that they will be taking the full impact of the Seventh pay Commission into their budget, it will be difficult.
If he maintains reasonable assumptions on revenue growth with reasonable disinvestment targets, reasonable tax collections and so on, then I think he has to come down on his capex.
Using the assets that government has and to be able to use these assets for leveraging can help balance the objectives, though.
In fact, there are economists who believe that the Indian economy will indeed benefit if government spending is relaxed in the next fiscal.
In normal times, I would be very sympathetic to this view. But these are not normal times. One of the things on which we have become fairly dependent on is the extent of the foreign portfolio investors coming into the bond markets.
No government can afford to borrow more. There is this rule that your nominal interest rates should not exceed your nominal growth. The benchmark interest rates have already crossed 8 per cent. If you are talking about a GDP deflator of one to one-and-half and (GDP) growth of 7.5 per cent, then we are precariously close to that condition where debt becomes unsustainable.
To make debts sustainable you always need to have your nominal interest rates lower than your GDP growth. We are coming very close to a stage where the former might actually cross the other. In these circumstances, I believe we must reassure investors by bringing down the cost of borrowings. I think this is very paramount.
As I keep saying, we need a balance of both: we do need to increase capex and there are many ways of optimally doing it without stretching the balance sheet too much.
What could be this optimal cost of borrowings where investments would pick up? There is not enough pick-up in investments despite the Reserve Bank of India reducing interest rates.
That's difficult to find out what an optimal cost of borrowing could be. But this optimal borrowing cost would always be related to the return on assets, return on equity, the internal rate of return, etc. That can't be very high in an environment where cash flows are very low. The RBI keeps saying about real repo rate of 1.25 to 1.75 per cent. That is about being ideal, but given the fact that we are seeing an inflation rate of about 5 to 5.2 per cent on an average, so the repo rate should be around 6.25 to 6.5 per cent or thereabouts.
The RBI has room to cut rates but not too much.
President Pranab Mukherjee believes that the Indian economy is a haven of stability? What was he referring to?
The macro economic stability… If you look at India's financials, we have had a very fortuitous drop in crude prices and add to that a stable government at the Centre and we have moved to a structure of fiscal federalism; our regulatory systems are world class, our judicial system is improving massively… These are the factors that is helping India substantially besides the economic governance.
Do you look at the global economic gloom as a headwind or tailwind for India? What role can India play in pepping up global demand given that China, the US and Europe now seem to be tiring?
We do not have the scale of taking that entire mantle from China's slowdown but we can absorb a lot. Forget about the world, in India itself, we are so under-penetrated in all the markets be it commodities, services, banking services, airlines, infrastructure, etc, that we have enormous potential to grow. At least some part of slowdown in demand from China can be offset with the potential of growth in India.
Given that global investors are looking out for opportunities to invest, imagine the potential that India can offer.
Also, because China is trying to move up the value chain they are outsourcing a lot of their manufacturing to emerging markets. India stands a fantastic chance of grabbing that piece of action by integrating ourselves into the global value chain.
It is just not about Make In India, but Make In India for the world.
What do you make of the $233 billion worth of MoUs signed by various states during the recently-concluded Make In India Week? Former DIPP Secretary Amitabh Kant (he is CEO, NITI Aayog now) told us that he was confident of 85 per cent conversion rate. Is there a precedent where 85 per cent of MoUs signed have got converted into actual investments on the ground?
There is no precedent of something like this happening. But have conditions changed? Yes, they have. Mr kant succeeded to very large extent i, pushing the effort for ease of doing business in India. States have now begun to compete with each other; they have started setting up online services for their own people as well as investors. In a very short time, India has moved up four places in the global list on ease of doing business. We still can move higher up the list.
Remember, in the time since this government has come to power, we have seen fairly large increase in amounts of FDI flows. That probably has been unprecedented. If that is an actual signal of the possibility of converting intent into actual investments on ground, then that is very good.
As an economist what would be your advice to the finance minister just a couple of days ahead of the Union Budget?
Stay the course. I think they are doing a wonderful job despite operating in an extremely difficult environment. It is very easy to sit here and pontificate about things but to balance various objectives and to meet various conflicting pressures is really a task and I think this government has done a marvelous job till now.
In the current environment, I would urge the government to follow fiscal consolidation.