'Under UPA only criminals flourished, during NDA nobody is flourishing'
'Modi should have offered VRS and reduced babudom by 50%'
'Unless the babudom asura is slayed and buried, 2019 will be very difficult for Modi'
Illustration: Uttam Ghosh/Rediff.com.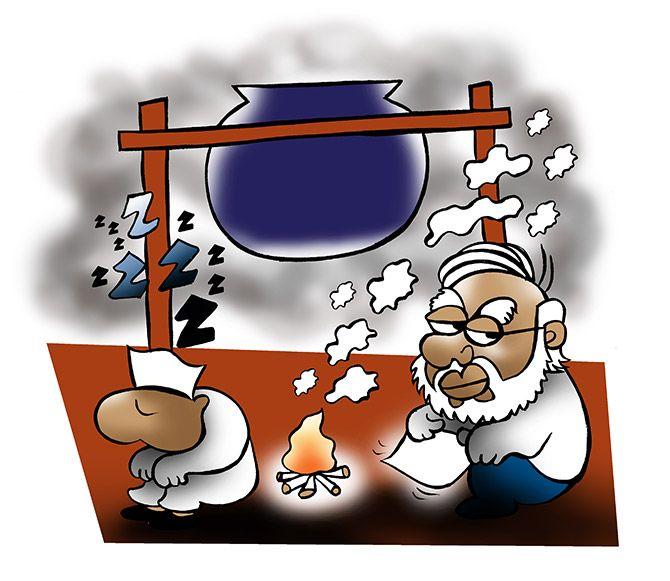 Suddenly, everyone in this country is talking about the state of the Indian economy. 'It's sinking.. It has hit rock bottom..' are some of the comments we hear now.
Is the Indian economy really sinking? Is it because of demonetisation and the implementation of GST that the economy is suffocating?
And above all, what should be done to revive the 'sinking economy'?
M R Venkatesh, bottom, left, a chartered accountant turned political commentator, tells Shobha Warrier/Rediff.com that Modi's war is not against the opposition parties or the Congress but against the bureaucracy and the establishment.
With everyone describing GST as the main reason behind the slowdown, MRV (as he is popularly called) says had Modi closed down a few ministries we could have had a GST of 12 per cent instead of 18 per cent.
From former finance ministers to economists to ordinary people, everybody has an opinion on the Indian economy now. All of them say that Narendra Modi has made a mess of an economy that was growing at more than 7 per cent. Do you feel the same?
I partially agree that there is a slowdown in the economy and there is a problem but I don't agree that Modi has messed it up or that the Indian economy has come to a tailspin or come to a grinding halt.
That is because even now, we are growing at 5.7 per cent. It is not that we have stopped growing. Yes, we can grow at 8.5 per cent but we are not.
My objection to these critics is that none of them has any concrete solution or suggestion to offer on why we are not growing at 8.5 per cent. They are simply being critical without offering a solution.
One of the criticisms is that there were too many disruptions at too close intervals, like demonetisation, NPA issues and now GST which the economy could not handle. Do you agree?
I agree with this also partially. Demonetisation was virtually over in February and things had started coming back to normal. Even the SME (mall and medium enterprises) sector that was the most hit by demonetisation, was reviving.
But the Goods and Services Tax which came later, arrived like an irritant. The finance ministry should have taken initiatives to help the SME sector especially in rural India.
When a man in Kutch or Thoothukudi cannot solve an issue relating to GST, where will he go? Everything from law to connectivity to the form is an irritant.
Moreover, while your input tax is 18 per cent and output 5 per cent, the 13 per cent gets blocked and in some cases it is termed as non-refundable. It means, you lose 13 paise for every rupee you sell.
So, the government should have started a GST Seva Kendra in every district headquarters with, say, five people from the finance ministry and five from the state government to help the sector overcome these irritants.
There are around 600 districts in this country and you need just 6,000 people to handle the kendras. And in our country, this requires personal touch not virtual touch to handle such small yet sensitive issues.
An economy disrupted by demonetisation cannot face the irritants in the GST. It will take at least a few more months for it to start working seamlessly.
Do you think these irritants will disappear after a while?
Irritants will be there as I still maintain that GST is tax jihadism. The type of data that is asked when you are uploading your returns is totally unnecessary.
We know the propensity of the bureaucracy; they only use data to terrorise honest tax-payers. This is what is causing problems in the economy which is leading to loss of confidence.
When a person from Tirunelveli writes about his 13 per cent loss, nobody cares about it. How will a person run a company with a monthly turnover of Rs 10 crore to lose Rs 1.3 crore every month?
When he shuts down his company, he blames GST and the cascading effect is not just Rs 10 crore but Rs 100 crore with all his employees, suppliers and the entire eco-system facing the heat.

Just like demonetisation broadcast, the prime minister has to tell the people at 8 pm one day that he is closing down 100 government departments and is passing on the benefits to the people through direct and indirect taxes. If he says this, this will be the biggest stimulus for the people of India.

You must understand that Indian economics is rooted in entrepreneurship and entrepreneurship is rooted confidence.
When the entrepreneur is not feeling confident, you will sense the feeling of despondency. This is what has happened now.
Who is to be blamed for this -- the finance ministry that implemented GST in haste?
This is what people like us have been warning from the very beginning.
I am intrigued as to why the Narendra Modi government did not come out with a white paper in 2014 on the state of the economy.
They should have taken action on those people from the previous government who were corrupt. Unfortunately, this government did not do either.
What we see is that the honest tax-payer is squeezed much more due to demonetisation and GST while the corrupt are still enjoying.
This has not gone well with the honest people -- they feel that they are not getting any tax benefit or at least the vicarious pleasure of seeing the corrupt go to jail.
So, other than a feeling of despondency, there is also angst.
Yaswant Sinha said that there was no point in blaming the previous government after governing for three years. Is this not true?
Yes, you cannot always lay the blame on the Nehrus, Sardar Patels and socialism.
You have to move forward. You lost the window when the nation was with you and urging you to take action on the guilty.
You cannot bring a white paper in 2017; you should have done that in 2014. Similarly, you could have arrested the corrupt in 2014 and not in 2017. Today, it may look like vendetta.
Another criticism is that demonetisation did not bring in all the black money to the system like it was expected to but it affected the SME sector that depended on cash economy badly…
Exactly. People stood in the queue to deposit money without any complaints, which meant they metaphorically stood with Modi.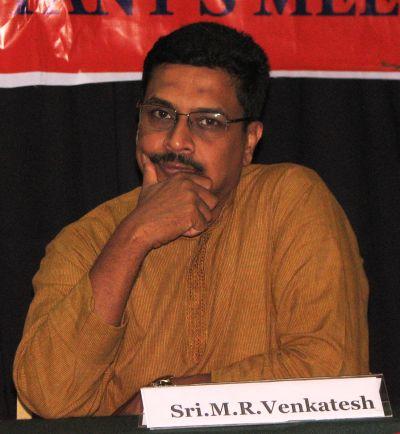 They expected some benefits for standing with him but what did they get in return? Nothing.
They wanted two things -- punish the corrupt and give some benefits. They should have been given at least the benefits like a simple GST or lower income tax.
The common man is angry and justifiably so because all that he got for standing with Modi is, tax jihadism.
Now that the government is in the slog overs, what should be done?
Yes, the question is, what should be done now? Narendra Modi came to power promising anti-corruption, better governance, lower taxes, creating an enabling environment for business and Hindutva.
Unfortunately, he had people like Arvind Panagariya and Arvind Subramaniam who believed in incrementalism rather than a quantum leap. They carried on with Chidambaram's brand of economics in a sustained manner.
Ideally, Modi should have closed down at least 100 departments of the Government of India. Why do you have a ministry of textiles and ministry of steel when you have a ministry of commerce and industry? We are duplicating ministry after ministry.
He had promised minimum government, maximum governance…
Yes. That was what we all expected. All these ministries have only increased the expenditure of the government. What do we get in return? Nothing.
When you have the expenditure of the government at a high level naturally you have to keep the tax also at a high level. If you had closed down all these ministries in 2014 or 2016, we could have had a GST of 12 per cent instead of 18 per cent.
These ministries have only stopped us from progressing because babudom has been created to block the progress of the nation.
Will Modi be able to end babudom which has been there for many decades?
Modi was voted to power for that only. If he says nothing can be done, where is the hope?
The 7th Pay Commission, Rs 1 lakh crore etc pumped into the hands of 40-50 lakh people, is not helping the economy. It's only draining us.
Narendra Modi should have offered VRS and reduce babudom by 50 per cent and then taken us forward by lowering taxes. People would have been happier.
Till it was declared that India grew only 5.7 per cent in the June quarter, everybody said that 2019 would be easy for Narendra Modi. With just one quarter doing badly, why is there so much criticism against him?
It is a fact that the economy was under-performing but if you would recall, I was very sceptical of the GST.
Today, the criticism is not coming from Chidambaram or Manmohan Singh but from people like Yaswant Sinha, S Gurumurthy and Subramanian Swamy whose credibility is very high.
When these people complain, the government has to realise that there is a problem which cannot be wished away but needs to be tackled.
What I want to see is, how the government is going to tackle the problems.
Is GST the biggest hurdle that is affecting India's economic growth?
I wouldn't call GST a hurdle but it has created so much uncertainty and irritation.
Irritation because after demonetisation, if income tax had been brought down, people would have been happy.
On the contrary, those who had deposited Rs 20,000-30,000 are getting notices now and are put under great strain by the department while no big guy has been arrested.
The common man now asks, are we the only lambs to slaughter? Should only the honest tax-payers face queries from the I-T department?
This is where irritation gets compounded. Thirty to 40 crore people stood in queues to deposit money in the banks. What did they get in return? This is where Arun Jaitley missed a trick or two. He should have lowered taxes and rewarded the people.
Regarding the uncertainty because of GST, I was certain that the 18 per cent rate would be a disaster, the multiple rates would be a disaster and also the software they are using would be a disaster.
It is very difficult to upload in small towns. I will give you an example. Even Air India and Jet Airways have not yet refunded the GST for July!
Multiple rate is like a vegetarian chicken! GST today is one country but multiple tax law and several rates and exemptions.
Maybe one year down the line, there will be more clarity but I don't know how many people in the SME sector will survive this one year.
Do you agree with what Yaswant Sinha said, that Modi personally experienced poverty and Arun Jaitley is making sure the people of India experience poverty too?
Such personal jibes won't help anyone. I also don't agree with what Arun Jaitley said about Yashwant Sinha.
But what Arun Jaitley has done as the finance minister, has it not affected the middle class and the poor adversely? Now they have less money in their hands..
The question is not about less money in their hands alone. It depends on inflation also.
Today ease of doing business is not improving and that has added to the situation of lack of job opportunities.
Then, it is hell for ordinary people to deal with the GST departments. Naturally people are getting angry.
Some say the economy has hit rock bottom and it can only go up from here... Some say it is sinking. What is the real picture?
There are two ways to look at this. The question is not whether it is sinking or has reached rock bottom. The question is how to take it forward or revive.
One is to cut down on government expenditure. This should be followed by reduction of tax rates.
Third is, we have to reduce our interest rates which can be done only after reducing government expenditure.
Government money should be for investment purposes and not to pay salary for babus. We are borrowing to pay salaries to babus. The revenue deficit has to come to zero, which means we have to have a war on expenditure.
The other point is how we look at NPAs. If you don't pay interest on loan for 90 days, it is termed as NPA. But the fact is large corporate and governments do not pay us within 90 days -- especially MSMEs.

People stood in the queue to deposit money without any complaints, which meant they metaphorically stood with Modi. They expected some benefits for standing with him but what did they get in return? Nothing.

If the government doesn't pay you within 90 days, if the large corporate don't pay within 90 days, how can the banks term your account as NPA?
You cannot look at every businessman as a criminal; you cannot also look at every businessman as an honest man.
The good, the bad and the ugly must be differentiated. Unfortunately, there is no mechanism for this.
There are so many interesting initiatives but nothing much has happened in reality. Why?
Even today, starting a business is such a harrowing experience here. Anybody who has read the company law will think, it is suicidal to start a company.
There are two ways to go to jail -- one by doing something and another by not doing anything! Either way, jail is assured in the Company's Act. Only those who have not read the Company's Act would start a company!
There is an atmosphere of fear and distrust.
Does that mean there is no difference in the way things functioned during the UPA rule and now?
Under the United Progressive Alliance government, only the criminals flourished, and during National Democratic Alliance's rule, nobody is flourishing.
Unless there is a 180-degree change, things will remain the same.
How does 2019 look to you?
I feel Narendra Modi has time to correct these problems but if he is going to be advised by people like Arvind Subramaniam, it won't work.
Just like demonetisation broadcast, the prime minister has to tell the people at 8 pm one day that he is closing down 100 government departments and is passing on the benefits to the people through direct and indirect taxes.
If he says this, this will be the biggest stimulus for the people of India.
The government also has to do something for agriculture. If you can supply enough water, 90 per cent of farmers' woes are over. The barest minimum they want is water. And Modi as CM of Gujarat had done so much for water, is simply ignoring this as PM.
Likewise, we are yet to see the impact of some of the pet projects of the PM at the ground level -- the low-cost housing scheme, the skill development programme, the SMART cities, the MNREGA induced water body restoration programme, clean-up of the Ganga, improving ease of doing business, etc.
These should be the immediate focus of the government. Even after 40 months, these programmes are on paper.
There are no ocular demonstrations that these projects have started in some parts of the country. The reason for this is that several ministers in the Cabinet lack the competency to tackle babudom.
Modi must also realise that the people of this country are fed up of babudom. I would say babudom has successfully checkmated Narendra Modi.
The war Modi has to fight is not with the opposition parties or the Congress but with the bureaucracy and the establishment, and the bureaucracy has checkmated him substantially, if not completely.
Modi has to demolish this Mahishasura -- unless the babudom asura is slayed and buried, 2019 will be very difficult for Narendra Modi.