'Mr Modi would compliment a Nobel Prize winner, but members of his party or the government would not be restrained from either making unfair comments or criticising him for having offered advice to an Opposition political party,' says A K Bhattacharya.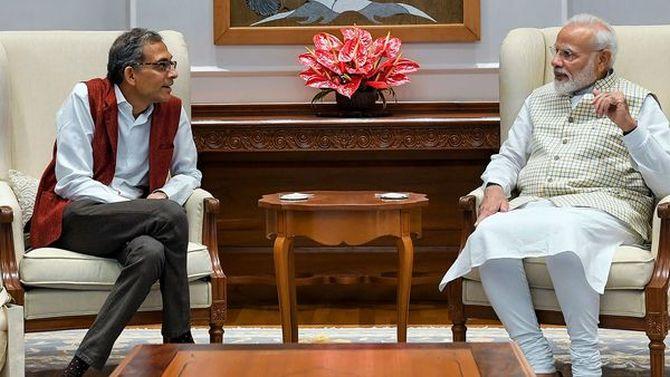 Twenty one years ago, the Nobel Prize for economics had gone to a man from India.
That was Amartya Sen in 1998.
And now Abhijit Banerjee, also from India, achieves a similar feat.
Just about two decades separate the two events.
Yet, it seems that India of today is significantly different from what it was then.
Nothing captures that change more tellingly than the way India's ruling establishment had responded to the award to Dr Sen in 1998 and the way a few senior ruling party leaders have responded to the same award to Dr Banerjee.
There was unequivocal and unquestioning appreciation of the Nobel committee's decision to confer the prestigious award on Dr Sen in 1998.
In a message to Dr Sen, then President K R Narayanan had said the award was a 'well-intentioned one', and he wished him many more years of productive academic and research work.
Atal Bihari Vajpayee, who was then the prime minister, was equally effusive as in his message to Dr Sen he talked about the 'upsurge of national pride over the honour bestowed upon him.'
Yashwant Sinha, finance minister in the Vajpayee government, also joined the chorus of praise for Dr Sen.
To be sure, the announcement of Dr Banerjee as one of the winners of the Nobel Prize this year also elicited a quick response from President Ram Nath Kovind, Prime Minister Narendra Modi Damodardas and Finance Minister Nirmala Sitharaman.
The President noted that Dr Banerjee's work helped 'economists better understand how to fight poverty in India and the world.'
Mr Modi complimented the economist on his 'notable contributions in the field of poverty alleviation.'
A few days later, the prime minister also met the economist and showered more praise on him.
And Ms Sitharaman congratulated Dr Banerjee for his contribution to easing poverty.
A different note, however, was struck by a few other senior members of the ruling establishment.
Union Minister Piyush Goyal congratulated Dr Banerjee on his winning the Nobel Prize, but noted that the economist's thinking was 'Left-leaning' and that the people of India had rejected his thinking.
The minister was referring to the economist's support for the minimum income guarantee programme that the Congress had promised in its election manifesto during the 2019 general election.
The national secretary of the Bharatiya Janata Party, Rakesh Sinha, also made a highly offensive and coarse comment about the economist.
Compare this with what happened to Dr Sen.
Within days of his winning the award, Air India, the State-owned airline, decided to offer him a free pass for life for his travels.
Top officials in the finance ministry -- then finance secretary Vijay Kelkar and then chief economic advisor Shankar N Acharya -- responded to the news of Dr Sen winning the Nobel Prize with praise and compliments.
Murli Manohar Joshi, then the human resource development minister, was also among the many important people in the Vajpayee government who complimented the economist.
In short, 1998 did not see any comments that were seen to be either critical or uncharitable like some of those made in 2019.
What has changed in the last two decades?
The political party that led the government in 1998 was the Bharatiya Janata Party and it is the same party that is in power in 2019.
There is, of course, a difference.
In 1998, the National Democratic Alliance under Vajpayee did not have the comfort of the kind of majority the current dispensation under Mr Modi has in Parliament.
It is possible that the government of Vajpayee was critically dependent on its coalition partners.
Hence it was less strident in giving vent to its political likes or dislikes than the dispensation under Mr Modi, which does not have any such political needs.
But more importantly, the governance philosophy of Vajpayee was quite different from what prevails now under Mr Modi.
What Vajpayee endorsed and encouraged was far more inclusive and far less divisive or intolerant than what it is today.
Even a Murli Manohar Joshi, a key member of the Vajpayee Cabinet, would compliment Dr Sen without any reservations, even though the economist belonged to a political spectrum for which he or his political party would not have any sympathies.
In contrast, the Narendra Modi regime is far more assertive about its political beliefs and convictions.
Unlike the Vajpayee regime, Mr Modi's government and its senior members have a majoritarian approach, giving short shrift to views that are not similar to theirs.
Thus, Mr Modi would compliment a Nobel Prize winner, but members of his party or the government would not be restrained from either making unfair comments or criticising him for having offered advice to an Opposition political party.
Never mind, as Dr Banerjee later clarified, he was only a professional economist who would have offered advice to any political party that approached him.
Indeed, he is working with many state governments that are ruled by the BJP and the presence of such regimes in those states has not restrained him from offering his professional advice.
In the last two decades, not only have Indian society and politics changed -- becoming more narrow and less catholic, the economists too have changed in a significant way.
When Amartya Sen won the Nobel Prize in 1998, his commentary on the state of the Indian economy was a bit restrained.
Such commentary would appear to be conscious of the need to avoid any embarrassment for the concerns or priorities of the political regime in power.
The last two decades have seen a change.
The economists of today are far more relaxed and not at all averse to making comments that might upset the government of their country.
Thus, whether it is Raghuram Rajan, Arvind Subramanian or Abhijit Banerjee now, their comments are frank and forthright, without showing any concerns for the embarrassment the government of the day may be faced with because of their views.
Of course, you cannot blame these economists for speaking out their mind or even making no secret of their political sympathies.
But what makes the situation more complicated and challenging is the government's inability to absorb such comments with maturity and engage with them to see if its policy-making can derive concrete benefits from such interaction.
It is a pity that the government is yet to recognise this weakness and make necessary amends.