Agri-enterprises are finding it hard to expand due to lack of commercial guidance, says Surinder Sud.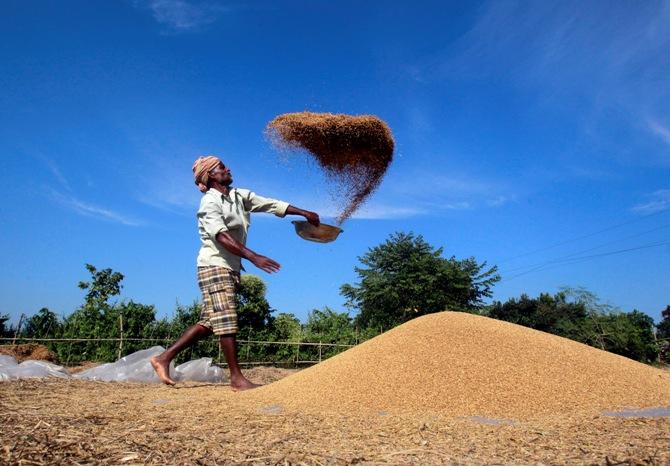 Photograph: Jayanta Dey/Reuters
Last two years have witnessed the emergence of start-ups even in the farm sector. Their count is still quite small compared to those in other fields, but given the huge scope for offering technology and innovations-based solutions to the problems faced by the farmers, these enterprises seem set to proliferate rapidly.
However, many of the existing agri-enterprises, despite tasting initial success, are facing difficulties to expand their businesses beyond a point because of lack of commercial guidance. Such support is normally provided to the start-ups by the project incubators by helping them in capacity building, networking, accessing knowledge and resources, and other kinds of needed expertise.
But, regrettably, not many of the existing 300-odd incubators and their advanced version called accelerators (essentially the fast-track incubators) have the expertise and competence to guide the farm-oriented enterprises. The focus of most of these accelerators is primarily on up-market sectors like information technology, health care, green technology and similar others.
The onerous task of agri-start-ups' handholding for the advancement of their commercial interests has now been taken up by the Hyderabad-based National Academy of Agricultural Research Management (NAARM).
It has set up an entity at its headquarters in Hyderabad under the name of 'a-IDEA' (Association for Innovation Development of Entrepreneurship in Agriculture) with the support of the department of science and technology. This unit aims to incubate and refine the business models and strategies of the innovative early-stage food and agri-business ventures to scale up and expand their commercial operations.
The selected entrepreneurs are provided the opportunities to interact with subject matter experts, mentors and, most importantly, prospective investors. The ultimate objective is to help the young companies to grow to their full potential.
Some of the eight start-ups, which were groomed under this programme in 2015, are said to have gained handsomely from it and are now doing very well commercially. At least three of them have managed to attract adequate investments to fund their scaling-up operations.
---
Recommended for you: How Young India is helping farmers
---
Inspired by this success, a-IDEA has now launched a relatively more ambitious Phase-II of this programme under an imaginative name of 'Agri-Udaan' -- connoting 'flying' to a brighter future.
The first initiative under this project is beginning form September this year after conducting six roadshows in different mega cities, starting from Delhi on August 4.
Going by NAARM joint director Kalpana Sastry's assertion, it will provide a unique platform for the early-stage but operational agri-enterprises to showcase their products and services and to receive valuable inputs from experts, incubators, research and development (R&D) organisations, other industries and investors. The programme will involve intense and participatory education for the entrepreneurs to compress years' worth of learning-by-doing experience into just a few months.
Those entrepreneurs who have their core teams ready with novel working prototypes and a reasonable customer base are likely to receive further grooming under this programme.
A large number of technologies capable of changing the face of Indian agriculture are being churned out regularly by the national agricultural research system, comprising nearly 100 institutes of the Indian Council of Agricultural Research (ICAR), over 650 Krishi Vigyan Kendras (KVKs) and numerous state agricultural universities.
Many of these new and highly useful techniques, agronomic processes, equipment and products tend to remain unused or underutilised at the farmers' end for want of commercial interventions to convert them into conveniently usable forms and make them available to farmers through marketing channels. The start-ups can base their business initiatives on such innovations to help farmers lift their productivity, reduce costs and drudgery of farm operations, and boost their net income.
Lucrative opportunities for agri-startups can also be found in areas like crop improvement, waste reduction and value-addition, efficient input use, mechanisation of farm chores for higher precision and drudgery reduction, and greater use of modern information and communication technologies.
The start-ups can also gainfully engage themselves in the development of value chains in agriculture and allied fields like dairy, poultry, fisheries and others.
The success of Agri-Udaan can, hopefully, prove a game changer for the agriculture sector.
Tribunals, some of whom have not updated their sites for months together, must follow one pattern. These are basic needs of society, which is increasingly realising the power of courts and utilising it as the other arms of state are failing in their constitutional roles.
Also read: How to attract youngsters to agriculture