'We do India great disservice if we continue to perpetuate a flawed narrative on trade, one based on myths rather than facts,' says Hardeep Singh Puri.
Illustration: Uttam Ghosh/Rediff.com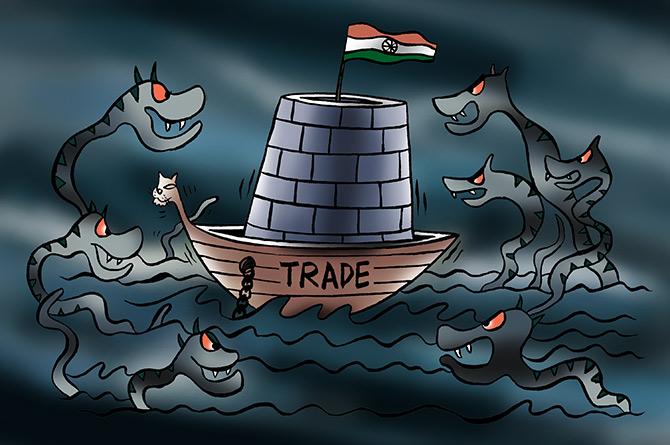 India's approach to trade policy was almost exclusively shaped by the nature of our pre-liberalisation economy in 1981 when I was a young delegate to the GATT in Geneva.
We maintained high tariffs, a variety of non-tariff barriers, and sought periodic recourse to quantitative restrictions for balance of payments purposes.
We were sceptical about the use to which trade could be put for the development of the country
The GATT preamble calls for: 'Raising the standards of living, ensuring full employment and steadily growing volume of real income'.... Through 'reciprocal and mutually advantageous arrangements directed to the substantial reduction of tariffs and other barriers to trade and to the elimination of discriminatory treatment in international commerce'.
The above rationale for trade policy is as valid today as it was then.
India's trade to gross domestic product ratio has meanwhile climbed from 10 per cent in the 1990s to about 50 per cent now.
In other words, in a $2.4 trillion GDP economy, the external sector -- the value of trade in goods and services and the value of remittances -- could be as high as $1.2 trillion.
We need to take international trade more seriously.
One story from 1982 in Geneva needs to be recalled.
The United States made a determined push to get trade in services included in the GATT, which was then a legal framework to deal with international trade goods only.
A discussion between Bill Brock (the US trade representative) and Shivraj Patil (then the Indian minister of state for commerce) merits recall:
After a brief exchange of pleasantries, Mr Brock enquired, "Mr Minister, what is India's position on services?"
Mr Patil said, "Non negotiable."
"In that case," responded Mr Brock, "I don't see why I should be wasting your time and mine."
Services account for nearly 57 per cent of India's GDP today.
How much has changed between 1982 and 2017?
At the highest political level, that of the prime minister, the articulation of trade policy objectives has been bold and ambitious.
The Foreign Trade Policy announced in April 2015 defined objectives in terms of increasing share of India's global trade from 2.1 per cent to 3.5 per cent and doubling exports to $900 billion by 2020.
The World Trade Organisation is moribund. Countries have no choice but to engage through pluri-lateral arrangements/agreements in the WTO and through regional and free trade agreements (RTAs/FTAs).
We have refused to participate in the pluri-lateral trade in services agreement (TISA) or the ITA-2 at the WTO.
We have also been extremely cautious and wary about the proposal to discuss e-commerce in the WTO.
It is entirely understandable for trade negotiators to make the assessment that rules in a particular area or sector may not be in our best interests.
Not participating in pluri-lateral initiatives is, however, not the answer. Why?
Simply because the other participants will go ahead and negotiate disciplines and rules by themselves.
Our participation would, at the very least, ensure the flagging of our concerns, calibrate the pace of negotiations, and the shaping of outcomes reflecting our interests.
Not to want to negotiate is defeatist. It also overlooks the basic dynamic of these processes which are complex, long drawn out and represent compromises amongst a coalition of the willing.
The current narrative is not credible. Our manufacturing sector is crying out for reform.
There is a problem on account of imports at 'less than normal value' or 'dumped' from China or elsewhere. The answer is to use trade remedies and engage China at a sufficiently senior and strategic level and possibly restrict imports from there.
We are doing quite well from several of the RTAs/FTAs that we have signed as with Asean, Malaysia, Singapore, Japan and South Korea. The rate of growth of our exports under these has ranged from 6.4 per cent to 36.4 per cent.
Imports have also gone up. Most are of what a healthy fast growing economy requires. Let us not blame these for disruption caused by imports from one particular source.
The flawed narrative on international trade in India and elsewhere has been shaped and influenced by different actors.
It is, therefore, reassuring to find an Indian businessman, now heading the International Chamber of Commerce recently make the following points: We have failed to tell the story behind global trade in a way that resonates with the public at large.
Two, an inability to communicate why trade matters has allowed myth, apprehension and superstition to dominate public discourse and three, governments must chart a new course for global trade policy makers that puts inclusion at its heart. Well put.
We do ourselves and India great disservice if we continue to perpetuate a flawed narrative on trade, one based on myths rather than facts.
Ambassador Hardeep Singh Puri -- who has served as India's permanent representative to the United Nations in Geneva and New York -- is now the Union minister of state for housing and urban affairs.
This column was written before he was appointed a minister.