Nationalisation has served its purpose.
It's time to move ahead, keeping majority ownership of the government in a few banks to serve the people, argues Tamal Bandyopadhyay.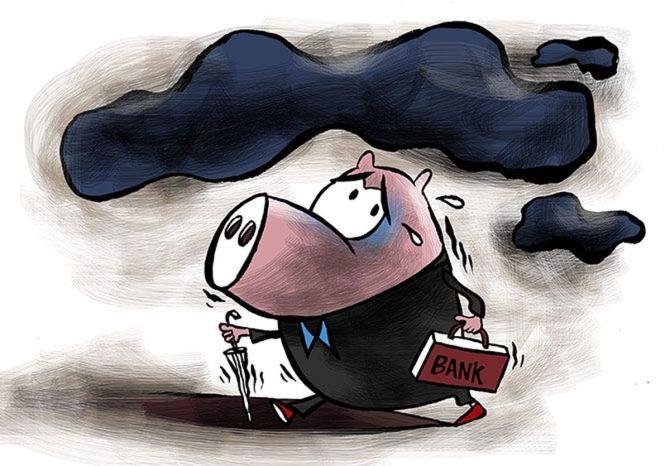 After taking his first step on the Moon on July 20, 1969, American astronaut Neil Alden Armstrong said: 'That's one small step for a man, one giant leap for mankind.'
Just a day before, on July 19, 1969, the Indian government had taken a not-so-small step for its banking industry.
A little over five decades later, the question many are asking: Was that a giant leap for the Indian financial system?
Fourteen banks with deposits of at least Rs 50 crore (Rs 500 million) each were nationalised on the midnight of July 19, 1969, hours after Prime Minister Indira Gandhi's address to the nation regarding this.
A second round of nationalisation of six more commercial banks -- with deposits of more than Rs 200 crore (Rs 2 billion) each -- followed in 1980.
Since then, the banking industry has grown.
In June 1969, there were 73 commercial banks; now there are 94, including small finance banks and payments banks but excluding regional rural banks and local area banks.
The number of bank branches has grown from 8,262 to 158,373. In June I969, there were 1,833 rural branches, 3,342 semi-urban, 1,584 urban and 1,503 metropolitan branches.
The comparable figures now are 52,773; 43,683; 30,638; and 31,279. One branch now covers roughly 9,500 people against 64,000 in 1969.
In June 1969, the deposit portfolio of banks was Rs 4,646 crore (Rs 46.46 billion) and the loan book, Rs 3,599 crore (Rs 35.99 billion).
By June 2021, the deposit portfolio has grown close to Rs 153 trillion and the loan book, around Rs 108.5 trillion.
While whispers on privatisation of public sector banks (PSBs) have been in the air for the past few years since some of them have not been in the best of health, the February 2021 Union Budget, for the first time, spoke about privatising two such banks.
Even before that, the government had committed to privatise IDBI Bank Ltd.
While the privatisation of IDBI Bank remains a work in progress, there has been intense speculation on which two banks will be privatised.
In the run-up to the privatisation exercise, the public sector banking industry had gone through a major phase of consolidation with the number of such banks coming down from 27 to 12 in three years, between 2017 and 2020.
Adding a new dimension to the debate, Finance Secretary T V Somanathan recently said the government would 'eventually' privatise most of the PSBs and keep its presence to a bare minimum, as is the stated policy now. He was speaking at the India Policy Forum 2021, organised by economic think-tank National Council of Applied Economic Research.
'The thrust now of the government is to go beyond this position that the public sector banks will remain in the public sector.
'We have now announced that... most of them will eventually be privatised. Now saying eventually privatised and actually privatising them are two different things, but we are actively engaged in privatising them.
'And banking is one of those sectors where only a bare minimum public sector banks will eventually remain -- that is the stated policy,' Somanathan said, adding a caveat that his remarks were in his personal capacity and didn't reflect the views of the government of India.
Just a week before the ordinance to nationalise 14 banks was promulgated, Indira Gandhi had, in her address at the Bangalore session of Indian National Congress on July 12, 1969, pitched for it.
Work on the ordinance started on the night of July 17. Besides Gandhi, only three people were involved in the exercise -- P N Haksar, principal secretary to the prime minister; A Bakshi, a deputy governor of the Reserve Bank of India; and D N Ghosh, a junior bureaucrat in the finance ministry.
Then economic affairs secretary I G Patel and RBI governor L K Jha were not in the loop.
The ordinance had to be ready by July 19, Saturday, as V V Giri, then President of India, was to step down on July 20 (Vice President Giri had been acting President from May 3, following President Zakir Husain's death), and the Lok Sabha, the Lower House of Parliament, would begin its monsoon session on July 21.
Deputy Prime Minister Morarji Desai was stripped of the finance minister's portfolio on July 16, and Indira Gandhi was eagerly awaiting his resignation.
I G Patel was kept in the dark as he was perceived to be a Desai protege.
Incidentally, this was not the first attempt to nationalise banks.
An ordinance had been drafted in 1963 as well, seemingly under great political pressure, to nationalise five major banks.
T T Krishnamachari, then minister for economic and defence coordination, was the architect of this move.
Politics apart, there were other reasons behind bank nationalisation.
Post-World War II, many banks collapsed as they had been financing speculative activities.
The RBI was grappling with regulations and supervision of over 300 banks, many of which were reluctant to support industry and agriculture and only gave trade finance.
In 1960, when the Palai Central Bank and Lakshmi Commercial Bank collapsed, the RBI launched a massive consolidation drive, pushed by then finance minister Desai, bringing the number of banks from 328 in 1960 to 94 by 1965.
Nationalisation of banks has served its purpose by taking banking to the hinterland and bringing a large part of the population into its fold.
Now, it's time to reverse the move -- not because some of them are sick.
The sickness is the symptom; we need to treat the malaise.
After nationalisation, the government created a banking department in the finance ministry, department of financial services (DFS), demonstrating its intent to have a say in running the banks.
This ensured that the management and even regulations would not remain ownership-neutral -- the key to the success of any business enterprise.
Former RBI governor Y V Reddy calls it a joint family approach -- the banks, the government and the RBI became part of a 'Hindu undivided family' where nobody kept proper accounts of what they were doing.
They were all serving people, Dr Reddy said in a November 2000 speech.
Another RBI governor, Raghuram Rajan, even pitched for closing down the DFS.
If the PSBs are a political instrument to serve people, they should not be treated as business enterprises.
The government is aware of this, as are the banks and their customers.
This is why we have heard Prime Minister Narendra Modi saying the government has no business to be in business.
It is the government's duty to support enterprises and businesses, but it is not essential that it should own and run enterprises.
Nationalisation has served its purpose. It's time to move ahead, keeping majority ownership of the government in a few banks to serve people.
Tamal Bandyopadhyay, consulting editor with Business Standard, is an author and senior adviser to Jana Small Finance Bank Ltd.
Feature Presentation: Aslam Hunani/Rediff.com