'When resources are few; when frugality demands repairing a broken thing rather than replacing it with a brand new and expensive option, enterprising commoners in rural and urban India improvise on a daily basis and solve their problems with whatever they have,' observes Shivanand Kanavi.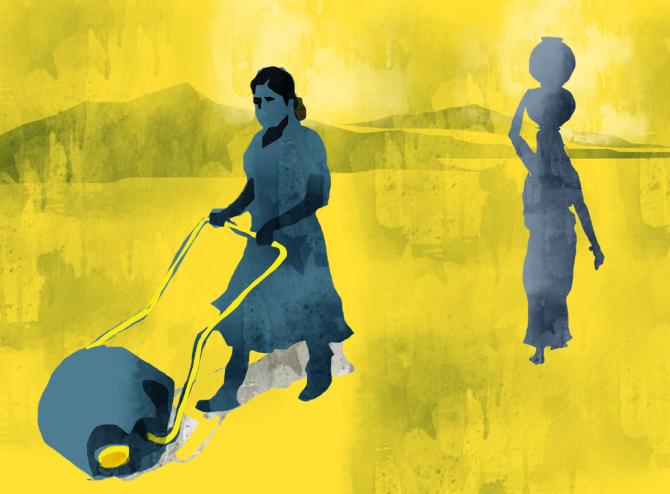 I am certain that anyone who reads Indian Innovation, Not Jugaad: 100 Ideas That Transformed India will learn something he or she did not know about several ideas that have changed life in India in the last 60-75 years.
I did, despite having spent a good part of my life tracking innovations -- both in India and globally -- and writing about them.
Dinesh C Sharma, a veteran science communicator and the book's author, as well as the publisher, Roli Books, should be congratulated.
In a slim volume of 350 pages, Sharma packs in the history behind literally a hundred ideas. He introduces us to the men and women who brought these transformational thoughts to fruition and contributed to nation-building in a country that was ravished and impoverished for two centuries by colonialism.
These innovations are an integral part of the Indian renaissance (rebirth).
Come to think of it, that's about three pages for a revolutionary or transformative idea.
That's also the beauty of the book.
It tells the story of each innovation succinctly, throws in the main characters behind it and makes us say 'Yeh dil maange more' since each idea probably deserves a book or at least an elaborate case study.
The author has taken pains to define ab initio (from the beginning) much used and abused words like innovation, jugaad, revolution, etc.
He is clearly so incensed by the prejudice that all Indian innovation is jugaad that he makes it a prominent point in the book's title.
Certainly, it would be inappropriate and even derogatory to many of the genuinely innovative ideas in the list if they were to be called Indian jugaad.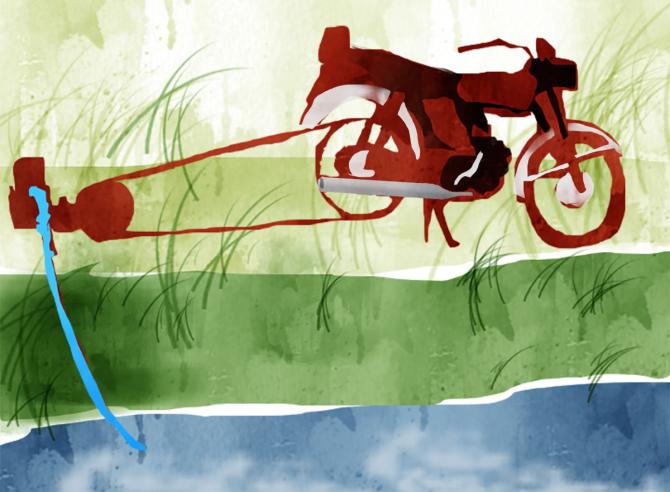 As an aside, however, one need not be very prickly about the word jugaad.
After all, when resources are few; when frugality demands repairing a broken thing rather than replacing it with a brand new, shiny and expensive option, as we often observe in richer economies; when the State's capacity to deliver many services are limited; enterprising commoners in rural and urban India improvise on a daily basis and solve their problems with whatever they have, often exhibiting remarkable lateral thinking.
Of course, such jugaad cuts corners and the solution is generally not robust or long-lasting or even safe. But it helps them survive and carry on as they often have no choice.
At the same time, for example, it leads to the creation of a new gadget like the original Punjabi version of jugaad -- a small village transport with a diesel water pump from the farm acting as the engine!
The author has cast his net wide to gather the list of 100 innovations and has consciously not confined himself to only S&T (science and technology) innovations.
Thus you see that the Indian Premier League, the Navodaya Vidyalayas, Air Deccan, the Employment Guarantee Scheme, the Chipko Andolan, Binaca Geet Mala, Ready Mix Gulab Jamun, Amul, etc, jostle for space with hi-tech and digital initiatives like SITE (Satellite Instructional Television Experiment), the IITs and the IIMs, computerised railway reservation and Aadhaar.
The stories are well told and informative.
If one wants to quibble about the list then I think he could have added the nuclear radiation of agri-products like mangoes, onions and potato for a longer shelf life and export purposes; Bombay Plan of 1944-45 (also known as the Tata-Birla Plan); the development of affordable parallel supercomputers for complex calculations in the eighties, starting with FLOSOLVER; CDAC's GIST which revolutionised all publishing, including the Indian language publishing through DTP in the nineties; DNA fingerprinting for forensics, etc; the Tsunami Warning System 2007-2008 that is helping the whole Indian Ocean littoral; the UPI-based digital payment system which has crossed $1 trillion a few days ago; TIFR (Tata Institute of Fundamental Research); the Indian Statistical Institute and so on.
But then, perhaps marketeers would say that would break the catchy figure of 100!
The reader will be pleasantly surprised by the case studies of the Blue Revolution (marine products), the White Revolution (milk products), the Egg Revolution and even the Yellow Revolution (oil seeds).
However, Sharma cryptically says oil seed production led to 98 per cent self-sufficiency and then fell apart but doesn't elaborate.
Considering the present crisis in edible oils even before the effects of Ukraine-Russia war were felt, one would say a 'Yeh dil maange more' explanation was required from him.
The author has written acclaimed monographs on the history of India's IT industry but disappoints here with a perfunctory treatment of the same, considering that Indian IT exports worth nearly $200 billion are footing our oil and gas, coal and electronics import bill.
All in all, this is a good handbook of Indian innovations to read and refer to.
The writing style is simple and accessible to a wide spectrum of readers.
Shivanand Kanavi is a former VP at Tata Consultancy Services and the former executive editor of Business India. The award-winning author of Sand To Silicon: The Amazing Story Of Digital Technology, he is adjunct faculty at the National Institute of Advanced Studies, Bengaluru.
Feature Presentation: Ashish Narsale/Rediff.com