The biggest achievement of demonetisation is that it has brought about a social revolution against black money and corruption, says Sukumar Mukhopadhyay.
Illustration: Uttam Ghosh/Rediff.com.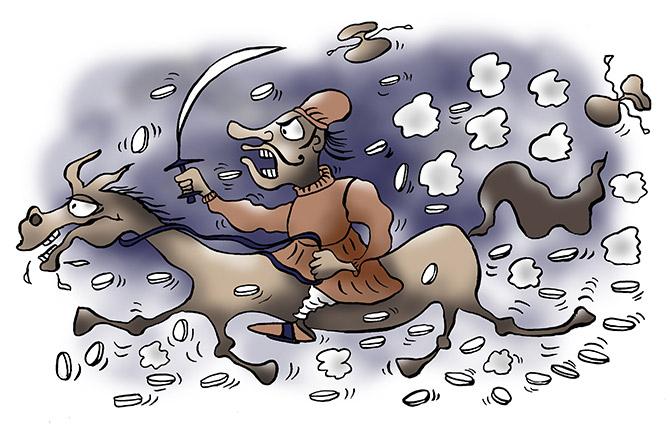 This article assesses the performance of demonetisation after taking into account the criticisms of the several economists, including Kaushik Basu, who was most vocal.
A lot of economists have told pure falsehood about demonetisation. The best example is about the rabi crop.
Rabi crop: They spread the canard that the rabi crop has been ruined because the farmers did not have money to buy seeds.
They did not bother to find out that the sowing of rabi crop was over in October.
And ultimately there has been a bumper crop which brought down the market price of crop so much that again there was agitation for price support by the government.
GDP: The GDP in 2016-17 has grown by seven per cent which Kaushik Basu has said is commendable and he attributes it to "policy initiatives such as the Goods and Services Tax (GST) and the new bankruptcy law" (apart from some other factors).
Unfortunately, he forgets that GST came into being only in July 2017 and not in 2016-17.
So Kaushik Basu is saying that the improvement in the GDP is because of GST which did not even take place in 2016-17.
Even the bankruptcy law (Insolvency and Bankruptcy Code 2016) was passed in May 2016 but not a single case has been decided so far.
We have to watch the GDP growth in the long term. (D Subbarao, former governor of RBI, is optimistic about it.)
Fake currency: Basu says since there was Rs 400 crore of fake currency in circulation, all that India could have done was to reduce the money supply by an equivalent amount.
His suggestion is not a solution to the problem at all because the fake currency would still remain in circulation.
He does not appreciate that at least one-time elimination of fake currency has been good.
Elimination of black money: Basu and other economists like Arun Kumar said that those who had black money parcelled them in small amounts and asked other people to deposit in their accounts to avoid detection.
And actual black money destroyed was negligible (one per cent as 99 per cent has come back). This view is quite partial.
It is true that most of the black money existing at the time of demonetisation has not been destroyed. But that is not the whole story.
The whole story is that to the extent the black money has come back to the banking sector and has become white money, the economy itself has become white.
To that extent the black economy has converted itself into white.
Now, all these people who had black money, have that money in the bank and they will get interest and they will have to pay the income tax on the interest.
In future if they have to pay some money to a person, they will not give cash, they will give a cheque.
Expansion in tax base: The effect of demonetisation is clearly visible when we see the very high rate of growth in the number of taxpayers and tax collected.
The number of returns filed by individuals within the last date of August 5, 2017, stood as 28.3 million against 22.7 million during the corresponding period of 2016-17, registering an increase of 24.7 per cent.
The growth in the corresponding period last year was 9.9 per cent.
All similar figures about income tax-payers indicate clearly that a substantial number of new taxpayers have been brought into the tax net after demonetisation.
Having bank accounts: Some economists have said that half the adult population of India does not have bank accounts and lives by cash.
This is another false approach.
One has to take a family, and not all people, including housewives.
They have ignored the Jan Dhan Yojana which has enabled 75.16 million people to open accounts already and the number is increasing day by day.
Conclusion: Attacking the cash component of black economy can be justified since it is the most effective way of communicating the government's determination to deal with black economy.
The biggest achievement of demonetisation is that it has brought about a social revolution against black money and corruption.
These have all been completely ignored by criticising economists.
Sukumar Mukhopadhyay is member, Central Board of Excise & Customs (retired).