While the middle class believes that while Dr Singh may not exactly be corrupt, they simultaneously also perceive that the best bet for anyone to loot and scoot in India is while he continues to be around, writes M R Venkatesh.
The Mayor of Casterbridge remains a masterpiece to this date. Authored by the great British author Thomas Hardy in late nineteenth century it was interestingly subtitled as "The Life and Death of a Man of Character."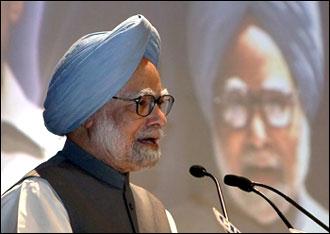 Set in the fictional town of Casterbridge, the novel is all about the story of a hay-trusser's spectacular rise to become its Mayor by his sheer hard work and honesty, his subsequent loss of character and his consequential fall. At the very end, inevitably the mayor goes down unwept, unsung and uncared.
Dr Manmohan Singh's story can very well be termed to be an Indian version of this classic. An economist of great international repute, Dr. Singh "was" an epitome of honesty, integrity and sincerity. He "was" till recently the darling of middle class.
The dramatic rise of Dr. Singh from being a professor to becoming India's Prime Minister through dint of hard intelligent work, mirrors the aspirations of the ordinary Indian.
But let me hasten to add that all that is stated above is history. Readers may have noticed the extensive use of past tense above. No one, not the least the middle class which celebrated him not so long ago, does agree with his economics or with his brand of politics - of being supinely indifferent to anything and everything.
With each passing day the nation (including his own party men) seems to question his ability - both as an economist and to lead this country.
What is worse is that while the middle class believes that while he may not exactly be corrupt, they simultaneously also perceive that the best bet for anyone to loot and scoot in India is while Dr Singh continues to be around.
The sub-title of hardy's novel mentioned above looks so appropriate in the present Indian context.
While one is not sure whether this indifference to corruption by itself it attracts the mischief of provisions of sub-clause (iii) of clause (d) of section (1) of section 13 of the Prevention of corruption Act, (criminal misconduct when a public servant acts contrary to public interest), the fact of the matter is that the most Indians now consider that the PM's silence to be the cause of rampant corruption.
This piece is about Dr Singh's tolerance to corruption, its long term impact on national psyche, our economy and what needs to be done.
Understanding the mess created by UPA
Whatever be it, tolerance to corruption, sheer incompetency or possibly both, Dr Singh will leave a very bad legacy. As and when he demits office his government will leave massive amounts of shit on the wall.
It may be recalled that when UPA Government assumed office in 2004, the domestic economy was reasonably robust. Simultaneously, global economy was witnessing an unprecedented boom. The UPA Government leveraged all this in its first few years to ensure a reasonable growth in excess of eight per cent.
While this growth was a confluence of certain coincidences (both national and international), the UPA managers, misread these to be the result of their policy initiatives. In hindsight, the period between 2004 and 2008 was a great window for India to have taken a great leap forward.
Importantly, the global economic boom provided a perfect setting to carry out significant domestic reforms. Unfortunately, we missed that window. For this failure one has to blame the economist Prime Minister for not striking hard when the iron was hot.
Let me amplify. Recall in 2006-07 and 2007-08 the fiscal deficits were reasonably under control and growth robust. And simply to stay in office and bribe poor voters, the UPA Government wrote off the farm debt aggregating to Rs 72,000 crore (Rs 720 billion) of our farmers. (The procrastination in de-regulating diesel prices then is another case in point as is NREGA & Food security bill a stupid idea.)
The inefficacy of this idea of debt write off is demonstrated by the fact that despite writing off such massive amounts, farmers across the country continue to commit suicides. A statesman would have used this money (substantial by any standards) to integrate rivers in India and left a lasting legacy for the country.
The pity is that the Dr Singh, despite being so endowed, did not behave as one. Rather he took the route of an ordinary politician. Consequently, the UPA has failed to leave any legacy for the country. Even to this day, the NDA is best remembered for its quadrilateral road initiative as is the Narasimha Rao Government for its economic reforms. Even the short lived Deva Gowda government gave us a "dream budget."
Worse still, think of UPA and we somehow conjure images of a government of and for looters. And that means systematically the UPA has somehow robbed the trust reposed on Government, its agencies and its institutions by Indians.
The net result: Indians are cynical of the Government, judiciary, media, intelligentsia, and of course now even the army!
And when the government of the day itself undermines the Constitution, most of us believe that all is lost. Surely the mood within the country is one of absolute despondency with most well-meaning men have virtually given up. And that neatly sums the mess wrecked on the country by UPA.
Need to reverse this mood
It is this mood of pessimism and cynicism that is at the root of the extant economic malaise. And these need to be reversed. But how?
Let us not forget that the critical idea implicit in economic reforms meant that our Government was to be a wholesale peddler of confidence.
Strangely, the architect of reforms - Dr Manmohan Singh seems to have forgotten this fundamental bit. No wonder as he seems to be flummoxed, tongue tied and defensive, the confidence of the common man to invest in India seems to be evaporating. And when Indians do not invest in India, where is the question of others investing in India?
Remember, investment is rooted in confidence and confidence in intuitions, institutions in men and men in character. When the sole objective of the man who occupies the high office is to continue occupying it at any cost and consequence to the nation, it impacts the overall investment climate – a fact that must be known to the economist in Dr Singh, if not to anyone else.
Obviously, restoring the faith of the common man on the democratic institutions and systems - in effect the Constitution - is the only priority for the next government. It has to be demonstrative. For that the guilty needs to be exemplarily punished and fast.
That does not mean the next government need to go out on a witch hunt. Nor does it imply creating a hype of arresting a few and then coming up with the standard Indian phrase: Let the law of the land take its own course. Given our past experiences, these utterances do not inspire confidence in us.
What is required is a time bound action of punishing a few. How about just one - the Prime Minister? Try him on the grounds of acting contrary to public interest and test this proposition under provisions of Section 13(1)(d)(iii) of the Prevention of Corruption Act.
The charge against Dr Singh should be on a singular point - that by his very silence and despite clear evidences he did not discharge the onerous responsibility cast on him by our Constitution. This question can be examined directly by the highest court - possibly through a presidential reference - and a verdict sought within a time frame.
Unless such drastic and pointed actions are not taken by the next regime, the India growth story could well and truly over.
That Dr Singh may not be held guilty (and one prays so) by the courts is beside the point. The fact is that such an action will instantly signal that we as a nation are ready to fix accountability for tolerating corruption even at the highest levels.
It would also instantly mean that we are ready to tackle the menace of corruption which as we all know flourishes because of such extraordinary tolerance to corruption, especially at high levels, probably as a quid pro quo for remaining in office.
Once this message is sent that the system seeks to fix the delinquent; things will definitely improve. Believe me, for too long, our tolerance to corruption - not corruption per se - is at the core of the issue. It is this tolerance that encourages the corrupt and provides them the necessary cover to the corrupt to get away.
Put pithily, punish those who tolerate corruption at the highest levels, the menace of corruption can be tackled forthwith.
It is time we address this fundamental issue. Let us make a good beginning by testing this idea on Dr Singh. The next Government has to take quick, decisive and laser like action on Dr Singh, hold him accountable, try him in a proper court of law and if held guilty, punish him.
It may be an outlandish idea now. But think about it, plan it and effectuate it. The benefits overwhelm the cost several times over.
---
M R Venkatesh is a Chennai-based Chartered Accountant. He can be contacted at mrv@mrv.net.in