Image:
The alpine destination of India is a treat to the sore eye. Have you been to Gulmarg yet?
Photographs:
Fayaz Kabli/Reuters
Geetanjali Krishna
Gulmarg, once an alpine retreat, isn't what it used to be. But its rolling meadows, wildflowers and deodars are still magical.
Often, the memories of holidays are much sweeter than the holidays themselves.
In our memories, we tend to glorify those sunny days and balmy nights of leisure until they bear little semblance to reality.
Sometimes, however, one finds oneself in a place that's very different from the memories of it.
That's how I feel in Gulmarg, where the ghostly memories of holidays past peep at me, half-hidden behind wildflowers and deodars, the log huts and the mountains themselves. With every glimpse of these ghosts, I see how Gulmarg was, and maybe, how it could be...
The reminiscences began pouring in as soon as we began planning a family vacation to Gulmarg.
"In the 1970s, we'd ride ponies up to Affarwat peak," said my cousin Anita.
"It was a slice of heaven on earth in the summer, with wildflowers everywhere and grassy meadows stretching right up to the snow line!"
She was talking of the days before the gondola, one of the highest ropeways in Asia with a total aerial distance of 5 km.
"How pristine and peaceful it used to be!" she reminisced.
Weeks later, as our car pulls into Gulmarg, I remember her wistful reminiscences.
Gulmarg's famed meadows and hillsides, which turned lilac with extravagant shows of wild lupin, are exactly as she'd described.
They say that there are 21 different kinds of wildflowers exclusive to Gulmarg alone, and I can well believe it.
Beyond the meadow, the snowy peak of Affarwat stands sentinel.
And betwixt the two, the thick pine forest lies, practically begging to be explored.
A classic alpine landscape, I muse, rolling down my window for a better view. And my view changes.

The pungent odour of horse dung assails my senses.
As we near the Gondola stand, there are so many horses that we find ourselves in an equine traffic jam.
They jostle against each other, cars and pedestrians with equal disdain.
There's a chaotic line for the gondola as ill-equipped tourists queue up to ascend 14,000 feet to see the snow.
Catering to them are scores of vendors selling everything from synthetic-looking kahwa (local saffron tea with almonds) to fake branded sunglasses.
Ladies stomp around in salwar suits and rented Wellington boots.
Touts and guides sell over-priced packages to any tourist they can find.
Ah, the joys of an Indian hill station in summer!
Luckily, the Khyber, the hotel we've booked, is away from all the madness.
My father-in-law, also with us on the holiday, has spent many a childhood summer in Gulmarg in his family's summer home overlooking the golf course.
Visibly rattled by the chaos near the gondola stand, he's momentarily soothed by the lovely Kashmiri architecture of the Khyber.
We sip kahwa (the real stuff, not the bilge that the vendors were selling in plastic samovars earlier) as he recalls the Gulmarg of his youth.
"I remember playing tennis in Hotel Needous," he says.
Established in 1888, this hotel, along with the tiny church in the middle of the meadow (now golf course), pretty much ruled Gulmarg's social life.
"I was a young boy when a strapping, handsome man asked if I'd like to play tennis with him. I assented. Much later, I realised my tennis partner was none other than Bollywood legend Raaj Kumar!"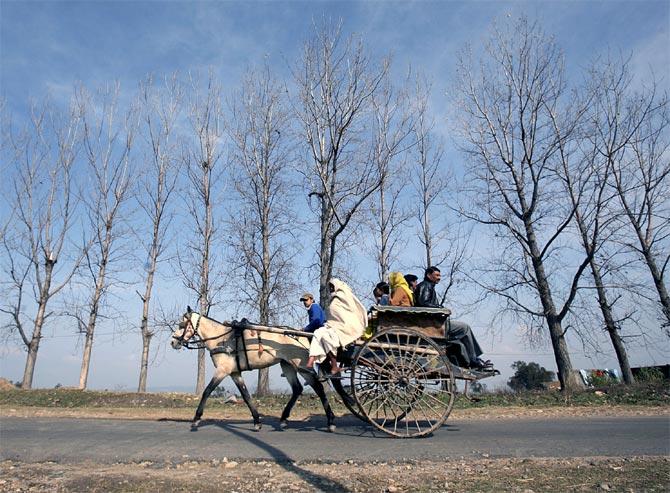 The horse ride is an essential mode of public transport. Photo:Amit Gupta/Reuters
Gulmarg today is far removed from the elegant alpine retreat he describes.
Day trippers visit in droves, hanging around the main village centre having tea, Maggi and pakodas.
The meadows, however, are still as beautiful as ever, and Needous is going strong, though a little frayed around the edges.
We walk up behind the golf course to see the family hut, which had burnt down in a fire.
Its charred structure still stands, a desolate ghost of a bygone era.
The next morning, we set off to the top of Affarwat Peak in the gondola.
The hotel staff tells us that the only way to beat the crowds is to reach the counter at least half an hour before it opens at 9 am.
From the vantage of the cable car, the views are spectacular, as I recall my cousin's reminiscences of going up on ponies.
Clouds swirl around us as we cross the snowline.
In a trice, they clear, leaving behind impossibly blue skies with a few scuttling clouds and an expanse of snow beneath as far as the eye can see.
At 14,000 feet, the altitude needs a little getting used to.
Even though the peak is crowded with tourists, the view is breathtaking.
We eschew the usual tourist traps (kahwa and sleds), but assent to over-priced ski rides -- joyrides behind a skier which take us to a quieter part of the mountain.
The Line of Control is in plain sight, with a sentry guarding his lonely post.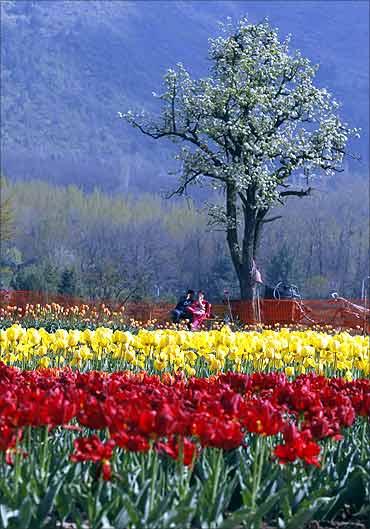 What are your fondest memories of Gulmarg? Photo: Fayaz Kabli/Reuters
Later, in the pine forest above the meadows, we admire a clump of primroses over which legions of butterflies flutter.
I recall my father-in-law's disappointment with modern Gulmarg the previous evening.
"It's nothing like it used to be," he'd pronounced.
Of course it isn't.
Yet the ghosts of holidays past whisper in my ear that there's so much more that Gulmarg can be...
Getting there
All major domestic carriers operate daily flights from Mumbai, Delhi and Chandigarh to Srinagar's Sheikh ul Alam Airport (56 km). Pre-paid cabs to Gulmarg are available at the airport.
Jammu (290 km) is the nearest railhead, with cabs and buses easily accessible from the railway station.
Government and private buses ply regularly between Gulmarg and Srinagar, Sonmarg and other neighbouring towns in Kashmir.
ALSO READ Why every Indian needs to visit Kashmir
---
Did you recently visit an interesting place?
Do you want to share your travel story and pictures?
Simply write in to travelpicsga@rediffmail.com subject line: 'My Travel Story'), along with pictures of the destination you're writing about. We'll publish the best ones right here on rediff.com!
photographs...