Photographs:
Rediff Archives
Daisy Fernandes, Investmentyogi
Having bid adieu to 2010 and looking forward to 2011, one thing I would like to do better is 'Fiscal prudence'.
Be it in learning inflation management wiping off tears while chopping onions (getting dear at Rs 50) or reading about the disaster management in the Euro zone.
And with it come my must-dos for 2011.
Financial must-dos in 2011

The credit card is a marvellous evil
Where 10 years back I used to tag along with my Mom dutifully ticking off the grocery list one by one. As the grocer filled our bags and should the billing exceed the amount in hand, some items had to be simply done away with.
Today, all I do is stroll along with my super-sized cart and fill it with the vaguest of items which in some corner of my shopaholic mind, I feel I need and after I see them lying in dust for months, I think I could well have survived without those!
Such is the recklessness brought in by the credit card and to fend against it is a challenge, not completely insurmountable though.
All you need is a tracker.
.
Financial must-dos in 2011

Take five minutes off and scan all credit card monthly statements, make rows of expenses clubbed into categories with each column dedicated to a month and this will give you a picture where you are overspending.
Although this is post facto but if you keep tracking those expenses zealously, the next time you visit the shopping market you will think twice before picking that bottle of unwanted sauce.
What this will also give you is a snapshot of how your various expenses have fared over time and any aberration will be noticed quickly. A simple snapshot can look like this.
What this will help you do is
Keep a track of your expenses category wise and send you alarm signals where you need to deep dive further
Give you an estimate of your expenses. When you want to draw up your detailed financial plan and keep 6 months worth of expenses handy, you will exactly know which number to look for.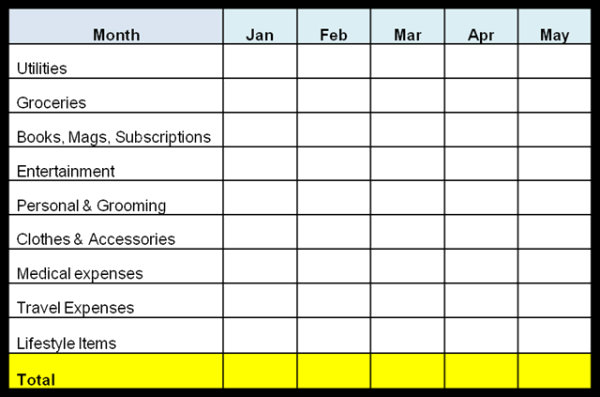 .
Financial must-dos in 2011

Make saving a discipline
Fiscal prudence means in simple terms Inflows should always be greater than outflow and in simpler terms means that you save some portion of your salary in a timely disciplined way.
Heard of systematic savings, SIPs, recurring deposits?
All enable you to save bit by bit and you can bring that force discipline yourself by setting up an SI (standing instruction) in your account to ensure that within a week of you salary hitting your account, your savings have been shifted out and what is remaining is then the expense management zone.
Here again a spreadsheet can come in handy. A simple snapshot is shown below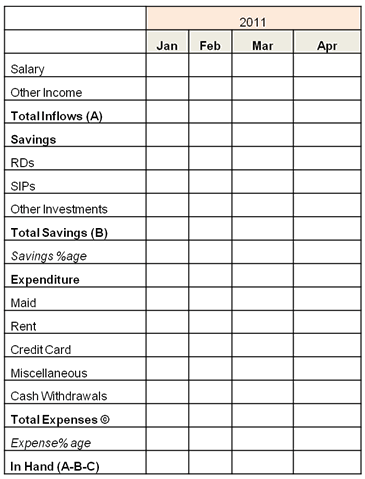 .
Financial must-dos in 2011

Practice goal-oriented investment
Saving money by itself will be no good if you don't know what you are saving for. This brings forth the question of what are your life's goals. If you know that then how much you need and when will determine how much you need to save and where!
In simple terms, plan for retirement today!
And keep those vehicles of investment distinct and different. Apportion a percentage of your savings to PPF, EPF and pension schemes such that they take care of you retirement corpus in a systematic manner. Likewise, child care, education needs etc can be planned by investing through equity oriented SIPs, gold ETFs etc and your recurring deposits or multi-deposits can take care of liquidity needs.
By keeping your investment vehicles separate for different goals you can manage them better.
Actually, if you think about it all three points are a no-brainer, so are all tips on healthy eating and weight management. What is difficult about them is the ability to be consistent and disciplined and that is what makes any tracker/diet plan effective!
So cheers and wishing you all a 'Fiscally' glorious year ahead!