Why Lady Gaga loves LittleShilpa's style
Divya Nair
We caught up with Shilpa Chavan (or LittleShilpa, as she is better known) at Lakme. Here, the creative pint-sized genius whose work has been appreciated and donned by the likes of Lady Gaga (on the cover of Flare Magazine, seen here) gives us her take on fashion.
Among a bunch of slender-looking hotties stands designer Shilpa Chavan, better known as LittleShilpa. She is busy giving briefs to her assistants, coordinating with the organisers and balancing herself on one foot courtesy a minor accident.
"I just slipped. It's nothing serious. Can we sit and talk?" she quips when asked about her injury. It's 8 pm and in between snatches of conversation, she interrupts to ensure that her assistants reach home on time. Quickly, she exchanges money with a young girl (who I presume is her assistant), so that she can fetch a cab and directs another young male assistant to ensure her safety. She then settles down for a quick chat.
So little time, so much to do! How do you think you will manage?
Oh, well. I know I am a little late in my preparation. But I am sure I will make it through for D-day. I hope! (smiles)
How many hours do you work on an average day?
About 10 hours, maybe?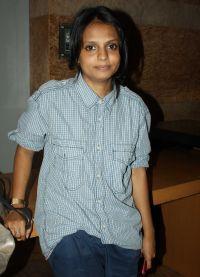 Tell us about your collection.
I am representing DHL along with Nachiket (Barve) and Swapnil (Shinde). We were asked to work around the theme of speed. So I thought of skyscrapers, birds, flight. My collection will be dealing with these elements.
What is your idea of fashion?
According to me, fashion is not just about designer wear. It is about presenting different options out of what is given to you. As a country, I think, we are still new to fashion. We are emerging, I can say.
How has your journey at the LFW and in the industry been so far? Would you recommend it as a career option to youngsters?
It's been great, but one needs to brace themselves for the odd working hours. It can only happen if you have the passion to deliver creativity and challenge your imagination. The good part of participating in the LFW is that you get an immediate response for your collection. Some people may like it, some may trash it. Both, the participation and response part are exciting.
What about remuneration for entry-level designers?
If you are an entry level designer, you can expect the job of an assistant or co-worker that will fetch you roughly about Rs 7,500 per month or so.
In your opinion, what is the most common fashion blunder that people make?
Personally, I believe there are no rules in fashon. In fact you have to study fashion so that you can break them. So, in my opinion, if there's anything that should be taken care of, that is repetition.
What fashion tips would you like to share with GenY?
Don't repeat things. Try different colour combinations and see how they work for you. Style is individual and subjective. Don't be afraid to try new things.
What is your advice to aspirants and budding designers?
Be passionate. Do not limit your imagination. When you start off, never start by designing for commercial purposes. This is the first mistake that most of them make.
Image:
Lady Gaga in a LittleShilpa headpiece and (below) the pint-sized designer
Photographs:
Cover of Flare Magazine, December 2009 and (below) Hitesh Harisinghani