Image:
Companies like Titan, Blackberrys, Proline, Benetton. JC Penny and Jockey hire creative professionals
Photographs:
Courtesy Careers360
Merril Diniz, Careers360
The premier design institute has 15 centres offering design, technology and management programmes. Read on to know how to get in.
From just one centre in Delhi in 1986, the number of NIFT centre today has touched 15!
From Shillong in the North East and Kannur in Kerala, to Bhubhaneswar and Kangra, they are spread far and wide.
Offering UG, PG and Doctoral programmes in design, technology and management, these centres have been set up both in commercial and industrial hubs.
Spectrum of courses
The diversity of courses has also widened, beyond traditional ones like Fashion and Textile Design, to include technology and management courses that are allied to fashion.
And post the NIFT Act 2006, the institute awards its own degrees. Courses include:
Bachelor of Design (B Des.) (4 years): Fashion Design; Leather Design; Accessory Design; Textile Design; Knitwear Design; Fashion Communication
Bachelor in Fashion Technology (B.F. Tech) Apparel Production (4 years)
Master of Design (MDes) -- Design Space; M.F Tech -- Master's in Fashion Technology; M.F.M -- Master's in Fashion Management
Please click NEXT to continue reading...
Application, deadlines and more...

Image:
Design students are provided hands-on learning at the institute
Photographs:
Courtesy Careers360
How to apply
Around 20,000 candidates or more, will compete for a little over 2600 seats during NIFT admissions 2013.
This year NIFT encourages students to apply online and save on the cost of the application form, which is additional to the application fee of Rs 1,100 (general category) and Rs 550 (SC/ST/PHP).
The prospectus with all details including courses, seats, admissions procedures and fees can be downloaded from http://applyadmission.net/nift2013/Prospectus2013.pdf.
The age limit for UG programmes is 23, while there is no age limit for PG programmes.
A special emphasis has been laid on attracting students from far and wide, beyond metros and even small towns.
And while English may be the medium of the entrance test, the creative ability component gives all an opportunity showcase their creative talent.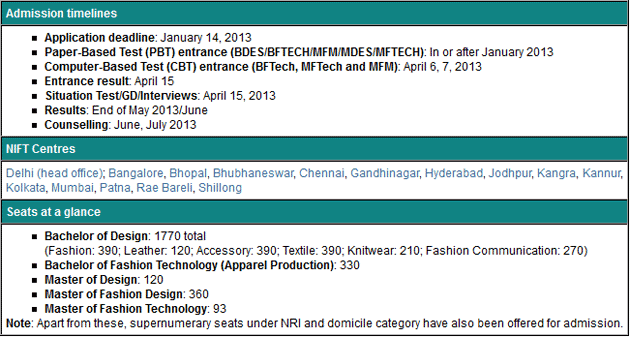 Here, Prem Kumar Gera, IAS, Director General, NIFT (Head Office) explains how students can prepare for the NIFT entrance test.
How can students best prepare for NIFT's entrance test?
The exam pattern is designed to judge the talent of candidates of each programme differently. In the design stream more emphasis has been given on designing aptitude, creativity and material handling techniques of the candidates.
These three components together are responsible for merit of a candidate. For candidates of Bachelor of Technology only one test -- General Ability Test -- is administered.
For PG programmes apart from other components, candidates are called for a Group Discussion and Interview. The institute does not recommend any coaching programme/technique.
How does allotment of centre and course happen?
It is purely on the basis of merit and the preference of the candidates during counselling. Faculty members help candidates to select the programme.
Can you give us a snapshot of NIFT's placements?
The NIFT Placement Cell facilitates on campus placements.  This year, 82 per cent students who registered for placement bagged jobs, most before finishing the courses.
The average salary during Campus Placements 2012 for Master's Programme is Rs 3.32 lakhs per annum and for Bachelor's Programme is Rs 2.73 lakhs per annum. Lifestyle International recruited maximum number (46 including UG and PG students).
Reliance Brands recruited 43 students and offered highest salary of 5 lakhs to PG students. 1667 companies registered for campus placements this year.
Tips to crack the entrance test

Image:
Image for representational purposes only
Photographs:
Courtesy Getty Images
The entrance test
Candidates seeking admission to UG and PG design will need to give a Paper-Based Test, which has two sections.
The General Ability Test (GAT) which comprises: Quantitative Ability, Communication Ability, English Comprehension, Analytical Ability and General Knowledge and Current Affairs.
The Creative Ability Test (CAT) gauges your creative and innovative streak through colour, illustration, et al.
Based on performance in the GAT and CAT, around 6000 students will be shortlisted to participate in the 'materials handling' test, a unique feature to design programmes.
Here, study material is given to candidates from which they have to make a model based on the given brief.
The GAT for technology and management programmes at both UG and PG level have an extra component -- the case study but no creative test.
All Master's level programmes will have a Group Discussion and Personal Interview, which carry a weightage of 30 percent.
The Master's in Fashion Technology will feature some engineering questions. NRI and international students can apply with SAT and GMAT scores.
Knowing the courses
While students have some idea of fashion design as a stream, there's little understanding of other aspects of the domain.
For instance, the eligibility for the Bachelor of Fashion Technology, unlike for design programmes is 10 +2 with Physics, Chemistry and Mathematics, since this is equivalent to a BE or BTech.
These students usually work in quality assurance, industrial engineering, as garment technologists etc.
The Fashion Communication programme trains students to move into multiple career paths that combine fashion and communication, that is, graphic design, visual merchandising and retail space design, styling and photography, and fashion journalism.
And the Master of Fashion Management programme has earned a reputation in the retail and fashion circles as a  sector-focused management programme.
One can work in the retail and fashion industry in areas like international marketing, brand management, retail management and consulting.
Students are advised to read the prospectus carefully for a better understanding of each stream, and put their most creative foot forward for a seat at the premier design institute.