Image:
Talented professionals can work with engineers, architects and skilled worksmen in a team
Photographs:
Courtesy Navi Mumbai International Airport
Brian Weiss, Courtesy Careers360
Project-driven fields like IT and construction need professionals with unique skills set to ensure smooth execution of ambitious new ventures.
Ever wondered how new airports get constructed?
Or how bridges and tunnels are built across the ocean?
The success of such ventures depends on effective project management.
Which means not just planning the project from A to Z, but also anticipating problems along the way and still managing to complete the project within the allocated time and budget.
In fact, across industries, the key differentiator that has won organisations' projects is their ability to deliver quality, meet deadlines, effectively manage resources and meet last minute change requests.
A full-fledged profession
Project Management is indeed a profession that offers excitement, challenges and fantastic salary packages, and the only one where the income levels continue to rise despite recession.
These professionals are in demand across various industry segments including IT/ITES, Construction, Engineering, Finance, Healthcare, Telecom, Consultancy and Manufacturing industry and many such projects-driven industries.
With projects being mandated on such large scales across the world -- a shortage of six million skilled project professionals is expected by 2013.
Employers and entrepreneurs are even realising the merits of hiring trained or certified project professionals.
The author is Vice President, Practitioner Markets
Please click NEXT to continue reading... 
IITs, IIMs also provide courses in project management

Photographs:
Courtesy Careers360
A module at b-schools
Practically all the IIMs offer some elective courses titled "Project Management" or some other title dedicated to the coverage of important themes in project management.
In general management-oriented Master's in Business Administration (MBA) programmes, PM-related subjects are included in almost all curricula of management institutions, but do not always appear specifically in the form of full-length courses.
Only specialist courses cover a wider gamut of PM subject content and emphasis, but these are not commonly found in MBA programmes.
Similarly almost all the courses covered in technical colleges, especially those covering construction, engineering and information technology include project management within their ambit at introductory level, usually in the form of a module.
Growing need for PM skills
"Now that we have a formalised body of knowledge, and the project mode of work in our organisations is predominant, it makes eminent sense to prepare our managers-to-be as well as practicing managers through appropriate teaching and training programmes in Project Management," says LS Ganesh, Dean of Students and Professor, Department of Management Studies (DoMS), Indian Institute of Technology Madras.
He shares that in the MBA programme offered by IIT Madras, Project Management is positioned in the core curriculum and is augmented by several electives.
"Our MBA alumni continue to use and appreciate the Project Management competencies they developed through the programme," he adds.
In the face of the widening gap between the world's need for project professionals and the supply of skilled practitioners, b-schools now need to rise to the challenge by offering courses in project management.
Certifications, accredition and more

Image:
It is important that you excel in the body of work you are assigned with
Photographs:
Richard Harrington/Getty Images
The Project Management Institute offers a comprehensive certification programme for project practitioners of all education and skill levels.
Currently comprising six credentials, the programme demonstrates both your commitment to the profession and expertise through certifying education, experience and competency.
Rigorously developed by project managers, PMI certifications ensure that you and your projects excel.
This process is exemplified through the Project Management Professional (PMP) credential accreditation by the American National Standards Institute (ANSI) against the International Organization for Standardization (ISO) 17024.
In addition, the PMP is also registered against the ISO 9001:2000 standard for quality management systems.
International accreditation
PMI certifications are internationally recognised and globally accredited. They are transferable between methodologies, standards and industries, and are considered a valid and reliable way to assess competence.
According to Ketharinath K, PMP he received a promotion and bonus within his organisation on clearing his PMP certification.
"Internalising PMI's 'A Guide to Project Management Body of Knowledge (PMBOK Guide) -- Fourth edition', I was able to easily take the responsibility of managing large and complex projects and manage it more efficiently. I was able to assist in setting up a PMO and became an authority for project management in my work place," shares Ketharinath, an Engagement Manager with Microsoft Consulting Services -- India.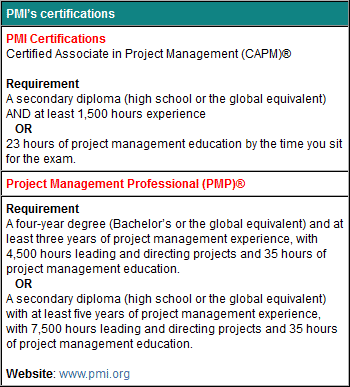 The time to acquire project management skills is now!

Photographs:
Courtesy Careers360
Demand for project managers
Today, one-fifth of the world's GDP, or more than $12 trillion, is spent on projects, and Project Management is one of the top skill sets demanded by organisations around the world.
With many skilled practitioners leaving or scheduled to leave the workforce due to retirement -- a trend the Society of Human Resources (SHRM) identifies as having a major strategic impact for 64 per cent of organisations worldwide -- there is a great demand for knowledgeable project managers.
Boost your employability
When these opportunities arise, certification helps make sure that you'll be ready.
There are already more than 460,000 PMI credential holders around the world and in every industry, from healthcare, telecommunications and finance to IT and construction.
The time to acquire project management skills is now.
A gap between the supply and demand of project professionals means opportunity for you.
Even if you don't want to be a project manager, these skills can help you differentiate yourself in a crowded job market.
If you are able to demonstrate to your potential employer that you have project management knowledge and skills, your employment options will be broader and your chances to land a job after graduation better.