Image:
Shakti Sagar, MD of ADP India launches internal women's website 'Medha'
Photographs:
Courtesy Careers360
Automatic Data Processing, Inc., one of the largest service providers in the HR and human capital space seeks talented freshers in India.
FAST FACTS
Core business: Provides business processing and cloud-based solutions including HR, payroll, benefits and talent Management to employers and automotive dealerships
Global turnover in FY 2012: Over $10 billion
Employee strength: 57,000 (global); 6800 plus (India)
Headquarters: New Jersey, USA
India GICs: Hyderabad, Pune
Websites: Adp.com, Linkedin.com/company/adp
Most employees around the world look forward to the end of the month -- when they receive their pay cheque.
But few know that US-based company Automatic Data Processing, Inc. is responsible for processing the pay cheques -- for 1 in 6 workers in the US, and 10 million employees in other nations!
Businesses of varying sizes and domains around the world save time and money, by simply outsourcing this basic HR activity to the company.
"ADP Employer Services help organisations in every facet of the employment cycle -- from recruitment to retirement -- so organisations can focus on what they do best," shares Vipul Singh, Head of HR and Vice President.

Core business: Provides business processing and cloud-based solutions including HR, payroll, benefits and talent Management to employers and automotive dealerships
Bouquet of products
ADP's business solutions are diverse. Their programme 'RUN' is a payroll service especially designed for small businesses.
All an organisation needs to do is enter their payroll information via web access or mobile and ADP processes them. No software is required.
On the other hand, ADP Comprehensive Outsourcing Services, is a "soup to nuts" solution for organisations with over 1,000 employees.
Here the company provides a dedicated team and best-in-class technology, to assist the organisation in everything from HR and benefits, to pre-employment services such as recruiting and screening and talent management.
Please click NEXT to continue reading...
ADP hires from IITs, NITs and Tier-1 b-schools

Image:
Employees and their families attend a greeting card design workshop
Photographs:
Courtesy Careers360
India, a tech hub
As one can imagine, technology is a key driver in the company's success, and ADP's Global In-House Centre (GIC) in India, ADP Private Limited, plays an important role in this regard. Typically, a GIC is not just a back office processing unit.
It plays a significant part by value adding to the global business.
"ADP Private Limited operates in world-class facilities located in Hyderabad and Pune, which provide its associates the opportunity to work on multiple processes, domains and technologies," shares Vipul.
Established in 1999, ADP Private Limited provides IT and IT Enabled Services to ADP's business divisions worldwide.
This comprises the complete range of services - software development, technical support and solution centres. Currently the company is looking to absorb freshers in the BPO/KPO, RIM and R&D arms of the business.
Campus recruitment
ADP hires from Tier-1 colleges across 17 geographies in India including IITs, NITs and Tier-1 b-schools.
The company hires engineering graduates from all circuit branches and Computer Science, and b-school graduates with specialisations in marketing, HR, finance and operations.
As is the case with most product development companies, ADP India recruits a larger number of engineering graduates every year as compared to b-schools.
Campus recruitment process usually comprises two to three rounds: An online test via ADP's in-house tool 'ADP Pariksha' which focuses on quantitative, aptitude and verbal skills.
This is followed by a technical round and HR rounds which focuses on technological and behavioural skills.
More than domain knowledge
The recruitment process is quite rigorous, especially for product development as this field requires an innovative bent of mind.
Besides, knowledge of technology, strong quantitative skills and aptitude, a well-rounded personality and soft skills will gives candidates the edge, as in depth communication with global teams is inevitable.
'Besides good grades, you also need a good personality to make it big'

Image:
ADP associates perform on company day
Photographs:
Courtesy Careers360
Challenging job profiles
According to the company, challenging job profiles in R&D include SAP Testing, SAP Functional Consultant, SAP ABAP, Java Developer, Automation testing, Siebel tester, Oracle developer, Mobile Tester, User Interface developer.
B-schools graduates can look at profiles like Business Analyst, Consultants (across technologies -- depending on the opening), Project Leads, AM/DM/Operations Manager and Project Manager. 
Beyond campus
Students who are not from the top campuses also stand a chance at ADP, and can reach ADP through daily walk-ins for the BPO vertical, through job portal, Pehchaan, the internal employee referral programme, and ADP's LinkedIn page, a major source in this segment used to recruit potential candidates.
Here, Vipul Singh, Vice President and Head of HR -- ADP Private Limited shares interesting insights on what aspirants must do to get a job at ADP.
Would you say that it has been tough for ADP India to find the right people?
On the product development space, we are in a niche area i.e., developing products. And I think it's more difficult.
Product development tend to get guys who do IT services. For instance, if 1000 people take the test, which we have designed ourselves, we have 70 people who pass. Of these we end up hiring about three to four people on campus.
Our education system is very generic and touches upon a little of everything. Even the creme de la creme picked up from the IITs and NITs are put through five months of training after they join!
What is the scenario for your BPO division?
In fact it's not a BPO but a KPO, because these guys support a business, and when that happens you need to have knowledge of the process. It's not a transaction that you pick up and run in a particular way.
We hire those with a background in Commerce, Economics, Math etc. But I am very bullish on India as a talent market. It's tough but we are able to get the talent that we want.
Can you illuminate students about the Remote Infrastructure Management (RIM) vertical...
The first wave of outsourcing in India was IT, then BPO.
The third one is RIM. If you look at the results of many IT majors, their infrastructure business i.e., the RIM business is growing at twice the rate as IT services, and I think that's the huge space we need to be in, as our telecom and Internet costs are not going up and there's a huge amount of remote connectivity that we can provide.
Our Internet penetration is increasing. You have network skills, desktop, storage, web admin, system integration, voice and multiple skills.
Some certifications that people can do include MCA, Microsoft Certified Professionals, Solaris certifications etc.
What soft skills are important?
We are a Global In-House Centre so we have strong interactions with the business units in the US. So, I would qualify basic English speaking as a soft skill. It does not come naturally to many whose mother tongue is not English.
This is level 1. Level 2 is ability to comprehend what is expected by listening and Level 3 is to present the point of view, which is good, bad and ugly, to the business.
What is the solution for this?
Schools in India can do a lot in the area. Currently, they are pretty much built to run the curriculum.
I am seeing a few who realise the importance, starting to make small strides. Besides good grades, you also need a good personality to make it big.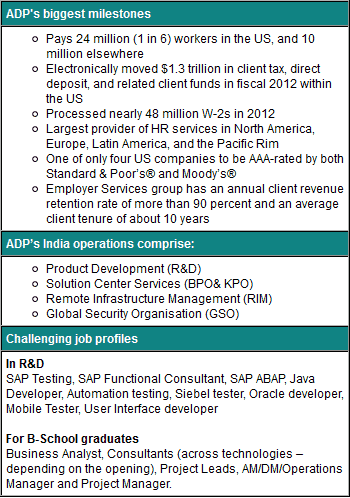 Key features @ ADP: Good work culture, decent hikes and work life balance
The box of surprises
The communication process begins when an offer is extended to a candidate.
Be prepared to receive a multidimensional Box of Surprises, which consists of a series of elements that communicate the company's culture of innovative thinking.
"The effectiveness of the kit is such that, most times selected candidates contact ADP's recruitment teams, not the other way round," shares Vipul
Orientation process
Soon-to-join candidates are invited to visit the ADP along with family members and interact with ADPeers (associates at ADP are called ADPeers).
"They get to interact with senior leadership, and are given opportunities to address queries, seek guidance, and to exchange ideas for further improvements," shares Vipul.
During the three-day orientation programme for new joinees, apart from the joining formalities, welcome lunch, tour and presentations by business heads, the highlight is really a three-hour interactive discussion with ADP's MD over high tea!
Growth paths for freshers
The growth path for freshers is dependent on the business verticals.
A typical career path would range from team member to project lead, and even specialist roles such as Subject Matter Experts, Architects, etc.
"They can always find new challenges that allow them to develop skills and knowledge, as well as opportunities to explore areas of interest across ADP locations in Pune and Hyderabad," shares Vipul.
Perks and benefits
According to Glassdoor, ADP's remuneration in India is not only competitive but in fact higher than some of the more prominent players in the IT space.
Good work culture, decent hikes even during a downturn and work life balance, is some of the feedback posted by current employees.
According to Vipul, there's a strong focus on learning and development, and exposure to the latest technologies and processes is a given.