CET: Your quick score-improvement plan!
Atul Prashar, TCYonline.com
Hey Rahul, you had a bad CAT & XAT this year and your CET Maharashtra is approaching. How is your prep going?'
'Hi Sakshi, I have been taking mocks and my scores are showing an increasing trend. But I really doubt these stats because despite a similar trend, my CAT was a real disaster. Everything was going well until November 23 when I found myself struggling with my real attempt.'
'Ya, I know. But I really wonder what was the 'gap' in your preparation!'
This much-hyped 'gap', in most exam disasters, is not always in the preparation but in performance measurement as well.
In fact, this 'gap' is the reflection of our ignorance in understanding the term 'exam performance'. We must not be blamed for the same since most of the national and international competitive exams used to be paper-based -- a format that leaves little data to be pondered over to extract the real date to plan our next move.
Result: the 'success mantra' was to take innumerable mocks and improve your performance (a still ambiguous term) with each test. That is, the emphasis was on 'doing more of it'.
The times have changed. Since the time the exams like GRE, GMAT, CAT, MAT and NMAT have gone computer-based, a new perspective on performance measurement has come over the horizon. Nevertheless, it is true that until we understand the real definition of performance, its measurement can never be accurate and reflective of real performance.
Click NEXT to read more
Photographs:
Rediff Archives
Your quick score-improvement plan!
Performance: The integrated approach
Performance, in real sense, has three dimensions. These dimensions must be measured and understood in unison, not in isolation, for they influence one another. Therefore, if we are at loss to measure even one of these, we run the risk of getting misled if not uninformed.
For instance, Rahul has been consistently monitoring his percentage scores, (that is, percentage of questions that are correct out of total) which according to him are showing an improvement trend. However, these figures can be misleading if his accuracy (that is, percentage of questions that are correct out of the few that he had attempted) trend is declining or even stagnant.
This data is very important to measure in case of competitive exams like CAT that deduct marks for wrong answers.
Your quick score-improvement plan!
Similarly, the importance of knowing your 'time taken per question' cannot be over emphasised. In fact, failing to measure 'Time taken per question' is even more disastrous. We can, once again, take the case of Rahul to understand this.
Rahul's accuracy graph is shown in Figure 1 below: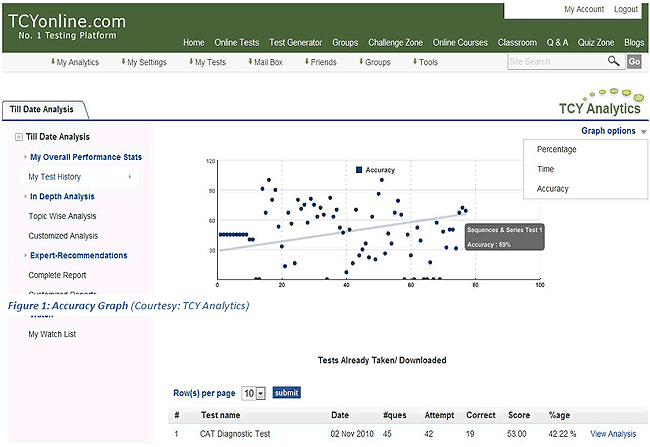 Here the dots represent the number of tests he has taken and position of dot represents his percentage accuracy in that particular test. Hence, he has taken almost 80 tests related to his exam and his accuracy is tracing an improving trend.
However, when he looks at his 'average time per question' graph (shown below in Figure 2), the statistical 'line of best fit' proves that his average time per question is showing an increasing trend. This means that he has started spending more time on questions to improve his accuracy and this, in turn, may bring down his total attempt in the real exam.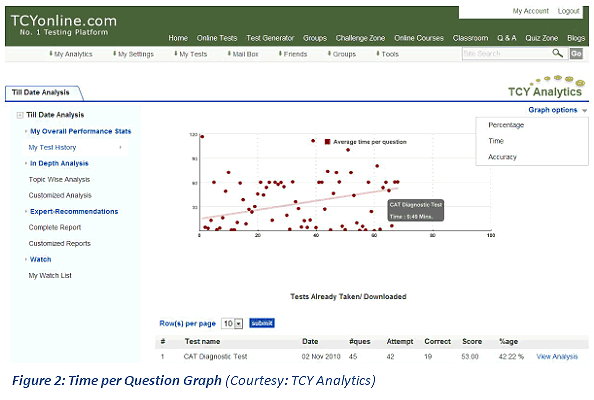 Your quick score-improvement plan!
Ensure faster improvement
Given the above facts for a test taker, his approach to exam preparation will be entirely different and scientific as compared to that of an aspirant who is ignorant about in-depth performance measurement. Here are a few lessons that Rahul can learn everyday and improve faster than his competition:
Improved question selection: The first thing Rahul will do is revisit his past 2-3 tests and observe his question selection. As the average time per question is increasing, he may have been selecting time takers instead of time savers. Additionally, based on the past 10 tests he may also list down the topics which most frequently emerge as his time takers and decide not to even try questions from those topics in the forthcoming tests to save more time for comparatively easier ones.
Optimised attempt pattern: Rahul may also decide his best attempt pattern in the next test. We are preached time and again that we should pick easy questions in the first round of our test attempt. But nobody can mark us 'those easier questions' before the test. In fact, nobody can since a question that is difficult for Rahul may be very easier for someone else. It's very subjective. Here, the above data helps a lot. If Rahul gets to know the topics for which his average time per question is consistently low and accuracy is consistently high he can decide to attempt such questions first in order to maximise his score and save time for the challenging lot.
Imagine if you have this analysis and its result-oriented interpretation in your mailbox every day. You will never be over-prepared for your exam by 'doing more'; instead you will be improving faster by 'doing right at the right time'.
With the unlimited possibilities the technology has on offer, the test preparation will never be the same. 'Common sense is not so common' -- these golden words of Voltaire prove themselves right every time we look at the scientific way of doing things. Preparation for your GRE, CAT, XAT, GMAT or SAT is no exception.