Photographs:
Samik Sen
Shalini Gupta
Over the ages, nameless architects have created some of the most opulent palaces, tombs and monuments of historical importance that continue to awe and inspire us. As the renowned 20th century architect Le Corbusier wrote, "You employ stone, wood and concrete, and with these materials you build houses and palaces: that is construction. Ingenuity is at work. But suddenly you touch my heart, you do me good. I am happy and I say: This is beautiful. That is architecture."
Architects employ their imagination to build monuments that are aesthetically in tune with the principles of design while also being functional and usable to those inhabiting them. With the concept of environment-friendly and green buildings fast catching up today, the focus is on building spaces that are ecologically sound. This, together with the booming real estate and construction industry, has fuelled the demand for architects.
Architecture schools in India
Some of the institutions established during British colonial rule include the Madras School of Industrial Arts (1850), Government College of Arts, Calcutta (1854) and Sir JJ College of Arts, Bombay (1857), which started a diploma programme on architectural draftmanship in 1910. Later, schools of arts and architecture were also established at Baroda, Hyderabad and Lucknow by the respective princely states. The Indian Institute of Architects was established in Mumbai in 1920.
In 1952, School of Planning and Architecture (SPA) was established in New Delhi, which later became an autonomous institution, fully financed by the Central Education Ministry. At the same time IIT Kharagpur was set up and it included a Department of Architecture and Regional Planning. However, SPA is a built-in environment design and planning apex institution (25 per cent of institutions come broadly under this model). IIT Kharagpur is an example of a design school and technology institution, a model followed at almost 75 per cent of the architectural institutions in India.
Degrees in planning or architecture are known as "BArch" or "MArch", different from "BTech" or "MTech" of the technology streams. Both are distinct and independent disciplines. The number of schools of architecture in India has grown from four in 1947, 12 in 1972, 50 in 1991 and 111 in 2004 to about 150 today. Almost 60 per cent of these are located in small towns and cities and 50 per cent have been added in the last decade.
According to the Council of Architecture (COA), BArch is offered by 135 colleges across the country. The COA regulates universities and colleges offering the course. It is to be noted though that the Council does not count institutions such as the Delhi-based SPA under its purview.
Fast facts
Best schools: SPA New Delhi, JJ School of Art and architecture, Mumbai, CEPT Ahmedabad
Degree: BArch
Duration: 5 years
Eligibility: 10+2 with mathematics/ physics /chemistry
Entrance exams: NATA, AIEEE, IIT JEE, state entrance exams
Associations: COA, IIA  
The BArch programme

If you have gained admission to a course in architecture, be prepared to imagine, visualise, design and create.
"Architecture is a confluence of art and science. It is a very interactive course where students are encouraged to come up with ideas," says Harshvardhan, a fourth year student of JJ school of Art and Architecture. The BArch course is spread over five years with 10 semesters (one semester of four to five months approximately) and is a generous mix of both theory and studio exercises.
It stresses on subjects from the fields of art, engineering and technology to the professional practice of architecture.
Eligibility and admission
The COA conducts an aptitude test on an all-India basis called National Aptitude Test in Architecture (NATA) for admission to the first year BArch degree at institutes and colleges of architecture under its purview. The test measures the candidates' drawing and observation skills, sense of proportion, aesthetic sensitivity and critical thinking ability, which are the building blocks to the study of the course.
The minimum eligibility to apply for the course is 10+2 or equivalent from a recognised board/ university with mathematics as a subject of examination (at least 50 per cent aggregate). A minimum of 40 per cent marks in NATA is required for admission. A merit list is then prepared on the basis of marks obtained in Class 12 and NATA (giving equal weightage to both) and admission granted to colleges across India.
Those with a science background can take the AIEEE, which is accepted by all National Institutes of Technology (NIT), deemed universities and central government universities and SPA. IIT Kharagpur and IIT Roorkee take in students through IIT-JEE. It's advisable for students to give the NATA besides state-level exams. For instance, admission at Chandigarh College of Architecture (CCA) is made on the basis of the Common Entrance Test (CET) and Architecture Aptitude Test conducted by the Punjab University.
JJ School of Art and Architecture, Mumbai takes in students through a Common Entrance Test (CET) conducted by the Directorate of Technical Education. It is mandatory for every architectural institution imparting the five-year BArch degree course in the country to join the NATA and to admit students on the basis of a valid NATA score. Candidates, who are not admitted on the basis of valid NATA marks, will not be considered for registration as architects later on.
BArch curriculum
Stage 1 spans three academic years during which students learn and understand the basic tenets of architectural design, the core subject during this period. "Design is the nucleus around which other subjects are built," says Professor Sanjay Mehra, Dean studies, Vastu Kala Academy, Delhi.
Armed with the theory of design methodology together with the knowledge in other subjects (such as building construction technology, structural design and systems, basic design and visual arts, history of architecture and building materials and sciences) students learn to apply the concepts to design buildings such as hospitals, schools, colleges, offices etc.
They also learn to present their building designs in graphic form, both through free hand drawing and also computer aided drafting skills in 2D and 3D using modelling software packages. In depth knowledge about shades and shadows, textures, tones, colours, geometrical form, perspectives and projections and their rendering in different media is also imparted.
Elaborates Prof Rajat Ray, Dean, Sushant school of Architecture, Gurgaon, "Students learn how to conceptualise and design buildings. They build on their skills of understanding spatial environments and expressing those ideas through drawing, imaging and modelling."
Stage 2 spans two academic years and four semesters, including six months to one year of practical training. A student is expected to individually synthesise all that is learnt in the previous semesters, conduct investigative research through library and other resources and select a project to be done under faculty guidance that is presented in a graphic form, model, computer generated graphics and report.
The project has to be a culmination of the knowledge imbibed in the course with the design concept and objectives to reach a viable solution for the resolution of the selected problem. Thesis may also be on theme-based research on architectural and landscape projects involving collection and analysis of relevant data presented as an analytical study report.
Apart from this they might chose to study specific subjects in detail such as Interior Design, Construction Management, Landscape design, Eco-architecture etc. Called electives, these vary from institution to institution.
To practise or specialise?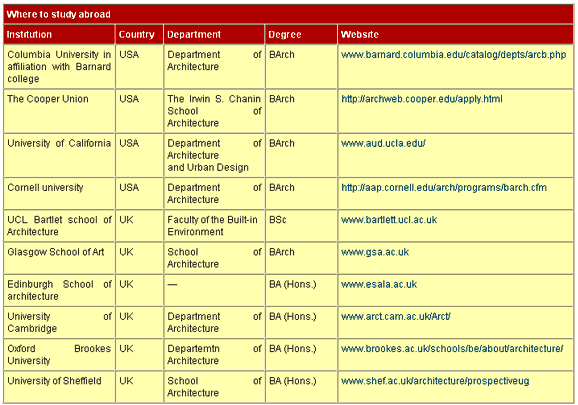 After passing out, one can practise on his/her own after getting registered with the COA, which grants license for practice. They might also start working with an architectural firm or under the guidance of a well-established architect. Real estate firms such as Jones Lang LaSalle Meghraj, L&T, Jindals and IMAXE constructions also employ architects on their payrolls as does Delhi Metro Rail Corporation.
A fresher could start as a junior architect or assistant and earn Rs 12,000 to 15,000 a month. Later one could opt for the role at various levels of design, documentation and construction, says Pritpal Singh, a Delhi-based architect. The salary might increase with experience.
Talking about the work, Bhaskar Rattan, associate architect with a firm based in Delhi says, "While 30 per cent of the job focuses on designing what the client wants, it is not about design alone." Be prepared for long hours. To convert design from paper to land needs a lot of coordination between engineers, construction workers, plumbers and contractors etc.
Further studies
While some choose to work, more than 70 per cent of students opt for Master's or further studies after completing their Bachelor's programme, says Professor Rajat Ray. They specialise in streams such as Landscape Architecture, Architectural Conservation, Urban Design, Building Engineering & Management, Environmental Planning, Housing, Transport Planning, Regional Planning, Town and Country Planning, Industrial Design etc.
The SPA and CEPT Ahmedabad are considered to be some of the best colleges for a Master's degree. Students also opt for an MBA (real estate) offered by the Guru Gobind Singh Indraprastha University's School of Management Studies in collaboration with SPA, says Professor Satish Khanna of the SPA.
Besides these, opportunities also exist in government organisations such as Town and Country Planning Organisation, National Institute of Urban Affairs, Housing and Urban Development Corporation, National Building Construction Corporation, etc.
Do remember what German architect Walter Gropius said, "Society needs a good image of itself. That is the job of an architect."