What an Indian jail taught a top business executive
Chetan Mahajan
In December 2012, Chetan Mahajan found himself behind bars. He documented his month-long captivity in the newly released book The Bad Boys of Bokaro Jail. We bring you an exclusive excerpt.
When Chetan Mahajan was wrongfully arrested, he found himself confronting a world vastly different from his own.
From air-conditioned offices of New Delhi to mosquito infested enclosures of Jharkhand's Bokaro Jail, Mahajan attempted to come to terms with his new environs.
For his duration in captivity, he maintained a diary, which he converted into a book and is now published by Penguin Books India.
We bring you an exclusive excerpt from the book's second entry dated December 24, 2012 when Mahajan's worst fears come true.
Read on:
---
Today I am arrested and put in jail. The papers carry my photograph leaving our Bokaro office with the police.
The stories in the media, just like the police, have assumed that we are guilty until proven innocent.
In fact, the Dainik Jagaran newspaper quotes the SP, Kuldip Dwivedi, saying that our institute has been shut after we have taken money from the students -- which is complete bulls**t.
I guess it helps sell a few more copies of the Dainik Jagaran, though. Today we finally do almost fifty refunds.
It is not enough. The whole town knows of the story and of my presence at the police station.
Hundreds of parents and students turn up claiming refunds.
I stay inside the station but the noise from outside is frightening.
Every once in a while a cop shouts at the crowd in an effort at crowd control.
Everyone wants their money back instantly. So the list of the refund requests goes from 24 in the first list to fifty by the second list to a total of over 600 by noon.
Over 600 customers, wanting instant refunds.
The deadline for me to convince the parents -- 4 pm -- is fast approaching.
Everonn has identified a lawyer who also arrives at the police station, but isn't able to change anything much.
At 4 pm the hordes of parents outside are at their angry best.
The police asks me to sign an official set of documents.
Again nobody explains anything. I am put in the jeep and sent off. I realize that I have just been arrested and am going to jail.
I am not handcuffed as I am put in the jeep.
After leaving the police station, the first stop is for the medical check-up. In the jeep are four policemen.
Two in front and two in the backseat where I am sitting -- one on either side of me.
They are all curious about the case against me, and ask me the details.
As they hear the story and also converse more with me, they start treating me a little more deferentially as I probably sound more educated and am better dressed than the average joe they arrest.
At the hospital which we reach for the check-up they apologetically say they would have to handcuff me before I get off.
A handcuff is produced, and my wrist along with a thick rope is put in a single ring, squeezing my wrist a little.
The rope is held by the cop and I am led into the hospital.
The medical check-up is a complete sham. The doctor asks my age and if I have any medical problems.
He also asks if I had been beaten or manhandled. I say no to both questions, and we are done. I desperately need to pee, and tell the cop.
Instead of taking me to a toilet, which the hospital presumably would have, he says 'Baahar kar leejiye' (Do it outside).
With that he leads me down the road, and I pee into the bushes, still on my leash. It helps me empathize with Cleo, my pet Doberman.
After another stop at the court we head to the house of the magistrate. Evidently 5 pm is too late for them to be in office.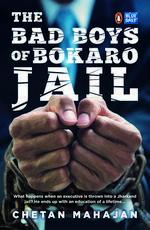 Please click Next to continue reading...
Kindly click here to purchase a copy of the book

Excerpted from The Bad Boys of Bokaro Jail by Chetan Mahajan (Rs 250) with kind permission of Penguin Books India.
Image:
Picture used here for representational purposes only.
Photographs:
Mukesh Gupta/Reuters
What an Indian jail taught a top business executive
Chetan Mahajan
Since the magistrate is clearly an educated man, I tell him again that I have recently joined this company, and ask if there is any way for me to stay out of jail.
He simply tells me that other company officials are also named in the FIR, but that I would have to go to jail.
By the time we are back in the jeep it is turning dark.
I am s**t-scared. I have barely ever even been to a police station, leave alone a jail. I borrow a phone (I have given mine to the lawyer along with all my other stuff) from one of the cops and speak to Vandita, my wife.
I tell her that I love her and that she has to do everything to get me out.
And that I do not deserve this.
Sitting in the police jeep, travelling through the night surrounded by the four policemen, I cry.
The images playing in my head are scary.
Am I going to be alone in a cell? Or would I share it with one or two criminals?
Would I get to see the sun? Talk to people? Would there be bedbugs? Cockroaches? Centipedes?
Would I be beaten? Raped?
When we finally reach the jail it is night. The jail is an imposing structure. Like all jails, I guess.
High walls stretching out on both sides.
Watchtower silhouettes in the distance. A glint of torchlight bouncing off gunmetal in the turret. The jeep stops outside and we walk to a huge metal gate large enough to let in a vehicle.
The smaller, man-sized door in the gate needs two people to open it: one person to unlock the huge padlock on the outside, and another on the inside.
This gate is opened, and there is a similar second gate inside.
That is also opened and I am led into Bokaro Chas Mandal Karawas, the Bokaro-Chas Jail, in my Ralph Lauren jacket and my Aldo shoes.
The inner gate opens into a wide corridor with a third gate of equal size at the far end. Many doors open into the corridor on both sides. All seem locked.
A short, pudgy policeman stands in the corridor along with another man in a track-suit.
Once we are safely inside and the padlocks are in place again and secure, the cop from the jeep finally takes off the handcuffs, completes some paperwork, and leaves. The cop inside then starts asking me questions.
He is short -- maybe 5 feet 3 inches, with a substantial girth.
He somehow reminds me of a goldfish. Puffy cheeks, greedy eyes. His small moustache is just a tad longer than Hitler's.
First he asks me to tell him what all I am carrying. I have just the clothes I am in. Not expecting ever to actually be arrested I have not packed -- not that I would have known what to pack!
I just have some random stuff -- wallet with some cash, pen, card holder etc.
The cash in my wallet is the only thing interesting to the cop. He looks me up and down making a bit of a show of it, and says 'He should go to the hospital ward.'
---
Kindly click here to purchase a copy of the book
Excerpted from The Bad Boys of Bokaro Jail by Chetan Mahajan (Rs 250) with kind permission of Penguin Books India.
Image:
Picture used here for representational purposes only
Photographs:
Akhtar Soomro/Reuters