Image:
Presidential Scholar Hanel Baweja
Arthur J Pais
Arthur J Pais profiles playwright and poet Hanel Baweja, one of the 141 Presidential Scholars this year
Hanel Baweja was just about 15 years old when she wrote Designer Baby, a play about a future in which parents are able to choose their children's traits, which was staged as part of the Michigan Young Playwrights Festival.
Her plays have continued to be performed at the Michigan Young Playwrights and other venues including the Iowa Young Writers Studio. In her most recent staged work, The Application Process, she wanted "to highlight the ability of people to reflect on their own lives and the idea of making other people comfortable," Hanel said. The story centred on three high school students going through the ordeal of applying for college.
She is also a poet, and will recite her poetry at the Smithsonian next month and see her work in an anthology of young poets. She was nominated as a 2014 Presidential Scholar in the Arts through YoungArts, a competition in which she was a poetry finalist.
And the high achieving Hanel, 17, is one of the 141 Presidential Scholars this year. Only about 40 are winners in the Arts category.
Designer Baby was a turning point for her, she said: "It is difficult to believe in yourself when you are 15 and still unsure of so much, but the moment I witnessed my play come alive on stage, I gained confidence in my own voice."
In the classroom, she had struggled with her identity.
'During my junior year, I was one of five girls in my AP BC Calculus class,' Hanel wrote in her Presidential Scholarship essay. 'I liked math, but I liked writing too -- and I especially liked talking about writing. It is not easy to be someone passionate about creative writing in a big public school -- it can be lonely, and stretching, and hopeless. I felt that I had to apologise for my love of writing; I felt guilty for focusing on poetry instead of science experiments like most of my classmates.'
Throughout high school, she experienced passions pulling her in different directions -- a courthouse internship in her sophomore year, a government-simulation programme called Girls Nation during the summer before her senior year, and a range of business related conferences and activities through her school's Business Professionals of America chapter -- all of which she loved.
"However," she said, "the one constant throughout the last four years has been my writing."
Hanel, who studies at the Huron High School in Ann Arbor, Michigan, was also awarded first prize in Notre Dame of Maryland University's 2013-2014 Eichner Awards for Young Poets for her poem The Concavity of Checkmate. The 20 semi-finalists were chosen out of more than 230 entries from across the United States.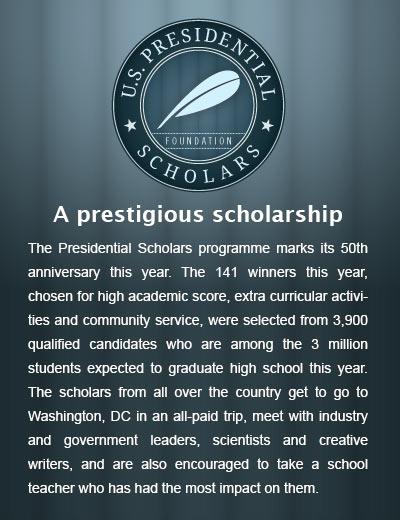 'I can't remember anything about that autumn except for all the chess,' she wrote in her prose poem. 'Some times, I don't think we did anything else. This is how I remember her most: chin safe in the cave of her wrists, eyes glittering as her fingers danced amongst her pawns. In ninth grade, a boy told her that she would be pretty if she lost a few pounds. The trees shed their leaves like flames and she lifted the edge of her shirt to show me how deep the cavern between her hip bones had grown. We agreed it was beautiful even though it was not. I said, you're just trying to distract me so you can win. She replied, it's been seventy-six hours since I last ate, then took my knight, smiled, and said your move. When we were five, we used to eat bags of potato chips and play with my father's old chessboard. The pieces turned greasy and chipped, and we licked the salt off each one. I went home and poured my glass of milk down the bathroom sink. She wondered if pawns ever got sick of being pawns. Her skin was so hungry it devoured her eyeliner at first impact and left only shadow, like an old ghost. She said bread was the first to go. She left peeled grapes lying everywhere, hid empty sockets of olives under her milk glass. She chewed the green skins so long her teeth began to eat themselves. She would make any move to protect her queen. I was afraid to blink.'
She received affirmation through playwriting and her poems, Hanel said. The permission to own the identity of being a writer, and "all of the roaming magic that comes with it."
She is "constantly reminded of how little I know," Harvard-bound Hanel said.
She shied away from poetry early in her writing because she was afraid she did not know enough to write poetry. "But now I've realised that the real reason I write poetry is because I don't know enough," she said.
"Like the characters in many of my poems, I am hungry -- for knowledge, for experience, and for understanding. I think that writing, much like learning a startling new fact, or looking up at a starry sky, should make you blink hard and reconsider your life. It should offer a new perspective. I think that this is exactly what good writing should do, and it is certainly what I hope my poems do."