Image:
Ishita Malaviya during her practice session
Photographs:
Ishita Malaviya/The Shaka Surf Club
Prasanna D Zore/Rediff.com
Surfing happened to Ishita Malaviya by chance. While pursuing her journalism course at Manipal University she happened to meet a German student, who introduced Ishita and her boyfriend Tushar to a group from California who knew how to surf.
After a casual meeting Ishita asked these Californians, who studied the Bhagvad Gita at a place called Surf Ashram on a beach close to their college, if they could teach them how to surf.
"They happily agreed and ever since my first wave, I fell in love with surfing and knew that I would be doing this for the rest of my life," says Ishita.
While Ishita's parents did not discourage her from pursuing her interest they were very clear that her love for surfing should never have any effect on her academics and that they would not foot the bill for learning a sport that was not only very costly but risky too.
To begin with, a good surf board -- you have to import one; we don't make them in India yet -- costs around Rs 28,000.
But her urge to ride the waves was far stronger than such obstacles.
Ishita and Tushar, not only worked part-time during college to fund their purchase but at times would sell shoes purchased from Mumbai in Manipal. Within a few months they managed to buy a second hand surf board and began their surfing journey.
While there were (there still are) many more challenges apart from finance, Ishita and Tushar knew that they would be doing surfing for the rest of their lives.
To make matters easier, the duo started their own surfing school -- The Shaka Surf Club -- not only to earn money but also so that they would get a chance to surf throughout the year, except the monsoons when surfing becomes a hugely risky sport.
Ishita, who first surfed at 17 and has been doing it for the past seven years, spoke with Rediff.com about the challenges she faces as a surfer and the challenges she faces as a female surfer.
She also spoke about the risks involved in surfing and how to tackle them.
How did you get interested in surfing?
I grew up in Bombay but moved to Manipal University in Karnataka to study journalism.
There was a German exchange student at Manipal who had a surf board.
I always wanted to surf but I was not sure if it could be done in India because there are no big waves here. No one had heard about it at that time.
The German student told Tushar -- my boyfriend -- and I about a place near Manipal called Surf Ashram where they studied the Bhagvad Gita. The devotees at the ashram were from California and they knew how to surf.
I asked them if they would teach me and my boyfriend surfing, and they happily agreed.
After the first wave, I fell in love with surfing. I knew I would be doing it for the rest of my life.
What are the risks involved in surfing and how do you tackle them?
Whenever you enter any water body -- be it sea or ocean -- the first thing to do is to stay calm.
Indians are not educated about water safety. People don't know what a rip current is. There are a lot of myths surrounding the rip current like it's going to suck you under the water, but that doesn't happen.
In our surfing programme we teach students about the rip current, how to spot one, how to escape from it safely, or how to rescue someone who is stuck in a rip current.
The biggest risk definitely has to be currents and when you wipe out (fall off your surfing board).
Sometimes, the weight of the wave can hold you down for a while. In such a situation it is important not to panic. If you don't panic, you will come up automatically.
When a wave holds you down, you don't know whether you are going down or heading up. You start swimming hard wanting to come to the surface but for all you know, you are going deeper into the water.
The best way to find out your direction in such a situation is to look for bubbles. They always travel towards the water's surface.
At times, the best thing you can do is play dead. If you do that, your body will automatically come up.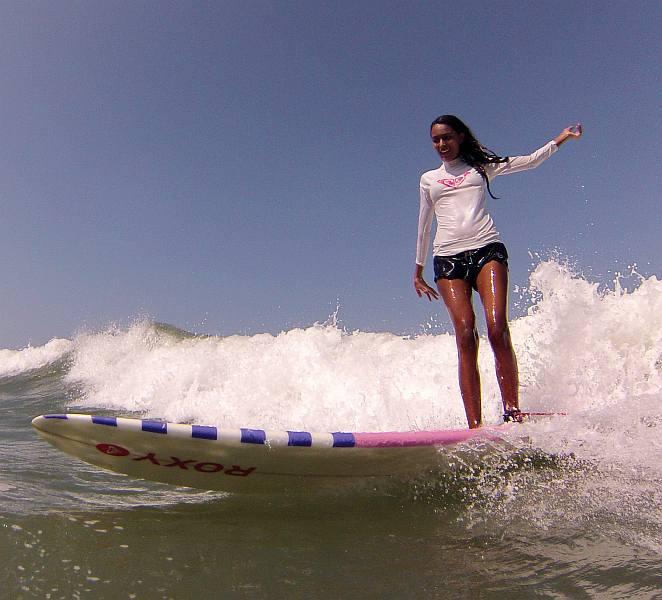 Ishita Malaviya during her practice session. Photo:Ishita Malaviya/The Shaka Surf Club
What is a rip current? How should one get out of danger when caught in a rip current? How to rescue someone who is caught in one such current?
The first thing we tell all our students, is that whenever you're in the ocean or any water body (lake, river, well etc) for that matter, it is important that you stay calm. It is a sad fact that there are over 60,000 drowning deaths a year in India. This is mostly due to three major reasons:
a. Most people don't know how to swim
b. They may be intoxicated/under influence of drugs and alcohol
c. They are not educated about water safety practices
Thus, it is crucial to understand that if you don't know how to swim or are under the influence of drugs/ alcohol, it is best not to enter the water. However, please note that even strong swimmers are susceptible to getting caught in a rip current.
Now there is a lot of fear associated with the term rip current or rip tide. A rip current is a specific kind of water current that can be found near beaches.
A rip current forms because the water that is coming towards the beach in the form of waves, has to eventually go back out into the sea. So all this water that has been pushed up near the beach, flows together and converges/creates a channel where it can flow back out into the sea. This can be seen from the beach as an S-shaped, snake-like, calm, flat water current retreating into the sea.
A person can know s/he is caught in rip current when s/he feels that in spite of trying to swim back to the beach, s/he is either stuck at the same place or drifting further away from shore.
There is a common misconception that people drowning because rip currents pull a person vertically down and hold them under the water surface.
A rip simply carries floating objects, including people, to an area outside the zone of the breaking waves.
Hence the most important thing you can do first is not panic.
Then, remember that even if you're tired of swimming, you can always float.
Lastly, to escape a rip current instead of trying to swim straight back to shore, you must compose yourself and swim either left or right, in a direction that is parallel to the beach.
Eventually you will escape the current and most probably catch a wave that will slowly push you back towards the shore.
Waves break over sandbars so if you swim towards the breaking waves, you will probably also be able to touch the sand bottom there.
What are the challenges you face as a surfer?
Surfing was unheard of when we started. You could literally count the number of surfers on your finger tips.
We were all struggling to find equipment. Surfing is quite an expensive sport.
Tushar and I bought our first board after selling off everything we had. We made some money by selling sewing machines. Tushar would buy shoes from Bombay and sell them here in Manipal and spin the profits to buy our first board.
For the first two years, we shared a board.
The cost of an imported surfboard is around Rs 28,000.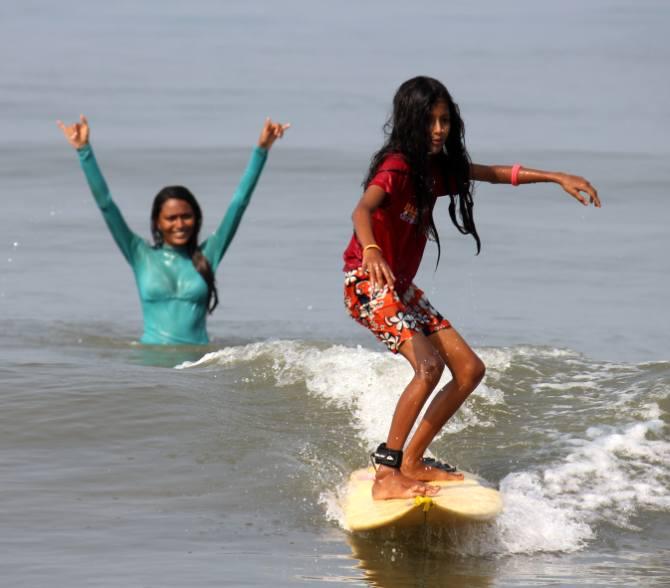 Ishita Malaviya training s student Photo:Ishita Malaviya/The Shaka Surf Club
What is surfing like as a sport for women?
For quite a long time I was the only woman surfer in the water. Boys have very good upper body strength and they can paddle out into the sea easily. I was very weak and would get beaten up by the waves and surf board all the time. That was very de-motivating.
Tushar kept egging me on and I built up my upper and lower body muscles to improve my strength.
You spend so much time in the water that your skin gets dark. I would get a lot of negative criticism from people about my colour and tan.
Professors in college would tell me that I looked like a worker from a coal mine. It didn't really bother me, but this is a big reason why girls don't take to surfing. It is a big deterrent. They love surfing but the taboo associated with dark colour discourages them from taking to it.
How difficult was it to make surfing into a career?
After college my parents wanted me to become a journalist. But I knew that surfing was my life.
The main reason we started a surf school was because we could keep surfing.
Immediately out of college we started our own business without having any idea about how to run a surfing school.
No one from our families is from a business background. We did not have any financial backing.
Today, we have a proper school at a proper location at a beach as well as a surf camp. Ours is the first surf school in India.
People can stay right on the beach and get a truly immersing surf experience.
Dos and don'ts for would be surfers…
When you are in the water, ALWAYS surf with a buddy.
You must learn surfing only from trained professionals or by going to a surf school. You cannot just buy a board and enter the water because a) it is dangerous and b) you need someone to tell you how to go about it.
You must understand how the ocean/sea moves, how it changes, and adapt to it.
Surfing is considered very cool, and it is, but it's difficult. It's not like you become a surfer after trying it once. I have been surfing for seven years and am still learning. If I had been surfing my whole life, I'd still be learning.
Surfing is a very humbling sport; there is always room for growth. The more time you spend in the ocean the better you get at it.
What is surfing like in India today?
The good thing about surfing in India is that unlike California or Bali, where people are very aggressive and fight to surf waves, the community of surfers here is small and tight knit and there is a sense of camaraderie.
That sense of helping and uplifting each other is always there and I don' want that to be lost.
Which are the best beaches to surf in India?
First has to be our beach called Kodi Bengare, a small fishing village very close to Manipal.
Then there is Varkala and Kovalam in Kerala.
On the east coast there is Mahabalipuram, Visakhapatnam and Puri.
We have just set up the Surfing Federation of India and each surfing school in India must have instructors with a certificate from the International Surfing Association.
For more information contact Shaka Surf Club: +91 9986742710