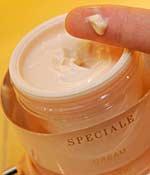 Calling all consumers of fairness products -- let us know your experience with whitening creams. Are they actually effective? Photograph: Yuriko Nakao/Reuters
Beauticians are doing it, housewives are doing it, college girls are doing it. And now even men have jumped on the bandwagon! We leap at any opportunity to lighten our complexions without thinking of the consequences.
According to research, the sale of skin-whiteners in India saw a jump of 17 percent in 2009, pegging the industry worth at a staggering 20.5 billion rupees ($432 million).
But do the fairness creams that are flying off the shelves really work? Can you package a Snow White complexion in a tube?
While actual treatments for porcelain skin at a dermatologist's clinic, like alpha hydroxyl or salicylic peels, run up bills of thousands, the products you see at the supermarket sell for a couple of hundred bucks or less.
And yet, they find millions of takers. And it could be thanks to the fact that certain Indian celebs who can best be described as dusky actually endorse these products. Deepika Padukone, Kajol and even Shah rukh Khan -- none of whom have an exactly peachy complexion -- are fairness cream ambassadors for various skincare brands. And thanks to tricks with the camera, they come off looking unnaturally whitened in commercials plugging their products.
So besides the hype, the promises and the glam factor, we're asking you -- do fairness creams really work?
Have you ever tried out one or more of the products available in the Indian market in a bid to lighten your skin colour?
And in all honesty, have they done you any good or are they an eyewash?
Are the results noticeable -- has anyone who doesn't know you're using lightening products complimented you for a peachy complexion?
Let us know about your consumer experience -- post your stories, opinions and comments on the message board below.