Raghav tells Rediff.com's Shobha Warrier how he and his cousin Mukund co-founded Renew IT, which refurbishes discarded computers and makes them affordable for the poor in rural India.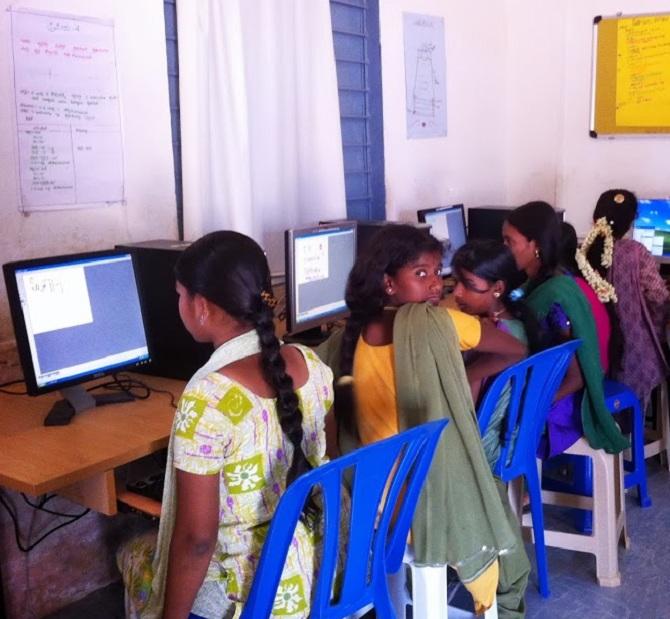 IMAGE: Renew IT gives refurbished computers to registered NGOs and educational institutions at a subsidised price.
It also helps them set up training institutes and BPOs in rural areas and computer labs in government schools.
Photograph: Kind courtesy Renew IT

Raghav, 33, and his cousin Mukund, 35, were born into a family of entrepreneurs, and they grew up knowing two things.
One, they would become entrepreneurs.
Two, they would be involved in something that would help people in some way.
In Renew IT, which breathes life into old computers and makes them available to poor students in rural areas, the aspiring social entrepreneurs found their calling.
The story of Renew IT in Raghav's words: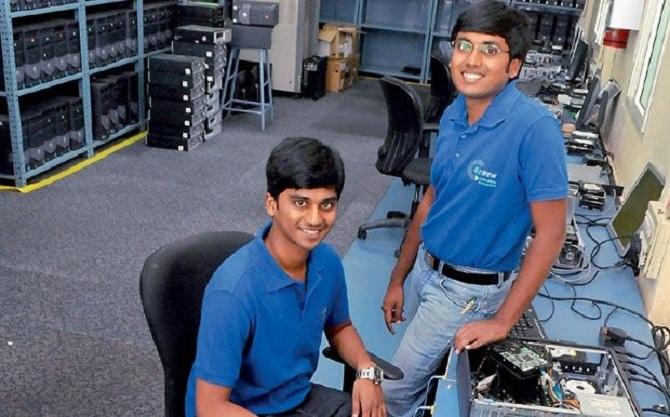 IMAGE: While Mukund brings the technical expertise to Renew IT, Raghav brings the business know-how.
Photograph: Kind courtesy Renew IT
Growing up in a family of entrepreneurs
We have entrepreneurship in our blood; our grandfather and parents were entrepreneurs.
Our grandfather, Sreeramaiah, was from a small village called Murugamalla near Chinthamani, Karnataka. He moved to Bangalore (then) to start an agarbatti (incense sticks) business almost eight decades ago.
After him, his sons -- Srinivas B S and Kantharaj B S, that is Mukund's father and my father -- are continuing the same brand, Nandi.
While in school and college, most of the time our conversation used to be about what we should do after our studies.
Even when we were children, our fathers used to tell us that if we were to run a business or become entrepreneurs, we had to first learn to work under someone, and for that we needed to have proper education and training.
One thing we were sure of was that we would be involved in something that would help people in some way.
We have seen that a part of what the family earns from the agarbatti business is put in a trust, which is used to help the poor in the village from where our grandfather came.
Also, they saw to it that people from our village were given employment in our factory.
We grew up watching all this.
That's why we wanted to do something that was sustainable and also something that could help people.
The visits to our village made us realise that what our villages suffer is mainly from lack of opportunities and not lack of talent.
They are as smart, or even smarter, than those from the cities, but they are not given right opportunities.
If they get to study in good schools or use right technology, they will get a level playing field.
We also noticed that those who went outside to study came back and helped the others in the village.
That is the kind of impact you need to develop in our rural areas.
Whatever my grandfather did was at a very small scale, but it still impacted the lives of so many people.
Cousins, entrepreneurs, partners
We always felt that if we could do something on a larger scale, it would have a greater impact socially. But we never thought that we would be working together.
We only knew that we would come back after our studies to become entrepreneurs.
I wanted to equip myself for what we were planning to do.
That's why I decided to go to the United States for my under grad in business management while Mukund chose to study engineering at REC (Regional Engineering College) Surat (now a National Institute of Technology).
For me, going out of my comfort zone and studying in the US helped me a lot; the same applied for Mukund also who went to Surat.
It gave us a lot more confidence in making decisions and trusting our instincts.
The best advice I got from my grandfather before I went to the US was, 'I know you are capable enough to work abroad for somebody else, but remember, you will be able to give life to many people if you come back and work here.'
Those words rung in my ears as I flew to the US as a teenager and I never forgot them.
Though our grandfather and parents inspired us with their words, nobody forced their ideas on us.
They wanted us to be strong with the ability to decide for ourselves what we wanted to do.
After my under graduation, I worked in a supply chain company for three years in the US just to get the experience of working under somebody else.
I was very sure that one day, I would come back and work with our parents in our own company or start my own enterprise.
After engineering, Mukund joined IIM-Bangalore.
Then, we came back and started working in our company.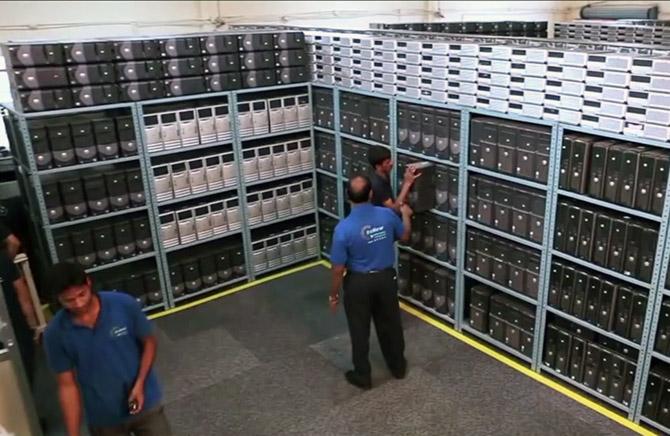 IMAGE: Renew IT has supplied close to 20,000 refurbished computers in the last 7 years, 70 per cent of them as part of their social entrepreneurship.
Only 30 per cent of their sales contribute to the commercial side of the business.
Photograph: Kind courtesy Renew IT
The turning point
In 2009, we met our uncle's friend from New York who recycled old computers by taking out the usable parts before giving them to the junk yard.
He said it was a small way of doing something that was environmentally friendly.
This really caught our attention, and we had a long discussion with him on what he was doing.
We were sure that one day we would be entrepreneurs and our enterprise would impact either society or environment.
This, we felt, was an excellent idea that would reduce e-waste.
We found out that only 10 percent of India's population has access to computers and that too, in many homes, there will only be one computer for more than one person.
We felt so many young people are denied opportunities because they do not know how to operate a computer and are not connected.
What this person did in New York made us think, why not repair and refurbish instead of recycling so that it would help thousands of young people access computers?
This way, we could impact the lives of people too.
We decided to work together in this venture as we both believed in the idea; Mukund knew the technical aspects while I had specialised in business administration.
We had been saving money to start something, and a couple of our uncles also agreed to join us as financial partners.
Altogether, our investment was around Rs 14 lakh.
As we discussed names for our venture, it occurred to us that we were giving rebirth to the computers the corporates keep aside as scrap.
That's why we decided to call it Renew IT.
It took us 7 to 8 months to get all the necessary approvals from the government to start a refurbishing plant.
We set up in the industrial town near Bengaluru, with Mukund and me, an operations manager and two technicians.
Once the plant was ready in June 2010, we started talking to corporates with whom we had studied and worked with.
These days it is a lot easier to talk to and get connected to these people because of the alumni networks and Linkedin. They were all ready to be a part of what we were planning to do.
Our plan was to buy computers from the corporates, refurbish them as new computers in our plant and pass them to the needy through NGOs.
Running a business
We gave our computers only to registered NGOs and educational institutions at a subsidised price.
We also helped them set up training institutes and BPOs in the rural areas and computer labs in government schools.
Initially, we supplied to the NGOs in and around Bengaluru who were distributing them in rural areas.
But after our association with Villgro, we keep cities as the base and from there computers go to all the rural areas surrounding the city.
We help NGOs set up computers in Delhi, Kolkatta, Mumbai, Chennai, Pune, Mysore, Dharwad and Hubli.
We have around eight authorised service partners across the country now.
In the beginning, we only had this plan to serve society.
We supplied computers only to NGOs without any profit margin or very little margin.
Then we realised that when we are running a business, we also have to make it sustainable.
That's when we decided to start a commercial wing of Renew IT through which we supply refurbished computers to start ups, entrepreneurs, and those in the SME sector.
These computers cost slightly more than what we supply to NGOs.
It is this commercial wing that sustains the social part of our business.
We might have supplied close to 20,000 refurbished computers in the last 7 years, 70 per cent of them as part of our social entrepreneurship.
Only 30 per cent of our sales contribute to our commercial business side.
The basic computers cost just around Rs 7,500 with the CPU, monitor and original license for the software.
Now that CSR (corporate social responsibility) activities have become mandatory for all corporates, they ask us to set up computer labs in the rural areas as a part of their CSR activity.
We felt so happy to see that these labs had a positive impact on rural government school students in learning English and computers.
One problem we face is, sometimes a company may give 100 or 1,000 computers at a time and may not give anything for another year.
Still, we got around 50 to 100 computers a month when we started and today, on an average we get 600 to 700 computers a month and we have eight technicians working with us.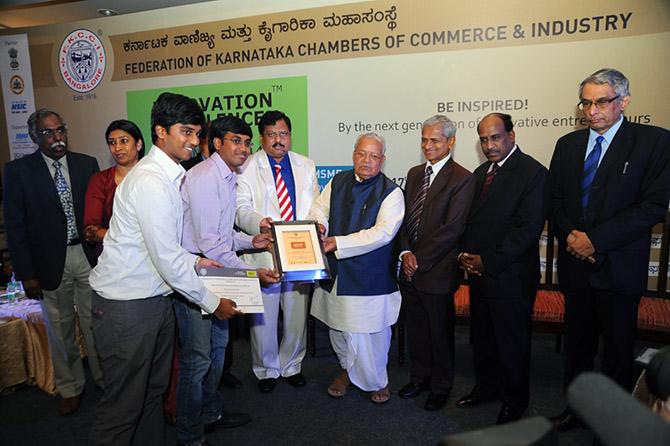 IMAGE: The cousins have tied up with Microsoft. Photograph: Kind courtesy Renew IT
Association with Microsoft
One of the wings of Microsoft's global philanthropic programme works with the companies who are in the education sector and give them citizen's software for used computers.
We need not pay the full price for the software, which the new computer buyers pay.
When we contacted Microsoft with our business plan, they were very happy to join hands with us.
After inspecting our facility and plan, they signed an agreement with us to give us the software for our refurbished computers.
Thus, we became their first partners in India to do so.
Because of this agreement, we get the original software from Microsoft at a subsidised price to load in our refurbished computers which we supply to the NGOs.
Future plans
As we are social entrepreneurs, we feel that CSR is the way forward.
We want to involve more and more corporates in our activity so that thousands of computers are distributed to the needy areas.
We have so far supplied just 20,000 computers and everybody knows it is a very small figure in comparison to the young people in India who have to be equipped with computers.
We are also talking to as many corporates as possible so that we also can give entrepreneurship opportunities to many young people in the rural areas.
They can be involved in servicing the computer labs, start training institutes and BPOs.
Imagine the number of computers that are junked in every city!
Even if 50 percent of those computers can be routed through any NGO to a government school, it will have enormous impact on the children in the rural areas.
This will give them a level playing field with the kids coming out of private schools in urban areas.
It was so rewarding to see the excitement on the faces of the government school children while we were setting up a computer lab in a government school on the outskirts of Bengaluru.
If this was the situation of the schools so close to Bengaluru, you can imagine how it will be in the rural areas.