Software employees can opt for company run programmes, online courses, boot camps to upgrade skills, experts tell Sanjay Kumar Singh.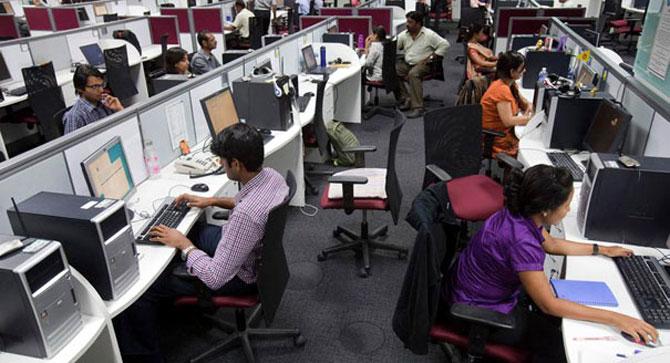 A jobs crisis is looming in India's information technology sector.
McKinsey, the international consultancy firm, predicted in a recent report that almost half of the 3.9 million workforce in IT services firms will become irrelevant over the next three, four years.
Rapidly changing technology will render the current skills of many workers obsolete, while automation has the potential to kill many routine, low-end, jobs.
For both young engineering graduates entering the workforce now and mid-level managers in IT firms, it has become imperative to reskill themselves in areas where future growth lies, such as big data analytics, virtual reality, artificial intelligence, Internet of things, cloud computing and so on.
Experts say low-level skills like testing, bug fixing and basic coding are at risk over the next few years, as automation comes in.
"Around 30 to 40 per cent of the employees who are currently deployed will require urgent reskilling if they want to stay competitive in the field," says Sanju Ballurkar, business head, Magna Infotech, an IT staffing company.
'Jobs that don't require creativity, client engagement or finding new solutions, in particular, will be at risk.'
Many young engineering graduates are unable to find a job because what they learnt in college was out of sync with the emerging opportunities in the job market.
"Many of the new technologies are being developed as we speak. There are no textbooks for them. University professors have to learn them from the industry to be able to impart them. Unfortunately in India, we don't have a system where too many university professors work closely with industry," says Shekhar Sanyal, country head and director, The Institution of Engineering and Technology, a professional body for the engineering and technology community.
Another issue is the intense exam-oriented system that universities follow.
"Students' entire focus is on passing several exams in each semester. Such a high pressure environment is not conducive for absorbing fundamental concepts and skills," says Swami Manohar, researcher at Microsoft Research and a former professor at the Indian Institute of Science, Bengaluru.
'Jobs of mid-level managers in IT services companies are also at risk currently.'
Insiders say in many companies, employees spend their first few years doing routine coding jobs on projects that are not technology intensive. Hence, their technical skills don't advance much during these years.
Then they become managers, heading a team of 10 to 15 people.
In that capacity, they lose even those technical skills they possessed earlier.
Hence, many mid-level managers in IT services companies are not employable elsewhere.
These companies themselves can't afford to pay their current salaries because their margins are getting squeezed.
"There is excess supply of these mid-level managers and they don't have the skills required to fit into new technology areas," says Manohar.
Both these categories are in urgent need of reskilling.
While lower-end and routine jobs will get killed, opportunities will emerge in new technology areas.
"Analytics is one area that is likely to see exponential demand. Knowledge about business intelligence tools will be a great advantage at least for the next three, four years. Mobility is another area that holds tremendous growth prospects," says Ballurkar.
According to Sanyal, one skill set that will see great demand is how to harness hardware, software, analytics and business problems together.
"There will be a need for persons who can look at all facets of the solution and marry them: Which hardware or software to use? What analytics will go with it? You also have to understand the business problem and come up with solutions not envisaged by the customer but which are nevertheless valuable to him," says Sanyal.
What should you do?
1. Training provided by your company
For those employed in the top-tier IT services companies, a good bet is to participate in their company-run reskilling programmes.
Tata Consultancy Services has spoken about reskilling 100,000 people in digital technology; Wipro has upskilled 30,000 employees in the first three quarters of the current financial year, and so on.
An IT employee, however, said that not every employee gets the opportunity for retraining.
If the trainer is internal, his quality may be indifferent, while external trainers tend to be expensive and are, hence, sparingly employed.
2. Online courses
People who need help now should look at massive open online courses (MOOCs).
"This is an area where the requisite knowledge is available at this point of time at affordable cost. The basic courses are typically free, while the advanced level courses would cost you Rs 3,000 to Rs 10,000. They typically last for a few weeks to a few months," says Sanyal.
Courses from the Massachusetts Institute of Technology and Stanford, and from online learning providers like Udacity and Coursera are those that people within the industry pursue.
Bear in mind, however, that self-learning is difficult and requires a lot of discipline.
IET will launch three courses in a month.
Nasscom, in association with Indian Institute of Management, Bangalore, will shortly launch its leadership resource centre.
Says Sangeeta Gupta, senior vice-president at Nasscom: "Initially there will be online material available on sales and marketing, leadership competencies required in the digital era, and so on, and later we will graduate to offering formal courses."
3. Boot camps
Nowadays training centres called coding or programming boot camps have come up in cities like Bengaluru and Hyderabad.
"They train you intensely for about a month to 12 weeks in programming skills. Their advantage is they provide a community within which you can learn new skills. They are also well attuned to the skills that are in demand in the market," says Manohar.
Some of these include Ace Hacker Academy, Geekskool and Jagga.
The cost of a boot camp depends on the duration and could range from Rs 50,000 for a few days to Rs 2 lakh for a 12-week course.
Some even have a deferred fee payment model.
However, do speak to people who have attended these courses before you enrol.
Photograph: Reuters. Kindly note image only published for representational purposes.