Compassion and concern from family and friends can help prevent the suicide of a loved one.
Manish Sain reports.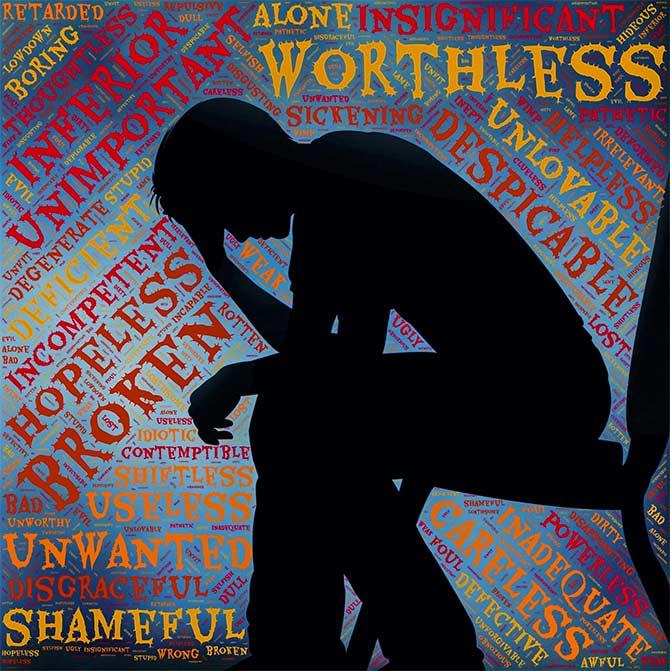 It was the end of the road for Ankur Bindal, barely 21, when engineering subjects didn't make any sense, finding a job afterwards seemed equally elusive, and to top it all, the first love of his life had left him.
At the time the only solution that appeared alluring to him was ending his life.
Speaking to PTI on the eve of World Suicide Prevention Day, Ankur, now a successful IT professional, however, decided against it as he simply "did not want all the efforts to complete the degree go to waste" and decided to live on.
"I wanted to share all of this with someone, but no one was around. The person I had loved left never to look back. All friends were busy completing their degrees or with jobs."
"I just had one thought if I quit now then the hardwork I put in to complete the BTech with 21 backpapers will be wasted," Ankur, who struggled for a job during the recession in 2009, said.
While Ankur did not have anyone to share with and relied on his own will to live, Johnson Thomas, director of AASRA suicide prevention NGO, says it is imperative to "confide in someone close" on the onset of suicidal thoughts.
"If you are having suicidal thoughts, you must confide in someone close who you can trust implicitly or talk to a helpline or a professional counsellor or psychotherapist."
"Family and friends should make sure they are surrounded with love and understanding," Thomas told PTI.
Ankur's dilemma is reflected by several other people, who, while had different reasons and stories to tell, looked at suicide as the way out.
Puja Jyoti Mishra, 27, suffered for over two years with severe depression and recurring suicidal thoughts following her father's death, which led to lack of an earning member in the family and an ailing mother.
When reaching out to people, who judged her for being sad failed, she decided to change her outlook for her mother's well-being.
"Nobody listens when you need them the most. The moment you share something or your cry... Without even listening to you people start judging you."
"But the very thought that my mother is a psychiatric patient and who would look after her stopped me from harming myself," Puja said.
Thomas, who has been part of the suicide prevention NGO for over 20 years, said that compassion and concern from family and friends can help prevent suicide of a loved one while creating a support system around them.
"It is important to show compassion and concern. Allow them to talk their hearts out without judging them or criticising their actions or thoughts. Show them that you care and are there for them," he said.
He noted that family should not ignore any erratic pattern, which is different from a person's normal routine.
Signs of deep sadness, loss of interest, sleeping problems, loss of appetite or over eating can point at the onset of suicidal thoughts.
Also, sudden mood switch from being very sad to being very calm or appearing to be happy, putting affairs in order, tying up loose ends like changing a will should also not be ignored.
It is not always the loss of someone or a sense of failure that push people to depression and then to suicidal thoughts and even attempts, mental ailments like Spectrum disorder can also cause such thoughts without the family realising it.
Nimisha, 37, (name changed) suffered with Depressive Spectrum Disorder, which involves signs of multiple ailments like mood disorder, anxiety and panic disorder, for years and attempted suicide by consuming anti-depressants.
While her husband divorced her after the attempt, her own family came to know about her fatal thoughts and came out in her support.
"My husband could not deal with my illness and chucked me out after I attempted suicide. Relationships will break if suicide is attempted... Almost always."
"But then my parents gave me maximum support. My doctors were my pillars of strength... I am very lucky in that case," she said.
The tendency of self-harm was the first sign of bigger troubles for Nimisha, but it was not something she herself realised.
Thomas believes apart from family and friends' support, they need to kept away from objects that can aid harm.
"Family and friends should make sure they are surrounded with love and understanding. Keep all sharp objects or any possible means that could aid suicide away from them."
"Don't allow them to sleep alone or let them lock themselves up in a room all by themselves. If you are staying in a high rise then install protective grills to keep any such drastic attempt at bay," he pointed.
While globally over 800,000 people commit suicide every year, which is one person every 40 seconds, according to WHO India has one of the world's highest suicide rates.
Suicide occurs throughout the lifespan and is the second leading cause of death among 15 to 29 year olds globally.